When Good Actors Do Bad Movies

Entering theatres with a torrent of bad buzz, "
G.I. Joe: The Rise of Cobra
" has all the makings of a big-time flop - not necessarily a shock given the thin source material.
What is surprising, however, is the appearance of indie stalwart and critically acclaimed actor
Joseph Gordon-Levitt
in the role of Cobra Commander. It's not the kind of fare he's normally associated with, but he isn't the first good actor to show up in a bad, bad film.
Why does this happen? There are myriad reasons, but these are the most popular:
Material temptation:
It's not easy turning down a $20 million payday, even if there are reservations about the project. You really think
Will Ferrell
felt "
Land of the Lost
" was an important artistic statement? Or that
John Malkovich
wasn't imagining his new boat when he signed on for "
Mutant Chronicles
"?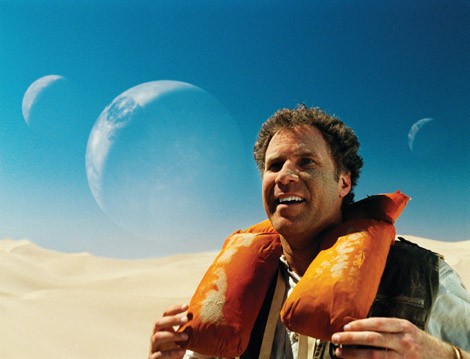 Land of the Lost © Universal Pictures
Actors can also fall prey to action-figure syndrome. It's a powerful disease, wanting to see yourself as an eight-inch figurine. It's snagged
Hugh Jackman
("
Van Helsing
"),
Halle Berry
("
Catwoman
") and many others, including perhaps, the aforementioned Gordon-Levitt.
Love and marriage:
Perhaps this should be renamed the
Eddie Murphy
Clause. For the last 15 years, Murphy has used his family as an excuse to derail his career by making a string of execrable films from "
The Haunted Mansion
" to "
Imagine That
".
And then there's the sad case of
Ben Affleck
. He was riding high when he made the ill-fated decision to star in "
Gigli
" with his then-love
Jennifer Lopez
. The resulting film was such a disaster it helped break up their romance and derailed his career for years.
Oscar grab/branching out:
Will Smith
doesn't make many missteps, but he had to have been dreaming about his acceptance speech when he agreed to do the hokey "
Seven Pounds
," thinking the Academy would be enthralled. Or perhaps he stopped reading before he got to the jellyfish.
Along those lines are the movies done outside of an actor's comfort zone, maybe not for Oscar glory, but questionable all the same. Take
Jim Carrey
, who's strayed away from comedy several times with disastrous results, including "
The Majestic
" and "
The Number 23
".
Late-career malaise:
Al Pacino
and
Robert De Niro
are acting legends, but for the last decade they've been either really lazy or don't care about their legacy as they've appeared in one crappy project after another, including a joint stinker in "
Righteous Kill
".
Christopher Walken
is a different case. At this point in his career, it seems as if he just wants to work, no matter the part. Offer him one, and he'll accept it, bringing his own special brand of gusto to good movies and horrible ones like "The Country Bears" and "
Balls of Fury
".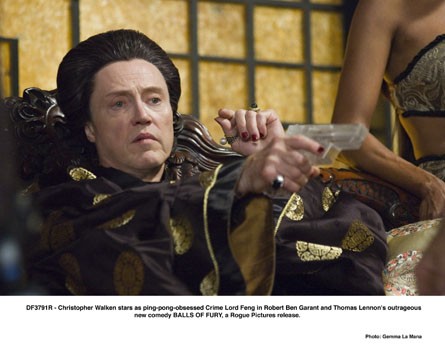 Balls of Fury © Rogue Pictures Inc. All rights reserved.
Because you're Nicolas Cage:
There's no figuring this former Oscar winner, who seems to relish appearing in junk. But for every terrible flick like "
The Wicker Man
" or "
Bangkok Dangerous
," he seems to strike box-office gold with "
Ghost Rider
" or "Knowing".
Cage is proof positive that sometimes showing up in a bad movie might actually have some benefits after all. He's more popular (infamous?) than ever.
Story by
Elliott Smith
Starpulse contributing writer