What's Their Secret? How Real People Lost Half Their Weight Without Gimmicks Or Celebrity Trainers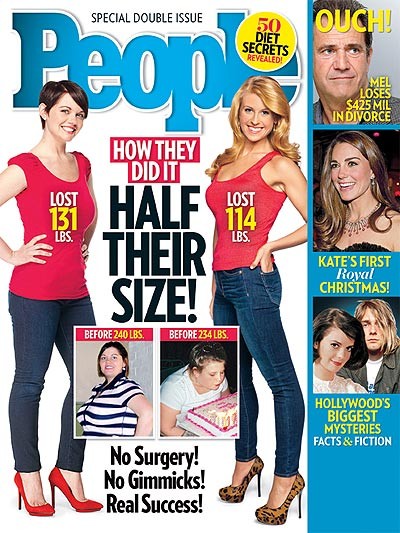 Inspirational weight-loss and body transformation stories of ordinary Americans who have struggled with – and succeeded at – losing tremendous amounts of weight without the help of surgery or celebrity trainers are featured in this week's double issue of PEOPLE in a special 10th anniversary "Half Their Size" 31-page cover story. Six ordinary people, who lost a total of 1020 lbs., and others share intimate details about their emotional weight-loss journeys.

"I was always chunky. I had man boobs, and there was a lot of teasing," Tyler Synan, 23, tells PEOPLE. "In high school I always had a two-liter of soda in my backpack and a bag of chips. I was a shut-in." After several visits to the ER, Synan explains that "at 21, I had an epiphany: I was afraid I'd end up 40 and bedridden. I worked graveyard shifts as a security operator, and Medifast commercials were on TV. I tried it; the first week was hell. But I felt empowered when I lost 10 lbs."

Marge Lyse, 52, reveals to PEOPLE that food provided her comfort "when I was dealing with my divorce. I'd eat fast food in the car, throw away the evidence and then have dinner with my family." She explains how she was "too embarrassed to take off my blazer" when she was dancing at a party. "I collapsed into a chair from heat exhaustion. I couldn't let my kids see me like that anymore." She started going to the gym three times a week and joined Jenny. "I love ice skating with my husband because I'm not afraid of falling; I can get back up now!" Angela McCullough, 35, admits to PEOPLE that "I would have to rock back and forward just to get off the couch. And I'm a volunteer firefighter, but I would need to suck a tank of air after getting my gear on. I chose to do Jenny and knew it was my last hope."

Miss South Carolina: I Used To Be Fat: Once 234 lbs., Bree Boyce transformed from the "chubby sister" to a beauty queen. "I suffered most of my life being overweight," says Boyce, who at her heaviest tipped the scales at 234 lbs. "I felt like an outcast." After researching healthy foods and recipes, she learned to steer clear of her favorite macaroni and cheese and opt for more vegetables and fruit with each meal. "I want to share my struggles and show young girls and boys what you can accomplish."

10 Years of Half Their Size: How We Kept It Off!: PEOPLE checks in with one person from each year and reveals their setbacks, triumphs, and tricks for staying slim. "I would have nightmares I was still big and wake up and go, 'Oh wow, it was just a dream!'" says Karen Brown, 46, who graced the cover of PEOPLE's first Half Their Size issue in 2002. Since then, she has maintained her sleek physique by teaching fitness classes six times a week and sticking to a strict diet of six small meals a day. "Keeping weight off is harder than losing it," says Sheri Cameron, 29, who was featured in PEOPLE's Half Their Size issue last year. She put on 5 lbs. while recovering from a back injury, but she's not sweating it. "I would rather stress about 5 lbs. than worry about being obese," she tells PEOPLE.

Amazing Transformations in the Face of Enormous Challenges: A.J. Bray, 31, was born with bone and joint deformities. "My body was my enemy," she tells PEOPLE, "not only because of my disability, but because I couldn't control my weight. My power wheelchair had a 300-lb. limit and I was up to 335 lbs." On her 22nd birthday, she realized that she was prediabetic "and I could die," she says. "I researched the Atkins Diet and cut back on sugar. By the first month, I had lost 25 lbs. Now I smile more and I don't feel as trapped. I feel amazing."

Celebrity Slimdowns: New diets, new technology, new knockout figures. How stars such as Jordin Sparks, Kirstie Alley, Mariah Carey, Jerry Ferrara and others bid farewell to their former selves by amping up their cardio and dialing back on portions.

Biggest Loser Winners: Their Stay-Slim Secrets: They lost the weight in a controlled environment. Now these champs reveal how they resist temptations away from the ranch. "After I won, I thought, 'I'm not going to have to always exercise or worry about what I'm eating', says Erik Chopin, 41. "I got back up to 368 lbs.! I didn't get that it's a lifestyle change. Now I do, and I lost the weight again."


*Also In This Week's 'People'*

Venus Williams Getting Back In The Game: "I Won't Let It Beat Me"
Kate's Holiday Cheer: First Royal Christmas
Mel Gibson's $850 Million Divorce: "Robyn's Happy To Start The New Year As A Single Woman"