What's The Best Show On TV? Starpulse Writers Weigh In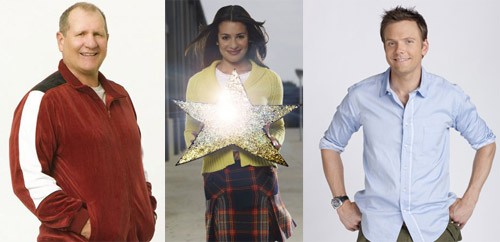 What's the best show on TV right now? Several Starpulse writers tackle that very question and defend their favorite series as must-see TV. Do you agree with their picks? Take a look, and let us know!

"MODERN FAMILY"

Despite virtually no notoriety and severe initial undermarketing, the critically-adored "Modern Family" has picked up speed and is headed for a second season. Its approach is not unfamiliar, but it's greater than the sum of its parts. And don't let the unassuming name put you off.

The show follows one extended family on everyday occurrences like kids fighting in school, Ferberizing a baby, a man who isn't getting along with a father-in-law, or a 38-year-old gay man dressed in full clown regalia threatening someone at a gas station.

Phil, the nearly-middle-age dad, is often the funniest part of the show. His delivery is perfect, his physical comedy is outstanding, and his overconfidence is played with a disturbing lack of effort. The kids are all funny too, but the best is the cappuccino-drinking, anxiety-ridden 10-year-old Manny, who falls in love with every girl he meets. Ed O'Neill's patriarch character is flawless.

It's consistently funny, but it's something else, too. It has a sweetness to it, like no matter how messed up a situation gets, everyone's heart is kind of in the right place. It's reminiscent of "Home Improvement." And in time, it may prove as successful.



By Shawn Martin
Starpulse contributing writer
"LOST"
"A television phenomenon...that captivated millions," ABC recently boasted in the weeks leading up to the premiere of "Lost's" sixth and final season. And they have a point: audiences around the world anxiously awaited the date of the episode's broadcasting.

Throughout the last five years, "Lost" has given us a wide variety of stories and narrative strategies. At first, it was simply a story about the survivors of a plane crash who were stranded on a deserted island - interspersed with the characters' back stories. The flashbacks became flash-forwards in seasons three and four. And finally, both became literal by throwing time travel into the mix. And suddenly, the survivors weren't just stranded on a deserted island, they were stranded on a deserted island in the 1970s.

So one thing is sure when it comes to "Lost" - it's not going to be what you expect. The show is famous for its excruciatingly frustrating cliffhangers and astonishing WTF moments (polar bears on a tropical island?!) - a breath of fresh air in a world of formulaic and predictable shows. And yet, the plot twists aren't there for their own sake, but organically result from the story and the characters that populate it.

Character development is in fact one of the show's strongest suits. Over its run, the audience got to know the characters, their histories and motivations better than their own families - and maybe we even like them a little bit better.

The biggest question at the moment is how the writers will tie up the story in the remaining handful of episodes. But knowing "Lost," it is going to be surprising, satisfying, emotional and action-packed all in one.

by Johanna Schönfeld
Starpulse contributing writer
"24"

Two words: Jack Bauer. That's it. End of discussion.

"24" is the best show on television because it has the best lead character on television. Jack Bauer is a cultural phenomenon. He has transcended the show, and even television itself, and now stands independently as an icon of American pop culture. He's dethroned Chuck Norris as the king of internet lists. He makes all incarnations of James Bond look like pansies.

In all seriousness, Jack Bauer is the best character on television because there's a depth to him that's rare in action hero types. Jack Bauer does not just face terrorist threats in each season of "24," he faces distinct psychological trauma as well. Whether he's dealing with the death of a good friend, recovering from a prolonged imprisonment, or coming to terms with his own mortality, Jack Bauer evolves as a character while he goes on saving the world. And each time he evolves, his relationship with his job becomes more conflicted. He continues to do it, and you get the feeling that he always will, but it's obvious that it keeps getting harder and harder.

Though Jack Bauer is the best part of "24," its plot structure is also strong. There are never less than four storylines happening simultaneously, which is impressive when you consider that everything happens in real time. While it is true that certain plot devices have been used and re-used, there are only so many ways that terrorists can attack a nation, blow something up, or infiltrate a government agency. Things are going to overlap. Deal with it.

The greatness of "24" is perhaps summed up best by a scene that took place on the show a few weeks ago: Jack Bauer get stabbed in the gut by his own undercover partner. Approximately five seconds later, he picks up his gun and kills three Russians. And that makes Jack Bauer the baddest-ass character on the baddest-ass television show in the world.



By Jose Flores
Starpulse contributing writer


"GLEE"

The name says it all. "Glee" is pure joy! After 13 episodes, the innovative musical comedy is already a bona fide phenomenon. From the songs that regularly top the iTunes charts to the cast being invited to perform at the White House, it's clear that people can't get enough of this appealing new show.

So why do we love "Glee?" For one thing, the musical performances are irresistible. Since the first time the glee club took the stage at the end of the first episode and sang "Don't Stop Believing" it was obvious that this show was something special. Gifted vocalists and great song choices that include everything from Rihanna to Van Halen to Barbra Streisand, keep the musical component of the show fresh and fun. And showstoppers like Lea Michele's performance of "Don't Rain On My Parade" at Sectionals are simply undeniable.

Plus, "Glee" doesn't come up short on the comedy. The dark comedic spin on dramatic coming-of-age stories sets a pitch perfect tone. By showing the world of high school as a heightened, exaggerated reality, the musical performances can have real emotional depth without the audience ever feeling like the show is taking itself too seriously. Plus, a character like Sue Sylvester as played by Jane Lynch is just pure gold.

As if that's not enough, a Neil Patrick Harris-starring/Joss Whedon-directed episode and a Madonna-themed episode are both coming up when "Glee" returns with all new episodes on April 13.  We can't wait to get back into the groove!

By Elissa Farkas
Starpulse contributing writer

"COMMUNITY"

As someone who prefers movies to television, it's uncommon for me to endorse a show so highly, but NBC's "Community" is easily my favorite show and one of a handful that I watch.   Since I grew up watching classic sitcoms of the 80s and 90s, I've always preferred shows with substance to the reality based drivel that seems so popular these days.

The show is about a down-on-his-luck lawyer named Jeff Winger, whose phony degree lands him in trouble, forcing him back to legitimate school.  Jeff starts Greendale Community College as a selfish loner hoping to coast through with little effort and to engage in senseless flings.  After forming a Spanish study group with his classmates to win the affection of his crush Britta, Jeff finds that surviving Greendale is a lot easier with friends.

"Community" represents everything that I enjoy in a good sitcom: quirky characters, snappy dialogue, comic misunderstanding, and intertwining storylines that share a collective lesson.  Each episode you feel like the characters learn something new about themselves and how to be better people, which is tough to pull off in a show where the primary goal is to make people laugh.  The chemistry of the actors involved is great, and they all play so well off one another.

Specific standouts include Joel McHale as Jeff the leader of the group, Chevy Chase as the old man trying desperately to be young, Danny Pudi as the blissfully naïve kid raised by movies, and Ken Jeong as the wacky Spanish teacher.
 


By Evan Crean
Starpulse contributing writer
"THE GOOD WIFE"

Julianna Margulies went from the emergency room to the courtroom to play Alicia Florrick, the skilled defense attorney and scorned wife of former state attorney Peter Florrick in the CBS breakout drama "The Good Wife."

As Alicia deals with the highly publicized sex scandal surrounding her husband, his corruption charges that landed him in prison, and her two extremely curious kids, she also has to balance a full time career and daily office politics at her prestigious law firm. Unfortunately, Alicia can't even turn on the TV without getting a harsh reminder of her husband's infidelity.

While she attempts to figure out who she truly is and keep her kids grounded at the same time, Alicia Florrick is independent enough to pick up the slack for her cheating husband. With major changes happening in the Florrick household, Alicia is going to have to decide whether she will ultimately end up staying with Peter for good, or if sorry isn't enough to heal the damage done to her reputation and her family.

In 2009, Margulies picked up the Golden Globe Award for Best Actress in a Drama for her starring role in "The Good Wife." The talented Chris Noth plays her husband Peter, and there's no question that there's a lot of television experience between these two actors. With the storylines surrounding Peter Florrick's appeal, Alicia's professional and personal struggles, and the refreshing courtroom dramatics, "The Good Wife" is a gripping prime-time drama and one of the hottest new shows on television today.                 



By Brian McKeon
Starpulse contributing writer
"LIFE UNEXPECTED"

"Life Unexpected" is a rare midseason treat. A teenaged girl, Lux (Britt Robertson), who has been in lifelong foster care appears out of nowhere seeking her birth parents. She wants to become an emancipated minor and needs their signature.

Lux's birth parents, Cate ("Roswell's" Shiri Appleby) and Baze (Kristoffer Polaha) were not much older than she is now when she was conceived, and they are not much more mature than Lux is now. As Lux wails on the courthouse steps after being denied emancipation and turned over to Cate and Baze's temporary joint custody, "You're the ones who need parents!"

Lux was conceived during a one night stand between then geeky Cate and Baze, the popular jock, at a prom. Cate never told Baze that she was pregnant and gave Lux up for adoption. No one adopted Lux because she was born with a hole in her heart.

Cate is now a popular co-host of a morning radio talk show with her fiancé Ryan ("Dawson's Creek's" Kerr Smith). She's trying to hold so many things together in her once tidy yet convoluted life, like her relationship with Ryan. Charismatic Baze runs a fledgling bar with his two goofball stuck-in-eternal-frat-party mode buddies. He has bonded very well with Lux. He struggles between being the fun parent and the responsible father.

Lux is very sweet and lovable, has a quick wit and gets along better with adults. She really longs to have friends and be accepted by her snobby private school classmates. She doesn't trust people and shuts people out when she doesn't get her own way.

This show is one of the best on TV right now because of the engaging characters and easy to follow subplots. Absolutely love the twists and turns of Lost and Flash Forward, but sometimes one just wants to settle in with a show that does not require note-taking and with likeable characters who are not twisted and harbor underlying evil.


by Donna Terrell
Starpulse contributing writer


The following shows aren't currrently airing, but new seasons will be starting soon!
"FRIDAY NIGHT LIGHTS"

"Friday Night Lights" eluded me until recently. The show always existed on the periphery, as I expect it does for a lot of people, as "that football show." Being an inherent skeptic of remakes, reimaginings and most sorts of re-whatevers, it always struck me as an odd programming choice for NBC to dedicate a healthy chunk of its prime time schedule to something based on a mediocre Billy Bob Thornton movie.

It wasn't until I stumbled on a review in "The New York Times" when I decided that I was probably missing out. The review described "Friday Night Lights" as not only being great television (which could mean anything, I think "Special Victims Unit" is "great" television, and that show is horrible), but that it's "great in the way of a poem or painting." Well, shit, sign me up.

After watching three nearly perfect seasons, and one admittedly weird black sheep of a season, I've come to see "Friday Night Lights" as being likely the most resonant, emotionally honest show on television. It's far more than just a show about football. In fact, it's as much about football as "Mad Men" is about the advertising industry.

The sport serves more as a cultural backdrop and touchstone than as a dramatic centerpiece. The characters' wistful search for purpose in a town obsessed with the fleeting, short lived glory of high school football should seem jarringly familiar to anyone that grew up knowing those titular Friday night lights. These characters could have walked the halls of anyone's high school, and it's this adherence to reality that puts "Friday Night Lights" up there amongst the best shows of the decade.

Even in its fourth season, which already aired on DirectTV and will air on NBC in April, the show deals with topics like abortion and the death of a parent without resorting to the cloying phoniness that plagues most network dramas that tackle similarly weighty issues.


by Kris King
Starpulse contributing writer
"TRUE BLOOD"
If you like your dramatic black comedies with vampires, romance, sex, bigotry and Southern hospitality, "True Blood" is the show to sink your teeth into.

Adapted by producer Alan Ball (Six Feet Under) from author Charlaine Harris' Southern Vampire Mysteries series, "True Blood" follows the lives and misadventures of the residents of small-town Bon Temps, Louisiana, specifically that of waitress Sookie Stackhouse (Anna Panquin), who has the unwanted gift of reading minds, and her lover Bill Compton, a Civil War-era vampire played wonderfully by Stephen Moyer. Luckily for Bill, he's not alone, as a plethora of vamps are, literally, awakened and living in the same world as humans. At least a night, after the sun goes down.

There's a lot going on with plenty of subplots, the best being the ones involving Lafayette Reynolds (Nelsan Ellis), a gay prostitute-slash-drug dealer; his cousin and Sookie's sassy best friend Tara Thornton (Rutina Wesley); and Sookie's dimwitted but hot brother Jason (Ryan Kwanten). The focal point, however, is equal rights for vampires living in Bon Temps and across the world. Of course, that is complicated by anti-vampire church groups. One church even boasts a sign that reads "God Hates Fangs" in the opening credits.

With cleverly written episodes and an exceptionally talented cast, "True Blood" is by far the best show for those 18 and up who still love stories about vampires. Bottoms up.

By TiffanyElle
Starpulse contributing writer
"DEXTER"

"Dexter" isn't for the feint of heart and requires viewers to jump on board a wild - often violent - psychological rollercoaster. What is good? What is evil? And why do we care so damn much about someone who takes pleasure in murdering people?

Audiences are drawn to the unknown, and the mind of a serial killer is the equivalent of Antarctica - awash with uncharted territory.

Any great show revolves around an interesting, and polarizing, central character. And with all due respect to Don Draper, Dexter Morgan is much more compelling to watch.

"Dexter" chronicles the trials and tribulations of a vigilante serial killer who strives to be normal. And he is...well, except for the murdering. Is Dexter really capable of being like the rest of us, or is he delusional?

That's difficult to answer. It's not as if Dexter is maiming random people. He meticulously searches for criminals who have escaped the law and then takes it upon himself to fulfill the roles of judge, jury, and executioner; by getting rid of the bad people, Dexter, in theory, protects innocent victims in the future.

But Dexter is still a dangerous person trying to live in a civilized community, which is what makes him such an intriguing character.

Any TV show can have a unique idea, but it's up to the actors, writers, and directors to put it all together in a watchable package. Michael C. Hall brilliantly portrays Dexter Morgan (he won a Golden Globe this year for Best Performance by an Actor in a Television Series - Drama) and the writers cleverly use flashbacks and first-person narratives to give the audience insight into what makes Dexter who he is.

That's superb TV, if you ask me.


Story by Phil McRae
Starpulse contributing writer

"WEEDS"

"Weeds" is the ultimate and perfect example of what will and can never be shown on cable television. In short, "Weeds" is pure drama with characters who take part in genius comedic performances.  Kevin Nealon, an accomplished comedian who has been in the business since the mid-1980s, is absolutely hysterical in pretty much everything he says in nearly every episode he is in.  The avid weed smoker falls in and out of love with various women, sells drugs to cops but still cracks jokes, and makes every scene seem like he is on stage doing stand up.

Although the seriousness of the series about drug trafficking, exposing young children and young adults into an illegal business is not something to joke about, in a way a lot of good can come out of "Weeds."  As Nancy Botwin, played by Mary Louise-Parker, plants (literally) her two sons in the dangerous world of drugs, Nancy does well in teaching her children what school doesn't.  Although she pleads with her two boys to finish school and go to college, they ultimately refuse and end up in the family business.   The untimely death of their father brought the two boys so close to Nancy, they will do pretty much anything to stick around and make sure she's okay.

Elizabeth Perkins shows off her comedienne style by being brash, giving everyone around her an attitude, and at the same time keeping you laughing and laughing throughout the entire episode.  Her "I don't care" personality rubs off on everyone around her, making every scene with Celia Hodes an absolute trip.  

The mixture of comedic performances from veteran actors living in a whirlwind world of love, drugs, and as their lives are always on the verge of ruins or catastrophe, they still keep the laughs coming, season after season as drugs keep pushing their lives closer to the edge.
By Katelyn Dato
Starpulse contributing writer
"American Idol"
Five Reasons Why American Idol is the Best Show on Television
1. It brings the country together.
We pick the winner.  We as a nation point our collective finger and say "You!  You are who we want to listen to".  Maybe we don't always get it right (see: Hicks, Taylor), but at least we do it together.
2. It has harrowing, but relatable, human drama.
Only 12 people are picked to sing on the most popular TV show of the last decade.  Waiting for them are four judges who are paid to tell them what they did wrong, 500 hundred audience members begging to be entertained, and 25 million people watching them on TV, alternately jealous and resentful of their position, and hopeful they will triumph.  They will be singing a song made famous by someone far more talented than them, and are expected to be his or her equal, or better. They must be perfect, or their career is over. This is their dream on the line.  And then they perform.
3. It has the best cast on TV.
Ryan, the hero, striving to keep order, make everyone happy, and race against time.  Randy Jackson, the  bumbling sidekick who never gets it right.  Ellen, the unqualified veteran trying to find her way.  Kara, the new star, struggling to prove her worth.  And Simon, the secretly likable villain, holding the  careers of everyone in his hands, deciding their fate.  And this is all before we get into the complex, fascinating, troubled, brilliant singers competing every season.
4. It is a delicious trainwreck.
We don't watch Nascar to see the cars go in circles; we watch to see them crash.  We watch Idol for the same reason.
5. It changes lives.
Kelly Clarkson is one of the biggest pop stars in the world.  Carrie Underwood RUNS country music now!  Paula Abdul was a washed up diva until Idol brought her wonderful craziness back into our lives.  Chris Daughtry, David Cook, Adam Lambert, all beloved rockers now.  Jennifer Hudson has an Oscar!  Clay Aiken has a life! And Ryan Seacrest is on his way to becoming a national treasure.

Story by Jason Matthews
Starpulse contributing writer