Showtime has been around for a few decades, but for some time it never quite managed real competition against its rival, HBO. Things have changed. In the past few years it has definitely blossomed with movies, both famous and independent, and quality television programming.
Past popular shows "
The L Word
" and "
Queer As Folk
" paved the way for current programming like "
Dexter
," "
Weeds
," and "
The Tudors
." So what's up for Showtime this year? Let's take a look!
Premiering on Monday, June 8 at 10:30 PM, "Nurse Jackie" stars
Edie Falco
as the title character. Exhausted by her every day chaos at a New York City hospital, Jackie deals with her personal problems such as back pain, moral ambiguity, and possible drug addiction. She is determined to save her patients even if that means fighting or conning their own doctors.
This is supposed to be a funny half-hour comedy with a dark bite, probably not unlike the overall tone of "Weeds." Along with Edie Falco, the cast includes
Peter Facinelli
, playing a good boy doctor, Jackie's lover Eddie played by Paul Schulze, and her gay friend and coworker Mo-Mo played by Haaz Sleiman. If you're a fan of dark comedy and/or medical drama, this will probably be right up your alley.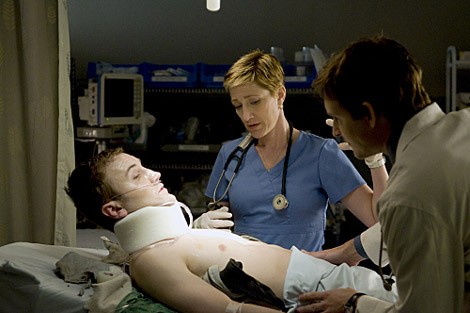 Image © CBS Broadcasting Inc.
Rumored New Series
There are also rumors going around that several new shows are in the process of being developed, including one about Camelot created by Michael Hirst (also creator of "The Tudors" and "
Elizabeth
").
Seth Rogen
apparently has a comedy in the works for Showtime, and a possible sci-fi adventure from the producers of "
Supernatural
" and "
Jericho
."
Returning Favorites
Returning on Showtime this year are several of their hit programs, including right now "The Tudors," which is almost done with its third season. You can catch the episodes online, but for a quick summary King Henry VIII has finally found martial bliss with the sweet Jane Seymour. She works to repair his relationship with his daughters, Mary and Elizabeth, and set right the wrongs that were done during the Anne Boleyn fiasco. Henry may just get that male heir he's waited so long, but first he has to deal with an uprising of rebel peasants, a pesky Cardinal with a claim to the throne, and his dissatisfaction with Cromwell. Season four, airing in 2010, will be the final season of "The Tudors" so it is not too late to catch up before the final saga.
"Weeds" begins its fifth season on June 8 at 10 PM EST right before "Nurse Jackie" premieres. Last season had quite the twists and turns as Nancy was forced to move her family from Agrestic to Ren Mar near the Tijuana border in California. She begins drug trafficking across the border for Guillermo, but this gets steadily more complicated as she opens a maternity store as a front and she realizes things other than drugs are being smuggled through her. She also begins a dysfunctional relationship with the corrupt Mayor of Tijuana who is Guillermo's boss (and hers as well). This led her to start informing the DEA, and getting in quite the tricky position with her boyfriend.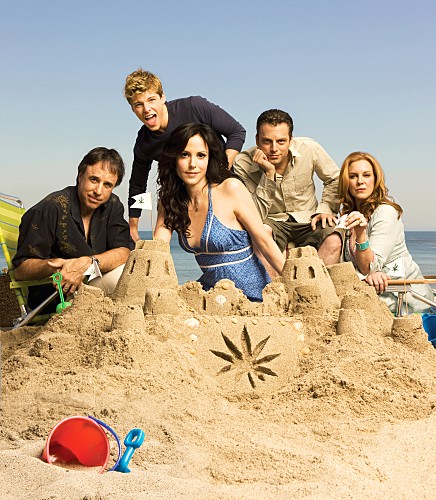 Image © CBS Broadcasting
The rest of the Botwin family breaks down in their own unique ways, with both Shane and Silas acting out through sex and rebellious behavior. Andy and Doug start a business moving immigrants over the border, and Celia goes through drug rehab. It was a pretty dark season, and surely missed Conrad and Agrestic, but it doesn't look like they'll be going back any time soon. Especially not with Nancy apparently being pregnant by new boyfriend Esteban. Let's hope Nancy will live through another season.
As for the other major shows on Showtime, "
Secret Diary of a Call Girl
" was given a third season before the second season aired, and it was filmed early this year after star
Billie Piper
gave birth. "
Brotherhood
" is still in danger after a disappointing third season, but there is no final word on whether or not it is canceled. "
Californication
" will premiere its third season in late 2009, along with "Dexter," which will start its fourth season late 2009. "Dexter"is already renewed for a fifth season. Wonder how his new life as a father and husband will go for his murdering habit? "
The United States of Tara
" will not air its second season until 2010, but it was renewed and proves to be another hit series for Showtime.
That's what viewers have from Showtime this year, but its quality programming is just beginning. Try out the new "Nurse Jackie" to see Falco, and return to drug running in California with
Mary Louise Parker
in "Weeds." If it continues with this momentum, it's going to be hard for HBO to keep up, even with their current hit shows.
What are your favorite Showtime shows? Let us know in the comments!
Story by
Chelsea 'Dee' Doyle
Starpulse contributing writer
Click here to follow @Starpulse on Twitter!