What We Were All Thinking - The Full Starpulse Oscars Recap
6:55 - Robin Williams starts his presentation of Best Supporting Actress by making a joke about balls being held.  Really?  A balls joke?  It's no wonder he's become so irrelevant this century.
6:59 - And Monique gets a standing ovation!  And why not?  If there's any performance moment that deserves a standing ovation it's her closing monologue in that film.  Not only that, but she follows it with a brief and eloquent speech stating what the Oscars should be about and thanking her husband in a truly heartfelt manner.  My predictions - 5/10.
7:06 - As I predicted, "Avatar" takes down the Oscar for Best Art Direction.  Now doesn't it seem strange?  Didn't this movie use visual effects as a means of avoiding Art Direction?  Isn't that the thing that made this movie such an accomplishment, the way it didn't really have art direction?  I guess not.  My predictions - 6/11
7:10 - The predictions are coming back strong as "The Young Victoria" wins Sandy Powell her third Oscar!  Now that's an impressive haul, and not to stereotype, but doesn't she just look like a costume designer?  A great touch humility from Powell to dedicate her award to the designers who work without budgets - that was like Michael Caine winning for "The Cider House Rules" without the touch of self-congratulation.
7:17 - The "Paranormal Activity" parody?  Funny, but it felt like it could have been so much funnier - the parody on "30 Rock" was far superior.
7:22 - My favorite part about the Oscars are the clip retrospectives, but this horror clip show left a lot to be desired.  It would have been nice to have a few directors (Roger Corman, Wes Craven, John Carpenter perhaps?) talk about the art of horror rather than just running out some clips.  It seemed incomplete.
7:23 - Just as the little featurette about Shorts wonderfully complimented that category - Morgan Freeman's piece did a superb job of highlighting the difference between the two sound categories.  People who don't know a whole lot about movies just went "whoa!" when they saw how the sound is handled on these films.
7:25 - "The Hurt Locker" pulls the mild upset of "Avatar" in the Sound Editing (which is for sound effects) category.  That's two mild upsets for "The Hurt Locker" so far - this and screenplay.  It's starting to look like its Best Picture case is very strong.
7:26 - And another sound award for "The Hurt Locker", and it was great to have its winner for Editing just pop right back out to take home his second statuette.  Jeez, make us all like underachievers why don't cha?  My predictions - 7/13.
7:36 - "The Hurt Locker" can't topple the behemoth here as "Avatar" wins for Best Cinematography.  And we get another speech that is nothing more than the winner thanking people.  They really don't want to use that "Thank You Cam"!  My predictions - 8/14.
7:38 - Now I like James T as much as the next person, but this innovation from last year, definitely should have been scrapped.  Having a live singer cover The Beatles onstage only serves to distract from the In Memoriam montage, rather than supplement it.  At least this year the director didn't continually cut to the performance so it wasn't as egregious.
7:41 - In a bit of a surprise, Roy E. Disney wins this year's saddest popularity contest, narrowly earning a louder ovation than Karl Malden.
7:46 - Remember when everybody made it a point to mock the Debbie Allen-choreographed interpretive dances to selections from the nominated scores?  Well, the producers have decided to dust that dinosaur off and bring it out of retirement!  Really?  We have to see this and didn't get to see Ryan Bingham sing "The Weary Kind"?  Yikes.  And the show was going so well until now. . .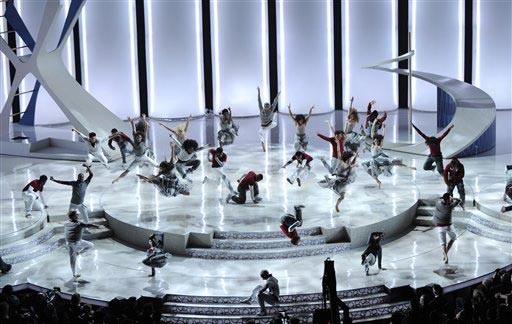 7:49 - Wow, I can't believe it took them three minutes to get to the guy in a schoolboy outfit doing some sort of metamorphic version of The Robot.  I mean, if you have that guy in your holster, wouldn't you draw it first?

7:51 - That took six minutes while the opening monologue took thirteen, I could have sworn it was the other way around.

7:52 - Another correct prediction (how rare!) as "Up" captures Best Original Score, and Michael Giachinno very eloquently states that creating art is not a waste of time.  Nice of a winner to use the platform to make a statement that's truly inspiring.  My predictions - 9/15.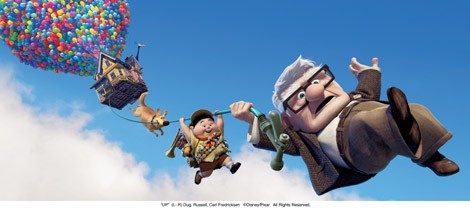 7:55 - In the biggest lock, maybe in the history of The Oscars, "Avatar" takes home the Best Visual Effects trophy.  Not only was it the biggest lock, but it was the most deserving of an award out of any nominee.  How great were the visual effects?  There wasn't a moment where what was being shown on screen didn't seem completely real, even though it was nothing but graphics.  My predictions - 10/16.

8:02 - If you're like me, every time you watch the roll of Best Documentary Feature nominees you think to yourself, "I really should watch more documentaries."  Also, if you're like me, you never end up doing it.

8:04 - Wow, Fischer Stevens!  He's long been one of my favorite "That Guy" actors, especially for his work on "Lost" and in "Reversal of Fortune".  So cool to see him winning an Oscar for "The Cove".  My predictions - 11/17.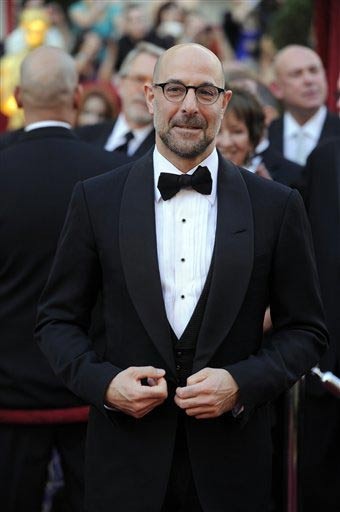 8:07 - "The Hurt Locker" takes down Best Film Editing, which historically equals a win in Best Picture.  And why not?  Film Editing is the technical aspect of a film that most contributes to its quality.  My predictions - 12/18.

8:09 - The scene in "The Hurt Locker" where Jeremy Renner pulls on the wire and unearths about a half-dozen IEDs all strung together is the second coolest camera shot of the year.  The coolest: The shot in "Inglorious Basterds" where Melanie Laurent's giant head laughs maniacally as the movie screen onto which it's being projected bursts into flame.
8:17 - While this is a bit of an upset ("A Prophet" and "The White Ribbon" were the frontrunners) it isn't quite on the level of the standard upset, as many pundits were predicting that "The Secret in His Eyes" would topple the big guys in this category, and it did.  A lot of people, but not me.  My predictions - 12/19.

8:24 - Not so fast - the five actors are back, and now it doesn't matter whether or not they actually won an Oscar, just as long as they worked with one of the nominees before.  Ick, I'm starting to feel uncomfortable - just like last year.

8:29 - Here's what is very annoying about the Oscars:  If Morgan Freeman hadn't won for "Million Dollar Baby" he would probably win this year, he might even have been a lock, but since he's already got one, that lock status shifts to Jeff Bridges, who hasn't won.  Let's follow Monique's suggestion - make it about the performances, not the politics.

8:32 - To the surprise of a couple people living under a rock, Jeff Bridges takes home the Best Actor Oscar to a rousing standing ovation.  I'm so so glad that he finally has an Oscar, even though this isn't even in the top ten performances of his career.  I'd say the speech was pretty much the stock Oscar acceptance speech where the actor thanks everybody who's close to him and everyone involved in the film.  He did add the nice story about his dad - this is one cool showbiz family.  My predictions - 13/20.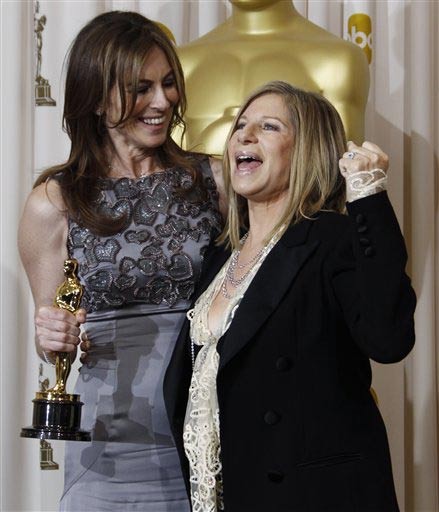 8:44 - There's no reason for me to reiterate my distaste for this practice of actors patting each other on the back on national television, but watching Oprah bloviate for about two minutes just sunk this one-year-old practice to a new level of annoyance for me.

8:46 - Stanley Tucci came the closest to getting it right.  It's so much better to gently mock them rather than get down and kiss the nominees' feet for two minutes.  I actually enjoyed his little toast.

8:48 - And all the acting favorite hold up as Sandra Bullock wins her first Oscar for her role in "The Blind Side"  And, oh no, she does the Michael Caine thing!  We just had to watch five other people do this - don't do it again, Sandy.  Luckily, she doesn't last very long in complimenting everyone else, and instead tells us a nice story about how her mother made her the actor she became.  My predictions - 14/21

8:54 - Could Barbara Streisand have been any more self-serving when she paused to say, "The time as come" when she announced Kathryn Bigelow as the Best Director winner?  Once a diva, always a diva I suppose.

8:57 - I like that Kathryn Bigelow did not follow Barbara Streisand's lead and make her win all about the fact that she's a woman.  I doubt Bigelow has ever thought of herself as a woman director - she's always just been a director, as evidenced by her testosterone-fueled canon.  

8:58 - And, in a bout a split-second, "The Hurt Locker" wins Best Picture.  Really?  We couldn't even re-read the nominees?  That almost seemed like a practical joke it went so quickly and really destroyed the gravity of the moment.  Still, seeing Jeremy Renner, Anthony Mackie (who should have been nominated), and Brian Geraghty pal around like five-year-olds made it easy to forget the strange way the award was presented.

9:02 - As the credits roll, I'm saddened that they did not do what they did last year - which was use that moment to highlight films coming out later in the year.  I've always thought the Oscars could make itself an event like The Super Bowl if it sold all of its commercial breaks to two-minute trailers of upcoming films and insisted that these be the first time anybody saw trailers for these movies.  That would make the evening even more special, and lead to a watercooler commercial discussion just like the Super Bowl.  Last year's montage of clips over the credits was close to that, but now it's gone.  Oh well.

9:07 - Also from last year.  In last year's diary, I wrote that "Castle" would last about five episodes, and it became the most-mentioned piece in the comments section.  And now, after Oscars ended, is an ad for an upcoming episode.  I stand corrected.

Final Thoughts

This was a great Oscar show.  Alan Baldwin and Steve Martin were exceptional together.  My only problem with them was that I would have liked to have seen even more of them.  How often can you say that about a host?

Yes, the show ran very long (3:30 to be exact) and it had some horrible moments (The Actors standing on stage at the beginning, the NPH musical number, and the annoying interpretive dance to the scores) but it actually managed to feel tight as Alan and Steve kept it moving at a great clip.

As for the awards themselves, they were what they were, with the only real surprises coming in the screenplay category.  In the end, the favorites won, and drama was at a minimum.  But with the Oscars, it's rarely about the awards, and always about the show itself.  And this was one of the best.

Well done Alan and Steve.  Well done.
Story by Andrew Payne
Starpulse contributing writer
What are your thoughts on this year's Oscars? Leave us a comment below!