What We Were All Thinking - The Full Starpulse Oscars Recap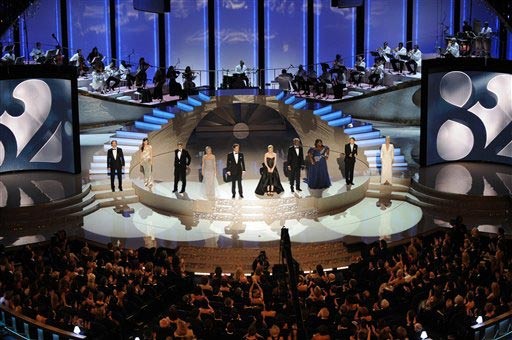 Tonight's Oscar ceremony is probably the most re-designed ceremony in Academy history.

Just look at all the changes.  10 Best Picture nominees, two hosts, no Best Song performances, more dance, a supposed streamlined show, and, weirdest of all, a request for no "thank yous" during the acceptance speeches.

Plus, a few of last year's tweaks will remain.  They're sticking with the abhorrent practice of having five actors come out and sing the praises of the year's present crop of nominees (at least only in the Leading categories this year), and the producers are insistent on further expanding the musical feel of last year's show - making us wonder when this will turn into an MTV Awards show and just cease to be the Oscars of old.

Yes, in two years the Oscars have radically transformed themselves, and undoubtedly the ratings will have everybody patting themselves on the back.  Even though that really has everything to do with "Avatar's" being nominated after its $700 million haul - something that would have happened if The Academy had stuck to five nominees.
CHECK OUT OUR ENORMOUS OSCAR GALLERY HERE!








So while the ratings are certain to go up, will all these changes actually make the show better?  Let's find out with this year's Mega Oscar Diary (west coast times):

5:00 - ABC's choices for the biggest pregame show that doesn't involve the Super Bowl?  Sherri Shepard and Kathy Ireland!  What happened, the broadcast school at UCLA couldn't lend out any freshman students for the show tonight?

5:02 - It seemed like a very good idea to stack up all the Best Supporting Actress nominees for the same interview spot to kick off the pre-show, but this doesn't seem like the night for camaraderie - it all seemed a bit awkward.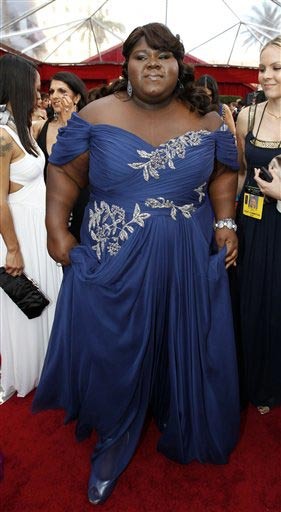 5:04 - Kathy Ireland thanks Jake Gyllenhaal for her powerful performance in "Brothers".  And I'd like to thank her for powerfully sticking to her pre-written questions and closing no matter what happened during the interview.

5:05 - George Clooney makes a joke that his girlfriend doesn't understand English and apparently it's true.  Reports also say that he doesn't speak Italian very well.  So I suppose they both communicate in some sort of secret beautiful people language.

5:06 - For the second year-in-a-row we get Zac Efron interviewed on the main Oscar pre-show.  I have to admit, I've never seen a single thing Efron has ever been in - for all I know his entire career is a trick of Hollywood editing - like the Moon Landing.

5:07 - There's apparently a movie coming out at the end of the month called "The Last Song".  This is another Nicholas Sparks adaptation, just about two months after "Dear John".  Is he starting to turn into his own 'Lifetime Movie Network' - where we see a new movie of his every time we open up a new magazine ad?  Also, apparently Miley Cyrus is the kindest, most beautiful daughter in the world.  And that script doesn't have a single cliché in it.

5:10 - Even at 82, Christopher Plummer is looking like the coolest guy at the Kodak Theater. And there's nothing like an interview that closes with, "Thank you so much for talking."

5:11 - Morgan Freeman chewing gum during his interview.  Nice of him to show Kathy Ireland some respect.  Especially after she thanked him for his philanthropy with all the sincerity of somebody reading that line off a TelePrompTer - which she clearly was.

5:12 - Something that didn't just occur to me until they ran by that list of the ten Oscar Nominees for Best Picture: "Inglorious Basterds" has a swear word in it!  It just didn't hit me until now that they're going to be dropping that B-Bomb about two dozen times this evening.  Just doesn't seem very Oscar-y.

5:15 - Nothing like starting an Oscar interview by yelling, "Hey Girl!"  Something tells me Army Archerd never did that.

5:16 - It seems that advertisers think the demo for the Oscar pre-show is exclusively teenage girls.  The first two commercial breaks lead off with "The Last Song" and "Remember Me", respectively.

5:19 - So Whoopi Goldberg just did a 60-second commercial for something that soaks up those times where you pee in your pants a little bit.  First of all, what sort of embarrassing moment is that when you go to buy a box of Poise at the supermarket?  This is the best argument yet for the self-checkout lane.  Second of all, remember when Whoopi Goldberg won an Oscar?  What happened there?

5:20 - Only on this ABC Oscar pre-show could Tina Fey and Steve Carrel together seem unfunny.  Let's hope "Date Night" doesn't repeat that strange occurrence.

5:22 - Wow!  Sherri actually asks not only a good question, but a great question as she asks Jeff Bridges how he chooses his roles.  Unfortunately, he just plays the "movie I'd like to see" card.  I thought we may actually get some insight.

5:24 - Kathy Ireland just said the world is hanging on Gabourey Sibide's every thought.  Is there anybody on this planet, other than people who know her personally, that is even hanging on Gabourey's every other thought?  I think Ireland may have set a new standard for hyperbole.

5:26 - I just broke this down like officials reviewing a close play at the goal line during a Replay Challenge and the ruling is in - Kathy Ireland definitely said the Oscars will be hosted by Steve Martin and Alan Baldwin.  Just, wow.  I guess I'm going to have to refer to Alec Baldwin as Alan for the rest of the diary.

5:30 - And we start the show with a new change that really couldn't be more ill-conceived: The nominees in the leading acting categories simply stand onstage as their names are read off by the announcer (see pic above).  How was that interesting or entertaining?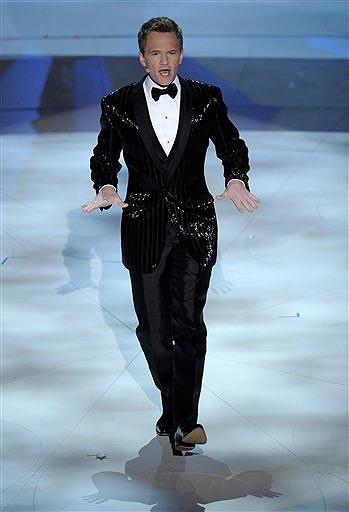 5:31 - And the rumors are true - NPH starts us off with a jacket that would make Liberace think twice and a song with lyrics that are both unfunny and hackneyed, plus a reference to James Cameron that couldn't be lit properly.  Wow, this is a bad start - if NPH can't make something work, nobody can - he certainly put his all into it.

5:44 - Well that was a great recovery, despite a bit of a shaky start where it looked like the two-man comedy monologue would result in a clumsy delivery, the opening monologue by Steve and Alan was pretty much perfect.  Tons of good gags including mistakenly calling Helen Mirren "Damn" instead of Dame; bursting Meryl Streep's bubble by saying she has the record for the most losses and has a vast collection of Hitler memorabilia; playing up the rivalry between Kathryn Bigelow and James Cameron by saying she sent him a gift basket with a timer as a congratulatory present and Cameron responded by sending his ex-wife a Toyota; Martin referencing "The Jerk" by saying that he, like Gabourey Sibide, started his career as being born a poor black child; and the capper: telling Christoph Waltz that if his character was looking for Jews, well he just found the mother lode.

5:44 - Ah, another great recovery - back to the tradition of having last year's opposite gender acting winner present the acting categories.  So much nicer, so much simpler, so much less self-congratulatory.  And it's certainly an improvement to show these extended acting clips - let us all see the work!  Too bad these will only last for the supporting categories.

5:48 - One category, one complete no-brainer, one correct prediction (for everybody).  Christoph Waltz wins for Best Supporting Actor with one of his trademark pre-written, and incredibly classy, speeches.

5:51 - Watching the clip of "The Blind Side" is the first evidence of why the ten Best Picture change is a bad idea.  Really?  We nominated a movie with the line "I'm a member of the NRA and I'm always packin'"?  Something that belongs in a Larry The Cable Guy comedy routine?  

5:53 - Apparently Gerard Butler's character in the "The Bounty Hunter" couldn't catch a cold if it sat on his face.  And that movie couldn't write a laugh line if it had Woody Allen, Judd Apatow, John Cleese and Tina Fey chained in its basement.

5:55 - The Jimmy [Kimmel]/Ben [Affleck]/Jennifer [Garner] strange bedfellow commercial wasn't quite as good as the Leno/Letterman/Oprah commercial, but it's at least on that level.

5:57 - From the Steve Carrell-as-Jude Law introduction to the interviews with the animated characters there was nothing that wasn't fantastic about the way the Best Animated Feature nominees were presented and Pete Docter's acceptance speech for "Up's" win was equally fine - I think we're two-for-two in ignoring the rule about not thanking people (and I'm two-for-two on my predictions.  Cheers all around.)

6:01 - It's kind of funny how when Miley Cyrus and Amanda Seyfried listed some of the past Oscar winners they were also naming some of the most memorable moments in Oscar history with regards to the performance of those songs - wouldn't it be nice if we got to see this year's songs performed as well?

6:04 - And now I'm three-for-three as T. Bone Burnett and Ryan Bingham take home their Oscar for Best Original Song, and Bingham brazenly goes against the new rules by making his speech a simple and classy thanking of everyone close to him.  I think the "Thank You" cam is officially obsolete.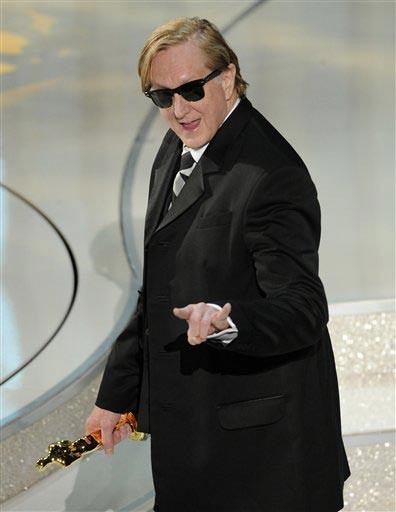 6:06 - And now one of the reasons why the switch to ten is such a brilliant idea: "District 9".  How else would we get a brilliant and experimental allegorical sci-fi action film any recognition without ten slots on the Oscar ballot?

6:12 - Two great innovations kept from last year.  Presenting screenplay nominees with readings of the actual screenplays and having Tina Fey present the award.  A boffo exchange between her and Downey, Jr. lead things off.

6:15 - And I miss my first prediction as Mark Boal pulls off the very mild upset of Quentin Tarantino for Best Original Screenplay.  A very nice and quick speech from Boal as he caps it with a simple tribute to his late father.  My predictions - 3/4.

6:18 - It's rare for the Academy to dedicate an In Memoriam section to one person, but one look at this retrospective makes it easy to see why - his resume is astounding.  It's amazing when you realize that all those 80s teen comedies make up only about half of his contribution to cinema - and the other half is just as classic.
6:22 - Wow, Macauly Culkin looks exactly the same as he did in "Home Alone".  I mean exactly.  Apparently, the Mac Don't Crack.

6:23 - I wonder if that was an error in the writing or on Samuel L. Jackson's behalf - no other movie has been nominated for Best Picture and Best Animated Feature.  There was another animated movie nominated for Best Picture ("Beauty and the Beast") but there was no Best Animated Feature category at the time.

6:28 - A very cool retrospective about short films and how their creators went on to future success.  I'm sure these are the awards that have most people wonder why they exist, and this quick featurette gave the category some meaning for most of the casual Oscar viewers.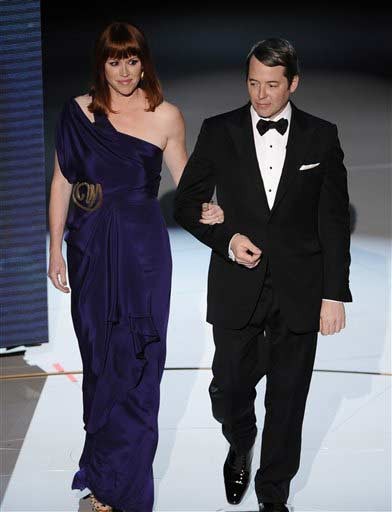 6:31 - Whoa!  Major upset time.  Since this category is so tiny (no pun intended) this isn't going to get much run tomorrow in the press, but "A Matter of Loaf and Death" was about the biggest lock of the night - the "Wallace and Grommit" shorts have won four Oscars despite there only being three of them.  And now, they've still only won four as "Logorama" pulls a major upset and its directors gives the best speech of the night by far, saying the 16-minute film took him 6 years to make, so he hopes to come back with a feature in 36 years.

6:34 - "Music By Prudence" takes down the Documentary Short Subject Prize and follows it with a bizarre acceptance speech, that appeared as if it were a Kanye West situation until we learned that Elinor Burkett (aka the lady in purple) was involved with the film.  That was fun.

6:36 - "The New Tenants" wins the Oscar for Best Live Action Short and while the Director attempts to make a heartfelt speech, his producer keeps trying to prod him along - only to have his mic cut once he finally gets to talk.  How sad.  Also, my predictions got nailed in that segment - They're now 3/7.

6:38 - Ben Stiller comes out in "Avatar" costume - saying it seemed like a better idea in rehearsal in Na'vi.  And you know what, he was right.

6:41 - My predictions recover just as Ben Stiller's bit recovers with a clever envelope gag.  "Star Trek" wins Best Makeup, putting me back to .500 at 4/8.

6:42 - Haven't mentioned this in awhile so I'm glad that Mindy Hall did it for me when she brought up the insipid "Thank You" camera after making another speech that was nothing more than thanking people.  Just amazing how much the winners have ignored that suggestion.

6:45 - So apparently there's some sort of great debate about how toilet paper rolls out and Cottonelle has created a roll that always "rolls over" since that's what people prefer?  Between that and the thing that absorbs the times people slightly pee their pants, it seems we're officially out of things to advertise.

6:47 - Unfortunately we don't get Tina Fey for the Adapted Screenplay presentation.  Last year it just seemed so fitting to present both screenplays together.

6:49 - I think that was the longest sustained period of "In The Loop" that didn't feature a four-letter word, and I'm actually very surprised there was a moment that lasted three lines.

6:49 - Wow!  Another upset!  "Up In The Air" was a complete and utter lock right here and it goes down to "Precious".  I can't say I'm upset - "Precious" was simply a better screenplay than "Up in the Air", and it's always nice to see the reaction of somebody who wins out of genuine shock as Geoffrey Fletcher just looked completely overwhelmed by the moment, and Steve Martin nicely topped it by saying that he wrote the speech for him. My predictions - 4/9.

6:53 - These Governor's Awards are kind of like something I've always thought the Oscars really needed - A Hollywood Hall of Fame.  This would undo the need for giving people Oscars at the end of their careers for inferior work, and could give the Academy the chance for a second show in the middle of the year.  Think of this - The Academy holds its first ever "Hollywood Hall of Fame" induction ceremony on a Sunday in July when nothing else is on TV.  The maiden class includes Alfred Hitchcock, Katherine Hepburn, Humphrey Bogart, Orson Welles and Marilyn Monroe - you're definitely watching that telecast.