What Should Happen To The Emmys?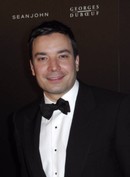 This year's Emmys, admirably hosted by Jimmy Fallon last Sunday, were watched by approximately 13.5 million viewers.  That's slightly above last year and about on par with the last several years.  Is it good enough?  Yes, but it's likely not thrilling Emmy producers who were probably hoping to make next year's telecast an easy sell.
The Big Four networks' contract with the Emmys – in which they rotated what network would air the show each year – expired this year.  The last time the contract was negotiated - in 2002 - licensing fees were a big issue.  Upcoming negotiations are probably going to be just as interesting.
The Big Four are apparently pushing for the Emmys to be sliced into two shows – one featuring the series nominees, and one featuring long form – i.e. the TV movies and miniseries categories.  Why?  It seems they're sick of HBO always winning in the movie categories, where it has more of a hold on winning than perhaps any network has had a precedent winning anything in Emmy history.
This year's case-in-point: Temple Grandin, the little-seen but critically lauded tale of an autistic woman's triumph over the hurdles of autism.  While the actual Temple Grandin showed up at the Emmys and offered sweet spunk, watching the movie get win after win was probably grating to viewers who'd never even heard of it.  "Oh yeah, that's the guy who played Murrow in 'Good Night and Good Luck.'  Hey, that's Angela Chase from 'My So-Called Life'!  But what is that movie?"
Even the basic cable networks – who could potentially inherit the TV Academy's honors if the Big Four decide to take a pass – are hoping to split the show into two parts.  On their side: unlike the Grammys, which present just a handful of trophies, or the Tonys, the Emmys on Sunday handed out an astounding 27 awards.  No wonder they cut off Matthew Weiner when he won for Best Drama Writing.
What do you think – is this a turning point for the Emmys?  Should they submit to the networks' desire for a snappier telecast?  Can the show get its mojo back?  Will Jimmy Fallon be sued by Elton John?  Sound off!