What Is The Greatest Baseball Movie Of All Time?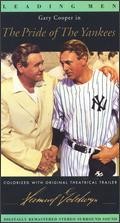 In preparation for this year's Tribeca Film Festival, Tribeca and ESPN are partnering up to showcase a classic baseball film at the Tribeca/ESPN Sports Film Festival on Saturday, May 5. It's up to the fans to choose which film will be shown on the big screen by voting at the
Tribeca Film Festival website
.
This competition will be brought alive as your favorite ESPN sports writers and announcers will participate in the debates over these match-ups with heated commentary, so continue to check in to see how your favorite film is measuring up. There will also be forums for voters to participate in the online dialogue – you can even lobby for your favorite!
Voting begins now and runs through March 26, and the competition will be laid out in a March Madness-style tournament-- complete with seeding and various rounds of play. The champion will be crowned on April 25, opening day of the Tribeca Film Festival, and the winner will be screened on May 5 at the Sports Festival. You can learn more about the competition as well as the ESPN Sports Festival night
here
.
So indulge your inner couch-potato-sports-and-film-fan and be part of the action!
Here are some of our favorites:
The Pride Of The Yankees
A League Of Their Own
Major League
The Sandlot
The Natural
Bull Durham
61*
The Rookie
Field Of Dreams
Eight Men Out
The Babe
The Bad News Bears
For Love Of The Game