What Happened To The Emmy Nominations?!
What happened to this year's Emmy nominations? They're...actually pretty great.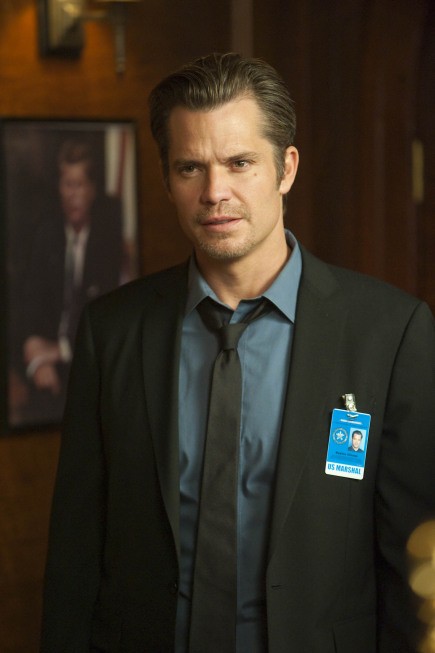 I normally can't stand TV's big awards show; it seems like the same people and series get nominated all the time, with the occasional "why did that get nominated at all?" head-scratcher for variety. But the 2011 nominations were announced early Thursday morning, and while it's still a little puzzling (though let's not name names), there's a bevy of deserving names on that big list.
Here are some of my favorites:
Finally, some love for Justified: I still maintain that star Timothy Olyphant was robbed last season when he didn't even score a nomination for the FX drama. Well, this year he finally got his - in fact, Justified scored nominations in all four major dramatic acting categories.
Olyphant (Outstanding Actor in a Drama) is joined by Walton Goggins (Supporting Actor in a Drama), Jeremy Davies (Guest Actor in a Drama), and the brilliant Margo Martindale (Supporting Actress in a Drama).
As an Olyphant fan, I'll be pulling for him to win, but if Martindale doesn't, I'll be truly shocked.
And some love for Friday Night Lights! I know a lot of shows get farewell nominations in their final season, but I'm still grateful that the NBC series got three acting nominations - including Outstanding Drama, Outstanding Actor in a Drama (Kyle Chandler) and Outstanding Actress in a Drama (Connie Britton) - as well as a writing nod for the series finale, "Always."
Some of my longtime favorites getting the nod: I've loved the work of Andre Braugher since I was young, so I'm always happy to see the talented thesp pick up a nomination (Supporting Actor in a Drama for Men of a Certain Age).
Idris Elba also gets a nom (Outstanding Lead Actor in a Miniseries Or Movie) for his work as the title character in Luther.
The one that really surprises and thrills me is Josh Charles for The Good Wife. He's been underrated since Sports Night and I'm glad to see him finally getting some recognition, although I admit that he'll always be Dan Rydell to me.
I might be the only one who cares, but it's still awesome: Maurice LaMarche gets a nomination for Outstanding Voice-Over Performance for his work as the fantastic Lrrr ("Ruler of Omicron Persei 8") in my favorite Futurama episode from last year, "Lrrreconcilable Ndndifferences."
I'm pleased to see all of the above getting some critical attention, although it's another thing entirely to see if they actually win (that Actor in a Drama Series category is looking mighty tough, as Olyphant and Chandler will be up against usual nominees Hugh Laurie, Michael C. Hall, and Jon Hamm). Still, I'm glad that they at least got recognized.
There are two omissions that trouble me, although more as a fan than a critic. I would have loved to see The Voice score a nomination in the reality TV category and give The Amazing Race some competition, but I'll have to settle for Adam Levine (hopefully) winning a Teen Choice Award. My guess is the show was probably ineligible considering that it only concluded less than a month ago.
I'm also saddened that The Chicago Code wasn't recognized for anything. It was one of the best series I'd seen in a long time, and while I figured that it wasn't big enough to score a major nod (although I can make the case that Jason Clarke, Jennifer Beals and Delroy Lindo all deserved them), I was hoping that some of the critical goodwill would translate into at least one nomination.
Not even a writing nod? Heck, I would have taken something for cinematography, too. Anything to say that the show was noticed for how great it was, and wasn't going quietly into the TV graveyard. Alas, it wasn't to be.
Overall, though, this is a much better Emmy field than in years past. I might actually watch this time to see what happens.
The Emmy winners will be revealed September 18 on FOX.