What Ever Happened To...? Former Contestants on 'America's Got Talent' Tell All

Do you ever wonder what happens to contestants who don't win when they appear on reality talent shows? Some of them still perform, such as Magni Ásgeirsson, a finalist on "
Rockstar: Supernova
," who still rocks out with his Icelandic band A Moti Sol. Although he was well known in his home country before, he has now become recognized worldwide, has a soon-to-be-released solo album, and his own MySpace page.
Starpulse got in touch with some other former "losers" wanting to know what has happened since they appeared on "
America's Got Talent
." The results are quite candid and may surprise you.
Gery Deer's
hero as a young child was Zorro. After studying for 19 years, he now teaches and displays his skills with the whip mostly in indy films, such as the recently premiered "Edenwood," referred to as a cross between "
Brokeback Mountain
" and "
High School Musical
." (See the
trailer
here.) He also does stunt work, appears at seminars, TV shows, and designs whips and holsters for films.
Nicolas Abramowicz
created Gym Rhythms, a combination of drumming and gymnastics. You can see a clip of it on
YouTube
. He reportedly did not do well on the show because he was stuck in a remote corner of the stage where both the audience and home viewers couldn't see him. He has since become a personal trainer with his unique talent and is dedicated to teaching others this service that can help those who are overweight and underfit.
Russian
Leonid Filatov
, a.k.a. Leonid the Magnificent, appeared in both seasons of "Talent." A performer worldwide, he came to the U.S. to fulfill his dream and make it in show biz. After being eliminated in the first season, he decided to try again in the next one. Beloved by all who appreciate his unique style and talent, he performs in various countries as well as locally in Las Vegas, New York, and other locales. He appears on
YouTube
as well. (Note: Leonid often speaks broken English, but we have tried to keep it intact as much as possible.)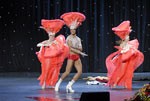 What have you been doing since the "America's Got Talent"?
Gery:
My wife Barbara, whom you know as Scout, and I develop and produce variety shows all around the Midwest in nearly every venue from Wild West to comedy clubs. We manage GLD Enterprises & Productions Entertainment and the Whip Artistry Studio, the only permanent professional facility in the United States dedicated to the study of whip arts. I also serve as executive educational advisor to the Society of American Whip Artistry, a professional organization for whip performers and instructors. We also travel around the country doing whip arts exhibitions and workshops for schools, theater companies, and martial arts centers.
Nicolas:
Since the show, I got my personal trainer certification. People have asked me to teach them Gym Rhythms, so I also train them and teach them to exercise with rhythm. I teach them boxing and conditioning for it as well. Things are going rather well as far as this goes. My clients are trimming down and more are asking me to help them with a focus on rhythm as they exercise. I hope one day I can train high profile individuals/celebrities. I really believe in what I am doing, I love it, and I get great results.
Leonid:
After Season 1, I could not let it go. I could not sleep without thinking to get back and try again. I worked hard, I prepare(d) totally new program, new costumes and new acts to impress the judges and audience.
Now, I just start to enjoy my life and continue to do what I love. I became more simple person and I don't want to have any problem and stresses that I had before. But like always I don't give up and I try to move forward, because I know that every time I go on the stage I give audience something unusual and most people (are) really happy that I do what I love to do. I also work as a dance teacher in (a) couple dance studios, help to choreograph and create others people acts, and record couple new songs that I am going to use for my stage shows.
Did being on it help you with your career?
Gery:
I'd have to say no. "America's Got Talent" was a hit solely by accident. Does anyone remember the names of the winners? Does anyone remember "The Gong Show," the real basis for all of these talent shows? That was on 30 years ago and ran for a decade in syndication. That being said, I didn't have a lot of expectations of this helping my career.
I work all around the country, from Las Vegas, to the Midwest, but I live in my hometown near my family. Because it's a small area we got some notoriety for having been on the show and it looks nice in our marketing materials. Other than that, it's not worth much. It's a little like earning a world record from the Guinness Book. It's kind of cool, but it really doesn't mean anything.
Nicolas:
Being on the show did not propel my career as much as I thought it would. Part of the reason is that I do not have an agent per se to represent me and I was probably one of the only ones on the show who did not perform in front of a Las Vegas audience or such. I am pretty secluded where I am in Phoenix. One has to know the right people here, and it is a very political scene. I still think many have not conceptualized my idea of Gym Rhythms, yet I know one day they will grow to appreciate it more. It is still too esoteric and avant-garde for the folks. It is a unique concept and not mainstream. I do not sing, I do not juggle, and I am not an acrobat. (I think Regis liked it, though.) And I believe things are not going to end here.
Leonid:
Any appearing in National TV is a great opportunity for anybody to get a name and open the door in big show business. I am (an) independent artist and for me it was a chance to enter into the word of movies, TV shows, something big that every artist wants to get in their life. For regular people I became a small celebrity, but for producers, agents and Hollywood I (was) still nobody. The door is still close(d). The only good thing is that I got possibility to increase my salary and get better hospitality during the travel.
The other problem is now when I took auditions for different shows the people see me only like a character "Leonid The Magnificent" and it is harder now to explain that I could work in different styles with different looks on the stage. Right now "Leonid the Magnificent Show" is more unisex. And I am proud that after each show big or small one I got big applauds or even standing ovation. The most popular question that I got from regular folks: "Did you win that competition? No? I was thinking you did!"

Did you feel that "AGT" treated you fairly?
Gery:
That's a difficult question to answer. Scout and I didn't audition for the program, in fact we had no idea what it was when we were first contacted. We were called by one of the producers after they had seen us on another show. Originally, I was asked to be in the main competition but declined several invitations. At the same time we were being wooed by another show on a different network and we turned that down, too. Finally, I agreed to appear on the results show on July 20. The six of us in the results show contest had our performance times cut from 2 minutes down to about 40 seconds, seriously inhibiting our ability to show our real talents.
Instead, we were asked to just do one bit from our routines. I think the main competition was fairer in this process but when we were there they still hadn't ironed out how to judge non-musical acts. There were huge arguments between Brandy, Hasslehoff, and others about how to judge these acts even into the 5th or 6th week. That, I think was unfair to the competitors who had come on prior to that. Really, shouldn't that have been worked out before the show started?
Nicolas:
I would have hoped to get more invitations after the show, like brief appearances on other NBC venues. Such follow up would have been nice. They featured a very short clip of my act on this year's AGT's trailer/show announcement. But that is about it. NBC was pretty nice though, especially my producer Robert Mc Cleod.
Leonid:
Guys and girls who works for productions can not treat you fairly or unfairly. They train to do all jobs with less emotions and they all, from back stage person who clean the stage before and after the show to big producers try to be not involved with your personal feelings. It is just their job, what they do every day. Just think about it, every day! And if they start worry about everything that did happen on the set they will not sleep at night and in few months they all end up in hospital with terrible mood swing.
Don't get me wrong, they were all nice and sweet and they do the best what they can to make you feel comfortable during the show, but it is nothing personal. It is just they job. It is why when you get cut you never ever hear a word from them.
Overall, was it a postive experience?
Gery:
Overall, I believe it was a positive experience but I wouldn't recommend it to everyone. The most difficult thing for us was that the show's production staff hadn't quite figured everything out yet. The live shows seemed to throw them off a bit and the pressure was much higher than it had been at other studios when we have done taped broadcasts. Frankly, being on the show was not the positive part, but getting to meet great people like Larry Clark, Camille Trout, Nicolas Abramowicz, and Douglas Lee made it all worth while. We try to stay in touch with them when we can and we all had a great time being the "not worth a million dollar players," as we came to call ourselves.
Nicolas:
It was a great experience. I did not think the concept of Gym Rhythms and the video clip that I made would have taken me that far that quickly, and expose me to such a wide audience. I finished the clip in April and got contacted by NBC in May. I never auditioned for the show. They just liked the concept. Now people want me to teach them boxing as well, women more so than men for that matter.
Leonid:
Hmmm, I don't know how to answer to this. It's like two totally different people inside me telling totally opposite words. One voice say YES! The other one is NO! Yes, because I got publicity and a lot of love from regular viewers all around the word and some of them even try to help me, do not disappear, and they spend their own free time with opening my fan clubs on the Internet and keep trying to get everything they can to get more attention to my name, keeping they hope to see me one day like a big real star.
No, because professionals did not see anything special or any talent in my acts. Even right now sometimes I meet some of them at concerts and the same events that I work and we do not speak to each other. It is like a big wall between us.
What advice would you give to others that want to apply?
Gery:
Well, the first piece of advice is to stand by to be humiliated. This show and others like it are designed to exploit people, not boost their careers. The entertainment business is humiliating enough without taking your passion and talent before three has-beens or even 'never have beens' who have no idea how to judge what you do. If you're going to apply, know what you're getting into.
Go for the fun of being on a national TV show and leave it at that. Have no more expectations than that. Do the best you can and let the chips fall where they will. Above all, have a thick skin and keep doing what you do, no matter what the ridiculous judges say. If you want to know what all this was really like in detail, visit our website, The Whip Studio.com and read the essay called "Reality Television and What it Was Really Like."
Nicolas:
Just believe in what you are doing. Believe in your idea, in your art, in your talent, and in your creativity. That attitude will take you where you want to go, sooner or later, in one way or the other.
Leonid:
Don't take it to personal if you get cut and don't win. It may destroy you. Don't try to compete with anybody. Use it like a chance to show yourself. If you want to be a star, take it like a test if you can handle the situation and critic(ism) from other people.
Because what you see in this show exactly what real actors, dancers, singer, models, circus acts, and comedians have in their real live. Every audition, every meeting with producers, agents can be the same way like you feel standing in front of the judges. Ask yourself how badly you want it? And be ready for everything. And if you decide to go, please prepare your act, practice a lot and do your best. Try to dress nice, because then better you look the better you feel. Be more confident and believe in yourself. And good luck!
Where can people get in touch with you?
Gery: gldentertainment.com
Nicolas: nicolasabramowicz.com
Leonid: leo-leopatra.com.
Story by
Sheila Franklin
Starpulse.com contributing writer