What Else Is On? Shows Off The Beaten TV Path

This is the time of year when serious TV viewers face a range of emotions - from sadness that a favorite show has ended, to irritation at how a show may have concluded, to anticipation that comes from a cliffhanger. You may feel emptiness on the evenings you would normally be perched in front of the tube. Your DVR sits idle.

"What else is on?" you may think as you flip through the TV listings or channel surf. There is hope! On some of the unsung channels of the cable universe, there are actually many entertaining and family-friendly shows that are quite fun to watch.
We've identified five to start you off. Why not check them out? Set your DVR and watch at your leisure, and you may end up making them a part of your new line-up.
Rebel Monkeys—Wednesdays, 7:00 and 7:30 p.m. CST, Nat Geo Wild


The sacred monkeys at the Galta Temple in Jaipur, India have been assigned personalities and dramatic storylines a la Meerkat Manor. You can't help but get into it and start rooting for the "good" monkeys and hope they don't have a run in with the ugly villainous monkey Fang, or get caught by the notorious monkey catcher.



The Dead Man's Gun—Saturdays, 6:05 p.m. CST, Encore Westerns
We like this little gem because it's a Western twilight zone type show. A mysterious gun, origins unknown, brings bad luck and destruction to all who possess it. Each episode stands on its own, and has twists, turns, and some times endings you didn't see coming. Although this is not a new show (1997), Westerns never go out of style.
Outside the Lines—Daily, 2:00 p.m. CST, ESPN
It's a magazine format investigative sports show that examines in-depth issues of in-season and off-season high school, college and pro sports, from personality player profiles to the rape of African female soccer players, from the events surrounding the death of a Grambling State  basketball player to Venus Williams' outlandish attire at the French Open.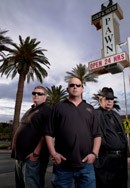 Pawn Stars—Mondays, 9:30 p.m. CST, The History Channel
Strange things come into Vegas' Gold and Silver Pawn Shop—coats of armor, James Bond scripts, Soviet missile launch keys, etc. What's cool is Rick, the owner, always knows something about each item, or he has a contact who does. "Let me call my Soviet missile guy…" The stories and knowledge behind the items are interesting, and the way the guys interact with each other—Rick, The Old Man, and two stooges Corey and Chumlee is a comedy in itself. Who knew The History Channel had a sense of humor?


Next Food Network Star—Sundays, 9:00 p.m. CST, The Food Network
The 6th season starts June 6th! Now here's a reality show that's way high on our list! In true reality show form there's some weeping and gnashing of teeth, but most of the contestants are not totally out to do each other in. You get those cool food challenges and the integrity of the Food Network, where the judges don't get off on making the contestants feel like morons.