What 'Dancing With The Stars' Finale Lacked – Unpredictability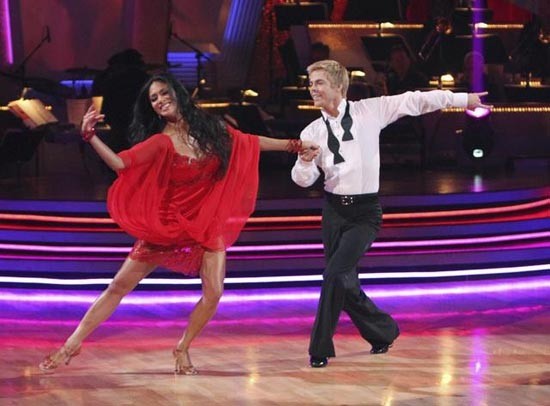 "Dancing With The Stars" is a great idea for a television show – get a handful of some famous faces, pair them with professional dancers and dress them up in sparkly outfits while they get harsh criticism filled with double entendres. As season 10 came to a close last night, it's clear that audiences have really grown to love this formula as the show's ratings top the juggernaut that is "American Idol".
However, here's one complaint – the celebrities with the dancing experience always place the highest! Ok so DWTS is a show based around competitive dancing. It's like the free market where pure competition reigns supreme; where all contestants aren't created equal and the strong eventually crush the weak. Thank you Captain Obvious but that's so boring.
Every season, the show inevitably features a handful of contestants with obvious dancing experience, a few that aren't dancers but are athletically gifted and then those that only have experience doing the Funky Chicken at weddings.  Season 10 for example featured Pamela Anderson, Kate Gosselin, Nicole Scherzinger, Erin Andrews, Niecy Nash, Evan Lysacek, Aiden Turner, Jake Pavelka, Chad Ochocinco and Buzz Aldrin. Not surprising, the final three include Nicole Scherzinger who has an extensive dancing background from her Pussy Cat Dolls days, Evan Lysacek, the gold medalist in men's figure skating (hello insanely intricate choreography) and Erin Andrews, ESPN reporter and former member of a dance team.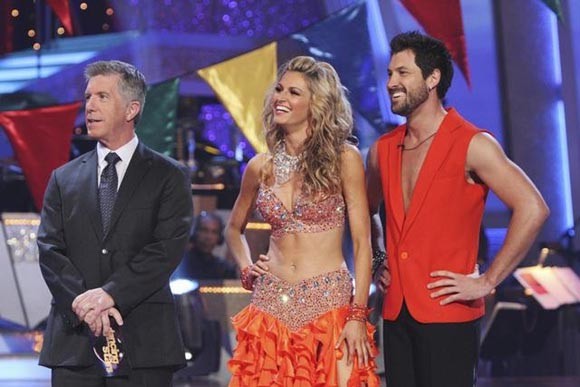 Other seasons have had similar lineups. Last season, in a not so shocking finale, Donny Osmond took home the trophy and the truth is, the last name "Osmond" basically guarantees an above average comfort level with choreography and stage makeup. The season before that, Shawn Johnson, Olympic gold medalist for gymnastics, won and in Season 6, Kristi Yamaguchi, Olympic gold medalists in women's ice skating, snagged first place.  Granted gymnastics and ice skating aren't exactly the same as ballroom dancing but it's certainly much closer than walking on the moon like Buzz Aldrin or interviewing with Good Morning America like Kate Gosselin.
DWTS is a competitive dancing show but dancing isn't at the heart of the show because if it was, then every contestant would be a competitive dancer. The main point is entertainment, excitement, surprises and maybe keeping Tom Bergeron employed. What's more entertaining, watching Kate Gosselin "dance" out her emotions and Buzz Aldrin shake his hips (I bet they're all real) with a girl young enough to be his granddaughter or watching Evan Lysacek and Nicole Scherzinger get high scores? I'll take Kate and Buzz any day. DWTS needs to rework their scoring system and level the playing field among the contestants. They need to make room for more surprises and actually make it believable for someone without the dancing background to win. If weight loss shows like "Biggest Loser" or "Celebrity Fit Club" can find a way to make the competition fair between contestants whose weight differs by 100s of pounds, then DWTS can figure out how to end the reign of the dancer celebrity. Make some changes, DWTS! 


Story by Nicole Bagood
Starpulse contributing writer