What Celebrities Would Be 'Horrible Bosses'?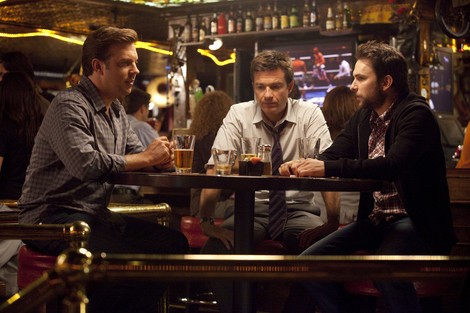 "Horrible Bosses," a black comedy starring funnymen Jason Bateman, Charlie Day ("It's Always Sunny in Philadelphia") and Jason Sudeikis, is about three friends who conspire to kill each other's torturous bosses.  Although it doesn't premiere in theaters until July 8, I have already heard buzz about the film's epic hilarity from people who have attended early screenings.  In honor of the movie's release (that also boasts the comedic stylings of Oscar-winner Kevin Spacey, a brunette Jennifer Aniston and a beer-bellied, balding Colin Farrell), I'm using my powers of imagination for good and extrapolating which celebrities would be horrible bosses.  
I didn't go for the obvious choices—Mel Gibson, Charlie Sheen, Lindsay Lohan, etc—because that would be too easy.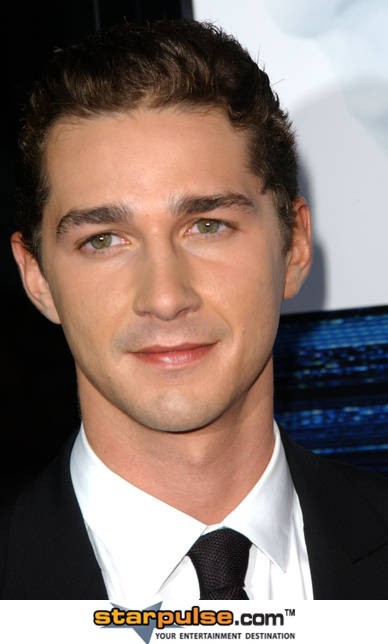 All of the characteristics that make Shia LaBeouf a fascinating celebrity and an intense actor—his unwavering honesty and unpredictability—might conspire against him to create one awful boss. 
Even though I admire his performances in roles like "Wall Street: Money Never Sleeps," "Eagle Eye," and even a role as a goofy menance on the Disney show, "Even Stevens" (1999) that earned him a Daytime Emmy in 2003, I cringe at his chronic diarrhea of the mouth in interviews.  Appallingly candid, LaBeouf has copped to everything from on-set arguments with cantankerous director Michael Bay on "Late Show With David Letterman" to bedding sexy co-star Megan Fox while filming "Transformers" to Details magazine.  As a blogger and fan, I love that Shia can gossip like a teenage girl with the juiciest of secrets, because it makes for good interviews and salacious copy.  However, as a potential boss who likes to hook up with his colleagues, I definitely wouldn't want him kissing and telling intimate details of private relationships to anyone who would listen.  And yet, I can imagine that I'd find a way to deal, because Shia might make a horrible boss, but he's fantastic on the eyes.  Shia LaBeouf is fighting the evil Decepticons in "Transformers 3: Dark Of The Moon" currently in theaters.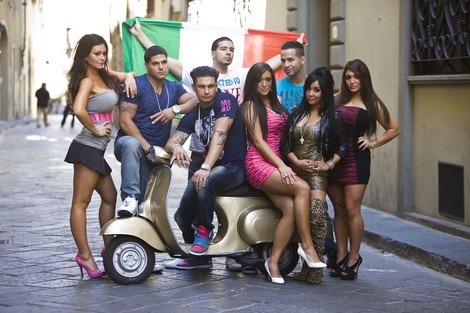 Cast of "Jersey Shore"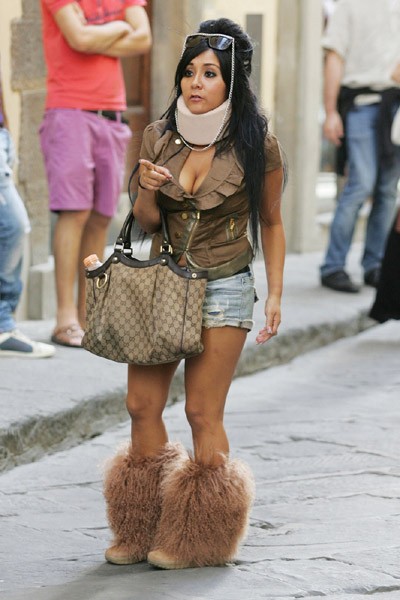 I am proud that my mother taught me how to carry myself with dignity, how to treat others with respect and how not to dress like a stripper.  I didn't go to Harvard, Yale or an ivy-covered, prestigious university, but I am incredibly proud of my college education.  So I'm more than a little angry that cast of the "Jersey Shore" have created MTV's most successful show in its entire history by doing the exact opposite. 
Shore, trainwreck television at its finest, documents the trashy, classless and yes, entertaining escapades of seven New Jersey natives as they party on the Jersey (Florida and Italian) shore, including the dysfunctional and even violent relationship of castmates Ronnie and Sammi and the ridiculous quest to find "juicehead gorillas" by an orange webble-wobble called Snooki. 
I'm sure that working for this cast would include a lot of GTL, dawning a HAZMAT suit to disinfect the "smush room" in their tackily appointed shore house, and explaining to Sammi that, no, Ronnie doesn't really love you if he drunkenly stumbles into your bed after a night of making out with other chicks in the club and destroys all of your possessions because you had the audacity to dance with another man after you broke up. 
But no worries, I'm sure I'd be fired for begging Deena to find some clothes that actually cover her naughty bits.  I would try to stick it out to enjoy the show's move to beautiful Florence, Italy.  The international fourth season of "Jersey Shore" premieres in August on MTV.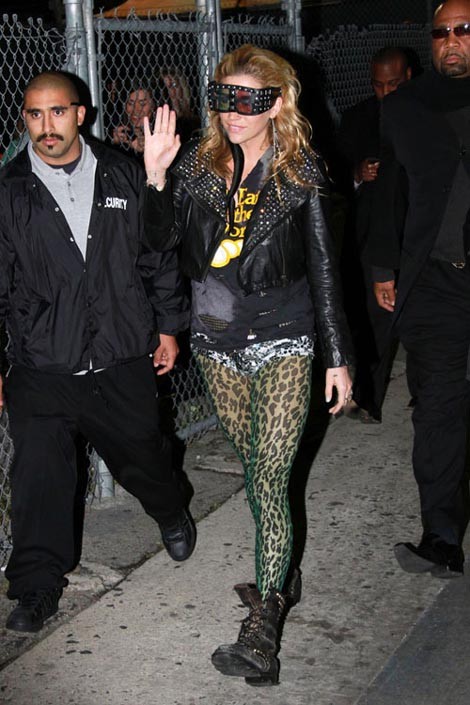 I have danced to a Ke$ha song exactly once.  It was in a Las Vegas club after more than my normal share of cocktails during my first vacation in six years.  And I'm okay with admitting that because Ke$ha is the pied piper of binge-drinkers and partygoers and nothing more.  I actually think that her music only sounds good while under the influence. 
If I were on the "Blow" singer's payroll, I'm sure I'd be required to buy copious amounts of glitter and trash bags to whip up dresses like the little Hefty-bag black number she wore to the 2010 VMA Awards, convince her stylists that yes, she ordered the outfit without the pants, and bite my tongue as she promotes drinking to teenagers (as she did when she appeared on the Nickeloden show, "Victorious," in April).
To be fair, Ke$ha, 25, is a hard-working musician who has written songs and sang back-up for other artists like Britney Spears, and caught her big break by being featured on Flo Rida's "Right Round" a.k.a the most overplayed song of 2009.  But she's also a high school drop-out who brags on her official website about breaking into Prince's house to give him her demo—yes, The Purple One himself—and throwing up in Paris Hilton's closet (can't say I hate her for that one).  She's more than a little crazy, and while it helps her create white girl-rap/electro-pop soundtracks for raves, foam parties, and booze-soaked nights in Vegas, poptarts like her, who are more of all gimmick and no substance, are usually flashes in the pan. And the worst boss is one who can't pay her employees.
Watch the "Horrible Bosses" trailer: