What Can We Expect From Lady Gaga's Movie Role?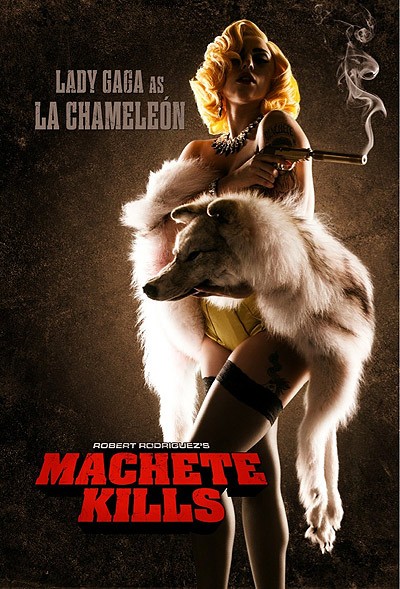 With both Lady Gaga and director Robert Rodriguez announcing on Twitter that Gaga would be making her movie debut in the second installment of the Machete series, Machete Kills, the internet has been abuzz with all kinds of excited talk from Gaga fans.  However, it remains to be seen just how big her role is going to be, and whether or not this Rodriguez movie is even going to be a Rodriguez movie.
The issue lies with the fact that filming for the movie is clashing somewhat with filming for Sin City: A Dame to Kill For, another movie that Rodriguez is slated to direct.  Rodriguez has said publicly that if push comes to shove, he'll hire another director to take over on Machete Kills while he continues to direct Sin City.  Whether or not this has become a problem is anybody's guess, but for the moment Rodriguez's name remains on both projects, and he talks about both as if he's continuing forward with production on both.
As disappointing as it would be to have Rodriguez backing away from Machete Kills, what's probably going to be more disappointing for Lady Gaga fans is the extent of her role in the film.  Far from being a major part, Gaga's name is pretty far down on the list of incidental characters, and it looks like she's going to be doing very little actual acting.
Nonetheless, Lady Gaga's biggest contribution to the project is her biggest contribution to any project: her name.  With her name attached to this movie, it's pretty much assured a good return at the box office, even if she herself only ends up appearing for three nanoseconds.  She sounded pretty upbeat about it on Twitter, so perhaps she's actually got some acting skills to show us, but many are asking if this is just a cheap ploy by Rodriguez to get as many big names attached to the film as possible to help boost numbers.
There are no firm details yet about the release of the film, only that that Gaga's character is named "La Chameleón" and, surprise, she's going to be playing a chick with a gun, which is simply standard fare for Rodriguez.