What Are Your Favorite 'Dog Days Of Summer' Movies?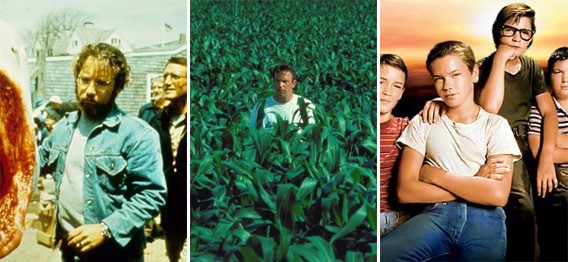 With the heat wave simmering across the country, we got to thinking… what are the best movies that describe the "dog days of summer"?   What are the movies that tell the best summer stories?  What made the biggest impression when you downed the lemonade and chased the ice cream truck?  Here are our Top 10.
10. 'Dirty Dancing' – 1987
Okay, so this is clearly a guilty pleasure, but how can it not define 'summer'?  Jennifer Grey and Patrick Swayze create the perfect coming of age story with lots of cute oldies and 80s dance moves.  And no one puts Baby in the corner, just so you know.
And it's a tie with…
'Shag' – 1989
This is a lesser-known dance flick, but it's got a cult following, and is a perfect summer companion.  The action surrounds a dance competition and a lovely beach house in Myrtle Beach over an exciting weekend way back when.
9. 'Stand by Me' – 1986
Director Rob Reiner was on a hot streak here – which he followed up with 'The Princess Bride' the following year.   This story concerns several boys who take it upon themselves to find the body of a missing boy.  The movie helped make a star out of River Phoenix and also features Wil Wheaton, Jerry O'Connell, Corey Feldman and Keifer Sutherland. Also, leeches.
8. 'Adventureland' – 2009
This movie was a sleeper summer hit when it came out two years ago.  It follows James (Jesse Eisenberg) who picks a run-down amusement park for a summer job.  But it turns out better than it sounds.  An impressive cast features Kristen Stewart, Kristen Wiig and Ryan Reynolds, among others. Did I mention that it takes place in 1987?
7. ' (500) Days of Summer' – 2009
This dramedy features Joseph Gordon-Levitt and Zooey Daschenel.  The story's about a romance gone wrong, and aside from subtle and amusing performances, the highlight is the narrative, which isn't always in chronological order.  Picture 'Blue Valentine' but in summer movie form.  It's a bit lighter, but still has a touch of melancholy.
6. 'Fried Green Tomatoes' – 1991
This film – based on the hit bestseller by renowned author Fannie Flagg – makes quite an impression.  Set in the south, it features Kathy Bates as a woman who hears stories from the past from a nursing home resident (Jessica Tandy).  It's filled with southern charm, and warm performances from Mary Louise-Parker and Mary Stuart Masterson.
5. 'Wet Hot American Summer' – 2001
The title says it all, doesn't it?  It's all about summer camp in 1981.  (What is it with 80s and summer?  Nostalgia for filmmakers in their 30s?)  The cast is extraordinary and hilarious.  It includes, in no particular order, Elizabeth Banks, David Hyde Pierce, Paul Rudd, Janeane Garofolo, Molly Shannon, Amy Poehler and Bradley Cooper.
4. 'Dazed and Confused' – 1993
The cult classic about the last day of school in May 1976.  What makes this memorable is the impressive young cast, which includes future stars Ben Affleck, Parker Posey, Matthew McConaughey and Renee Zellweger.
3. 'Jaws' – 1975
What says "summer" besides a shark fin and a cello?  People identified with this movie because they could understand how it would feel to sit on a beach and scream as sharks attack innocent swimmers.  The film is at its best when it doesn't show much, and leaves the rest to the imagination.  It was an early Steven Spielberg at his best.
2. 'Rear Window' - 1953
You may not necessarily think "summer" when you think of this movie, but it's the perfect film for it.  It takes place in New York City at summer's peak, with temperatures hitting the 90s as Jimmy Stewart takes a look at his neighbors through a long lens in his apartment courtyard.  Featuring unforgettable performances, including the great Grace Kelly, this is one of Hitchcock's finest, and most amusing, pictures.
1. 'Field of Dreams' – 1989
I'm from Iowa, so I'm biased, ok?  But really, this film's got baseball, cornfields, pretty sunsets, going back in time and Midwest values.  It's the epitome of summer.  Kevin Costner stars as Ray Kinsella, a farmer who clears his corn to build a baseball diamond because voices tell him to.  It might sound clichéd, but it's got hefty emotional payoff, and makes men cry maybe more than any other movie in the last 20 years.  Break out the popcorn and enjoy.