Weston Cage To Star In 'Family' Reality TV Series?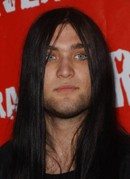 Nicolas Cage's ex-girlfriend Christina Fulton and the former couple's troubled son Weston have signed up for a new reality TV series, according to new reports.

Fulton and her 20-year-old son will front new VH1 show Uncaged, which will follow their daily lives, and Weston is hoping the new project will show the public his true colors.

A source tells Star magazine, "Christina said the show will be like a modern-day Addams Family. Weston just wants to show the world he's not mentally ill."

Weston has had a tough 2011 so far - in July, the black metal rocker checked into rehab for a 30-day treatment program and was twice arrested on suspicion of domestic violence following fights with his wife Nikki, who he married in April.