Weston Cage Has Checked Into Rehab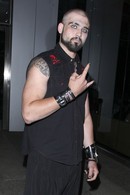 Nicolas Cage's troubled son Weston Cage has checked into rehab.
The rocker has enrolled on a 30-day treatment program in an unknown facility, following his arrest on suspicion of domestic violence earlier this week.
The 20 year old was taken into police custody for the second time this month after an alleged confrontation with his wife, Nikki Williams, on Wednesday.
Weston, whose mom is actress Christina Fulton, admits the public perception of him has been tarnished but he's determined to get better.
He tells E! Online, "I am getting myself together, so I'm sorry about being mislabeled by people who don't know me, or realize that I come from a long line of creative and successful artists."
Weston also dismissed speculation he is envious of his songwriter partner's success and revealed plans for his own future goals.
He adds, "I would like to congratulate my multi-talented wife on her recent recording contract. I have always been supportive of her music. In no way would I ever be jealous of her successes, as I do not follow her preferred musical genre, and am personally working on a new solo album that I should have recorded a long time ago."