Wes: The Most Unlikable Jerk On 'The Bachelorette'

Four bachelors remain on
The Bachelorette
, and Jillian had dates with all of them in the scenic Spain. The first three had something in common: they were all very, very boring. They discussed their dating philosophies and world views over fabulous romantic dinners paid for by ABC, and incidentally, can you really get a good idea about someone with this trend? Anyone looks pretty good on a date with candle-lit dinner with a gorgeous view when neither party is paying for squat. Not only that, when the check should come, instead a note comes saying they can go to the "Fantasy Suite," and get it on all night. Jillian declined to sleep with all of them, and that's partly why this episode was so boring.
Then came Wes' date. Jillian was already suspicious of him because she was told by other bachelors that he had a girlfriend back home and is only on the show to further his country career, but she reluctantly let him through the last rose ceremony based purely on being star struck by his crappy country song serenades. This date, she finally hit him hard with the right questions and stopped letting herself be hoodwinked by his southern bad-boy charm.
During a picnic, he sat a good couple of feet away from her, initiated zero affection, and then, when trying to explain what he likes about her, he said in his usual disinterested voice, "Your personality is what I'm looking for. Someone I can (sticks his finger in his mouth to get a bit of food out of there, making an attractive sucking noise) just bare my soul to." Then, when she asked him if he would move out of his beloved Austin, Texas for her, he became flustered, said what sounded like, "that bird has no foot," and then awkwardly knocked over a beer.
Despite this horribly uncomfortable picnic, they still went to the scheduled romantic dinner, where he wore jeans and one of his seemingly endless supply of pearl snapped country shirts. She asked again about the allegations about his girlfriend back home, this time asking him to role play the time he discussed her with Jake, the bachelor who brought the charges, with her being Jake and him being himself. Wes responded to that challenge by saying, "I said my girlfriend . . . my ex-girlfriend . . ." And then he just sat there, not even trying to explain himself. With expert timing, right at the peek of the awkward silence, the waiter dropped off the fantasy suite invitation. Wes read the proposal to spend the night, and then said, with his huge, round set of country balls, "I think we should, actually."
At the rose ceremony Kiptyn looked nervous and said, "If it's me, keep it real." Wes said, "If it's me, know that I'll be home having lots of sex," which drew outraged looks from the other three bachelors. After the first two were chosen, only Wes and the still-nervous Kiptyn remained. To Wes' credit, Wes attempted to ease Kiptyn's mind, saying, "Congratulations, bro." Kiptyn said, "It might be you." Wes then snickered, "It ain't me, bro." Well, it wasn't him, bro. Wes was sent packing in what Jillian admitted was her easiest decision yet.
Pulling away in the limousine, Wes finally completely unveiled his true self, saying, "I'm the first guy in history to make it to the final four with a girlfriend . . . my acting days are over . . . I've gone as far as I can go with Jillian . . . I'm a free man in Spain!" He then sang, "Everyone in Spain is going to know my name!" Yes. With those sorts of lyrics, his career will no doubt take off because people want to buy CDs full of sensitive ballads sung by maybe the most unlikable jerk in the history of reality television. Then again, one has to admire his honesty about his abuse of the show for his own gains. Everyone is doing it, and old Wes is the only guy man enough to admit it because, as he has said on many occasions, he is not a good liar. Then again, his lying is decent if, as he said, he made it to the final four, but that will likely be his legacy, not his twangy, craptastic country songs. Farewell, Wes. You will be missed, but only because we are now left with three boring dudes.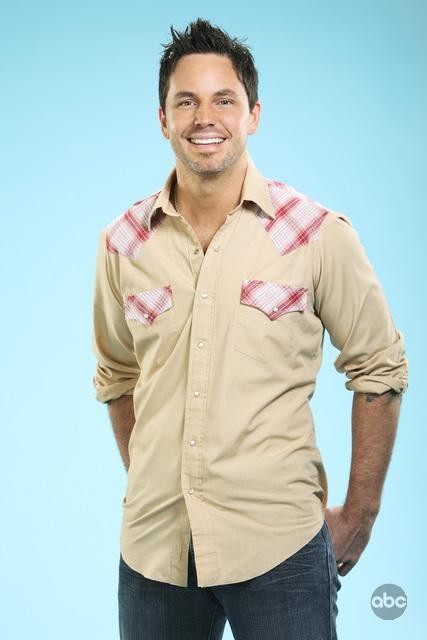 Image © American Broadcasting Inc.
Story by
Matthew J. Swanson
Starpulse contributing writer