'We're The Millers' Is One Road Trip You Definitely Want To Take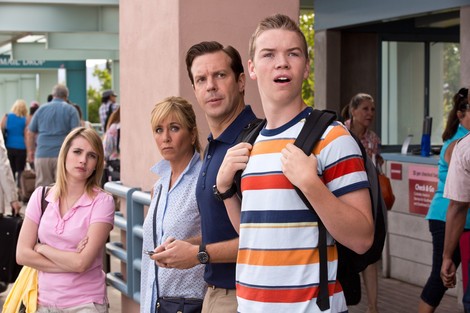 What happens when a pot dealer (Jason Sudeikis), a stripper (Jennifer Aniston), a runaway (Emma Roberts) and a virgin (Will Poulter) pretend to be an 'All American Family' and go on a marijuana run to Mexico in a very large R.V.?
Well, in 'We're The Millers' directed by Rawson Marshall Thurber, you wind up with a great deal of fun - especially when you throw in an angry drug lord, a vicious tarantula, a pornographic game of Pictionary, and an impromptu sing-along.
Jason plays David Clark, a small town pot-dealer whose clientele included chefs and soccer moms.  David has been dealing pot since college and you can definitely call him an under-achiever.
We know David has a good heart because early in the film, he comes to the rescue of a homeless girl, Casey (Emma Roberts) and his teenage neighbor, Kenny (Will Poulter) who are being harassed by some local punks.
For David, this proves to be a very bad move.  The punks steal his back pack containing his stash of unsold pot and $45,000 of his drug supplier's money.
When his supplier (Ed Helms) finds out David has lost his money, he offers him a choice. David could either be killed or he can make a trip across the border to Mexico and bring back a 'smidgen' of weed. Well maybe it's two smidgens of weed.   
Of course the later choice seems much more appealing than death.  Now the only question is how can David make this drug run and not get caught?
Easy...Find an All American Family.  After all no one would ever suspect the Osmonds of smuggling pot. Now since our guy doesn't have an 'all American family, David will just have to create one. And that's exactly what he does.
He convinces Rose, Kenny and Casey to pretend to be his wife and kids. 
And so 'The Millers' are born...
Trust me folks, you have never seen an all American family like this one.
I absolutely loved the film and gave it 4 bagels out of 5.  It's filled with unexpected twists and turns, including a hysterical encounter with another 'All American Family' (Nick Offernan, Kathryn Hahn, Molly Quinn. Plus not only is it funny and clever, it has a lot of heart.  I cared about the Millers and you will too.
'We're The Millers' opens in theatres Wednesday, August 7th and it's a must see for anyone who loves to laugh.
Check out our video for John's rating...HINT:  He actually scored it the same as me! 
Please SUBSCRIBE to our channel on YouTube and LIKE us on our Two Jews on Film Facebook page. Thanks everyone.