Welsh Singer Katherine Jenkins Fumes Over Tabloid 'Partying' Article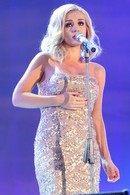 Katherine Jenkins has taken to her Twitter.com page to defend herself over comments she made about partying.

The classical singer was left fuming after editors at Britain's Daily Mirror reported she "doesn't regret" taking drugs in the past.

But the Welsh star is adamant her words were misconstrued - and she's especially angry as she recently joined the publication's campaign to raise cash for Britain's elderly by donating a coat for auction.

In a post on her Twitter page, she rants, "Wow! How much can you twist my words?! Especially lovely when I have just supported their campaign by donating a coat!"

Jenkins fan Alan Fairhurst, a high bidder on the coat, tweeted the star to ask if he should abandon the auction "on principle given that shocking article", but she urged him to stick with it.

She added, "Thank you for bidding on it but please don't withdraw... It's the charity we are supporting."