We'll Miss You 'Dirty Sexy Money'

Most of America is cutting corners these days - bringing lunch to work, cooking looking for happy hour specials, perusing the sale rack. But if there's one vestige of indulgence left, it is spying on the scandals and seductions of the Darling family of ABC's
Dirty Sexy Money
, which returns July 18.
The show was canceled in the spring, but the network was kind enough to burn off the remaining episodes, as it has already done this summer with the dearly departed
Pushing Daisies
and
Eli Stone
.
In the television landscape of reality competition shows and barely unscripted reality shows, bland multi-camera comedies and copycat procedurals, "Dirty Sexy Money" represents a throwback to '80s and '90s over-the-top primetime soap extravagance. The show's salacious storylines include:
-A suspicious murder perpetrated by a member of the Darling family.
-A business rival threatening the family empire by marrying the daughter.
-A married man still enchanted by his childhood sweetheart.
-A daughter in rehab.
-A priest with an illegitimate son who passes off the child as a foreign orphan.
-A married man in love with a transvestite.
Does it get any better?
This show combines the silky smoothness of a stately, white-haired
Donald Sutherland
, the ingenue allure of
Natalie Zea
and the written-off
Samaire Armstrong
, the mysterious sexiness of
Blair Underwood
and
Lucy Liu
. It marked the comeback for Billy Baldwin - excuse us,
William Baldwin
, whose most well-known role was probably
Fair Game
. His love story with a transvestite was actually one of the show's more tender storylines.
At the end of the day, though, this show was all about
Peter Krause
. Once again he found himself at the center of a wacky family, but instead of being up to his neck in the business of death, it was money that ran his character's life.
These days, television pathos and unrealistic overindulgence can be satisfied by
Gossip Girl
, "Dirty Sexy Money" sadly never found its audience. Certainly, this isn't a show to which a viewer could relate. But it was pure cotton candy shlock. There are
90210
and this fall's
Melrose Place
, but that's child's play. This is pure and unadulterated Dirty. Sexy. Money.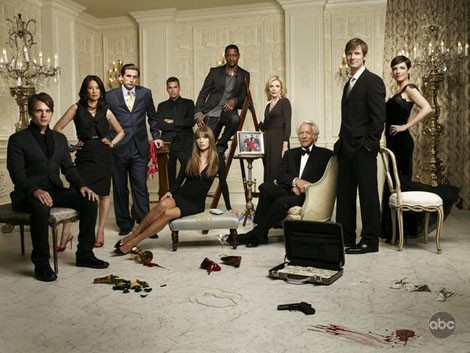 Image © American Broadcasting Companies, Inc.
Story by
Ariel Vered
Starpulse contributing writer