We'll Have Fun Fun Fun Til Lupe Fiasco Walks Off The Stage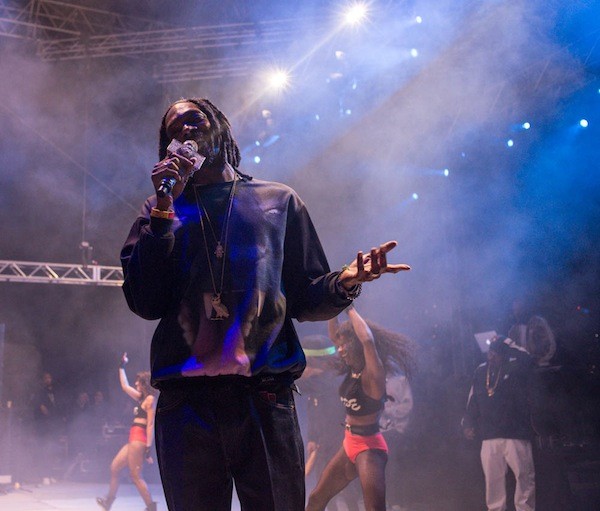 If you have ever been to the city of Austin, Texas, you know that it is the self-proclaimed "Live Music Capital of the World" but it can also be a bit weird. Last weekend was the 8th Annual 'Fun Fun Fun Fest' at Auditorium Shores in downtown Austin and although we enjoyed one of the best festivals we have attended this year, we also understand why the city tells you to 'Keep Austin Weird.' Here are the Top Ten reasons why the 'Fun Fun Fun Fest' rocked Austin this weekend:
1.) Next to the Black Stage and adjacent to the on premise skate park was a wrestling rink. We watched a skinny, tattooed red head take down a buxom Latino in head to toe fringe. It was weird and awesome.
2.) A giant Twinkee and his fellow ambassadors were giving away free Twinkees all weekend. Welcome back my friend, we missed you.
3.) We can now add Austin to our list of 'favorite cities.' Why? Tasty BBQ, amazing live music, nice people and cheap drinks.
4.) Snoop Dogg's sidekick Nasty Dogg was a dressed in a giant dog costume, smoking a giant blunt.
5.) Performer Big Freedia and his bootylicious dancers twerked onstage for an hour straight. We're not even sure if he sang.
6.) Snoop Dogg was absolutely amazing. Not only did he sing all of his old hits, he sang "California Girls" by Katy Perry, House of Pain's "Jump Around" and even attempted to squash the West Coast vs. East Coast rap feud by singing a 2Pac song directly after a Notorious B.I.G. song.
7.) While Ice-T performed with his heavy metal band, Body Count, his wife Coco and her booty watched from the side stage. 
8.) The tent where Tenacious D. performed was so packed that people were waiting in line to wait in line to see them. 
9.) After the party were plenty of after parties. Including Del the Funky Homosapien at The Belmont.
10.) Lupe Fiasco threw a fiasco after the crew attempted to fix his microphone battery pack during his performance, then had to stop and put a tent over the soundboard when it began to drizzle. Lupe threw a fit, told them to stay off his f'ing stage and walked off twenty minutes early.