'Weird Al' Yankovic Lands First Ever Number-One Album On The Billboard 200 With 'Mandatory Fun'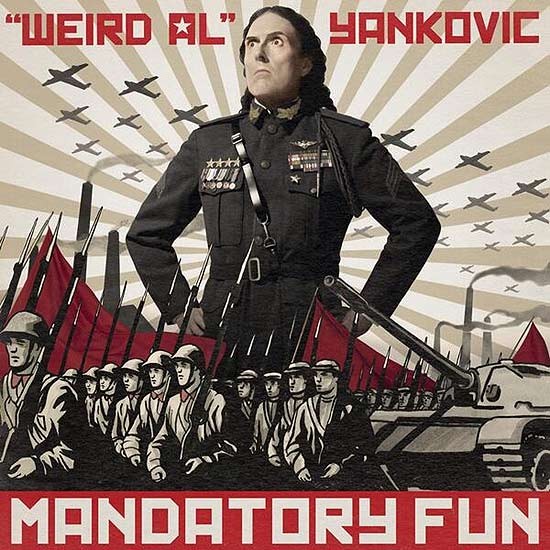 Weird Al Yankovic His scored his first number one on the Billboard 200 with new album "Mandatory Fun."

The comedian/singer released his 14th studio album last Tuesday and the new disc sold over 103,000 copies to land the top spot.

"Mandatory Fun" marks the first time a comedy album has topped the chart in over a half century. The last to do it was Allan Sherman with his 1963 release, "My Son, The Nut."

Fueled by parodies of Pharrell Williams' "Happy" and Robin Thicke's "Blurred Lines," "Mandatory Fun" may actually be Yankovic's last traditional record album, as the singer recently told NPR.org that video sites like YouTube have made it easy for anyone to make their own parodies, and by the time he has his own albums ready several of the songs have already been done.

"I have to be careful about [saying it's my last album] that, because a lot of people listen to that and say 'Oh, Al's retiring!'" Yankovic explained. "I am not retiring, I intend to keep making music like I have in the past. All I'm saying is, there's a pretty good chance this is the last conventional album."

"Weird Al" also released eight videos during the album's first week of release, garnering over 46 million views in just 8 days.

The singer teamed up with several of the web's heavy-hitters to produce each promo, including Funny or Die, Nerdist Industries, Yahoo and CollegeHumor.

So far, the album has gotten stellar reviews, and it's a good bet he'll be adding at least a fourth Grammy award to his collection.

"I'm so pleased everybody is enjoying the album, and I'm enormously grateful for everyone's support," Al tweeted on Wednesday. "Thank you, thank you, THANK YOU."

Rounding out the top five are Jason Mraz, whose "Yes!" debuts at number two, while Rise Against's "The Black Market" enters the chart at no. 3. The 26th installment of the popular "Kidz Bop" series bows at no. 4, and, not surprisingly, the soundtrack to Disney's "Frozen" remains in the top five for the 30th straight week.