Weird Al Kicks Off Eight Music Videos In Eight Days With 'Happy' Parody 'Tacky'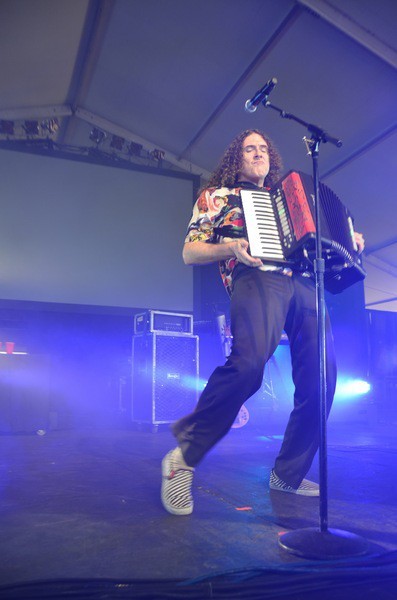 To celebrate the release of his latest album Mandatory Fun, Weird Al is releasing eight music videos in eight days – and we got the first one right here: his awaited parody of Pharrell's smash Happy, simply titled Tacky.
We correctly guessed last week, after seeing the track list, that Tacky would be his take on the Grammy-winning song. Now Al has also aped Pharrell's music video, but with some of his favorite celebrities.
Eric Stonestreet, Aisha Tyler, Margaret Cho, Jack Black, and Kristen Schaal all appear along with Al in the music video, which is done in one continuous take. They all dance towards the camera while singing the lyrics about someone who is, well... tacky.
"(Because I'm Tacky) / 43 Bumper Stickers and a 'YOLO' license plate (Because I'm Tacky) /Bring along my coupon book whenever I'm on a date (Because I'm Tacky) / Practice my twerking moves in line at the DMV (Because I'm Tacky) / Took the whole bowl of restaurant mints. Hey, it said they're free," Al sings during one of the choruses.
It's obvious he's still got it, and we can't wait to see the next seven music videos – we'll hook you up too, of course.