Weird Al Is 'Handy,' In Response To Iggy Azalea's 'Fancy'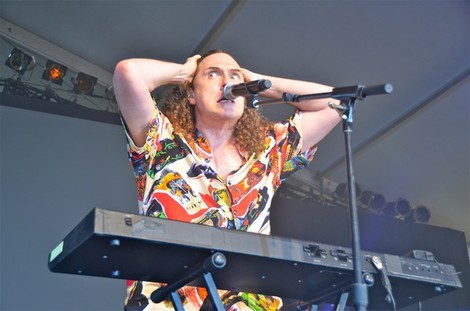 Weird Al's fourth new music video this week is out, and he wants everyone to know how Handy he is.
Set to the tune of Iggy Azalea's hit Fancy, Weird Al brags about how good he is with household fix-it-ups. Wearing a blonde wig and fake mustache, he raps, "I'm so handy, you already know / I'll fix your plumbing when your toilet overflows / I'm so handy, I'll bring you up to code / When your dishwasher's about to explode."
It's Weird Al's fourth of eight videos he plans to release to promote his newest album Mandatory Fun, which was released Tuesday. He previously released music videos for Tacky, Word Crimes, and Foil.
The veteran musician appears to be partnering with several streaming video services for his music videos. Tacky was released on Dorkly, Foil was released on College Humor, and Handy was released on Yahoo!.
Fancy was also lampooned by Jimmy Fallon, who played it in the style of Neil Young accompanied by Crosby, Stills, and Nash.