Weekly Reality TV Roundup

Let's take a look at some highlights of what reality TV had to offer us last week as we move into a new week of reality antics.
The Rachel Zoe Project
(Mondays Bravo 9PM CST).
Rachel Zoe
has become one of my favorite reality stars. She is very cool, smart, funny and she likes to have a good time. This week Rachel was in charge of
Anne Hathaway
at the Oscars but she left her assistant Brad in charge. Although he struggled at last season's Oscars Brad did just fine this week and he was humbled at the opportunity Rachel gave him.
In between a chaotic Oscar week and drama with assistants, Rachel helped
Liv Tyler
pick out a new wardrobe. Liv stopped by Rachel's LA boutique and needless to say, the girls had fun.
Taylor, Rachel's assistant is hot and has a great job but I am not sure how I feel about her. She has a major attitude problem but I am not sure if I think she is hotter because of her attitude or if it annoys me.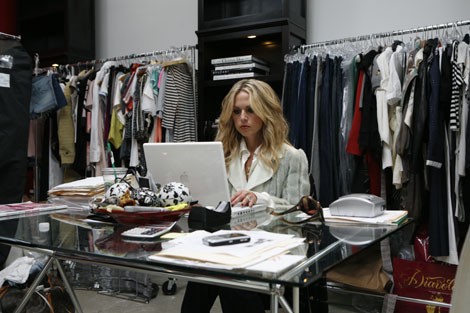 Image © NBC Universal, Inc.
This week Rachel deals with negative publicity about her frail body.
Hell's Kitchen
(Tuesdays FOX 7PM CST)
Chef Gordon Ramsey was frustrated at both the men and women's teams and especially fed up with a few cooks.
Susanne has bothered a lot of the women for weeks and is always on the elimination block. But instead of sending her home Chef Ramsey has never eliminated her and this week he told Andy to go home.
In an unexpected twist, Chef Ramsey then put Susanne to the men's team.
The men's team was not happy about the acquisition and this week should be fun to watch!
More To Love
(Tuesday FOX 8PM CST)
For some reason I watch "More To Love" and for awhile I thought I was the only person that did. Ironically, I ran into some people this weekend that also watch the show so that made me feel better about my insecurities.
We both agreed it is cute show and this week Luke cut the field of women from 3 down to 2. It looked like it was Luke's hardest decision he had to make since lunch and his decision surprised me.
I know he thinks Malissa is hot, and she made it to the final round, but he is very insecure she does not want a long-term relationship. Tali really likes Luke and vise versa but they are from different cultures and I expected her to be eliminated.
I think if Luke were not on a TV show he would have picked Mandy, as they both genuinely liked each other but Mandy seemed a little desperate. She used the love word a few times that might have scared Luke but I thought Mandy would make it to the last round.
Luke picked Malissa because she is hot and I am exactly sure why he picked Tali over Mandy but he did.
This week the girls get to meet Luke's family.
Rehab: Party at the Hard Rock Hotel
(Tuesday TruTV 9PM CST)
After watching last week's debauchery this week was a little disappointing and I think the rest of the season will be more of the same. This week a few douche bags were thrown out of the pool for fighting, the GM and the head of security got into an argument, and the female servers came up with sexy ways to serve. Seems like a typical day at the Hard Rock Hotel.
This week:
The same things happen LOL.
Flipping Out
(Tuesday Bravo 9PM CST)
Jeff is the star of Flipping Out and is a total diva and/or drama queen. Everything is a chore with this guy and this week Jeff was freaking out because his car was towed. This was the first time Jeff had his car towed and he was freaking out about the neighborhood his car was towed to. It was embarrassing to see how he was acting when he was out of his comfort zone.
I love Jeff's housekeeper Zoila. She is very honest and blunt with Jeff and she is one of the few people Jeff listens to.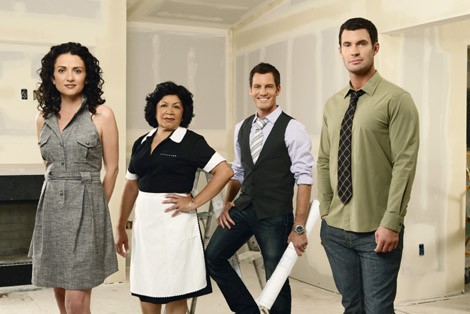 Image © NBC Universal, Inc.
Jeff fired an assistant this week, which was very dramatic, and he hired a Feng shui expert to harmonize his life, which was also very dramatic. It was funny because the expert kept telling Jeff he needed to make changes in his life to be at peace but he did not like the radical ideas.
This week on Flipping Out:
Somebody will get Jeff's coffee order wrong and he will throw a tantrum.
America's Next Top Model
(Wednesday CW 7PM CST)
ANTM is a little bit different this season as they are only allowing models who are 5'7" and shorter. This week we got to know the girls and as usual there are more than a few wild ones.
Rae, a 21-year-old single mother, won this week's photo competition and Lisa was sent home twice (she didn't make the original cut but a girl had to pull out of the competition).
This week someone gets voted off, like duh dude.
Real World
In the season finale of the real world Joey comes back and has sex with his former nemesis Ayiiia. It was a mistake Ayiiia would regret because she becomes extremely paranoid about what her boyfriend will think when he sees the video.
It was an uneventful finale and next season's Real World will be in D.C. The Real World casting needs to step up their game.
Reality Bites:
Big Brother
got really confusing this week and I typically stay away from network TV but I am excited for Community on NBC.
My least favorite show
The T.O. Show
was renewed for another season. I am not happy about this.
Jesse was sent home on
Top Chef: Las Vegas
after failing the quick fire challenge and Kevin won the immunity. Bryan won the elimination challenge and Hector was also told to pack his knives. It is always fun when you have two eliminations on one episode.
Project Runway
was very dull this week. Qristyl was sent home not because she struggled tonight but I think she has been dead weight for a few weeks. Althea is a super cute designer and she won this week's challenge.
Story by
Matt Anaya
Starpulse contributing writer
Twitter.com/shmattshmanaya