Weekly Celebrity Twitter Roundup, Feb. 10 - 16, 2013
Welcome one and all to Starpulse's Weekly Twitter Roundup. Lets not waste a minute and get right into this weeks Twitter happenings.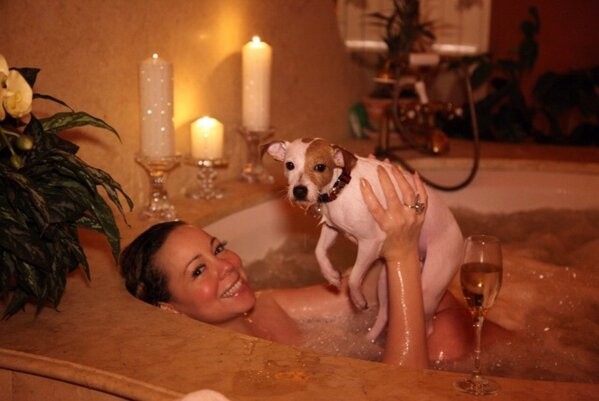 This week, Victoria Justice tries egg yolk for the first time. What kind of egg yolk? The world may never know.
Morning everybody!! Just tried yolk for the 1st time this morning. Thought I should share.lol. It's freaked me out ever since I was little!

— Victoria Justice (@VictoriaJustice) February 15, 2013
Kylie Jenner announces her Rihanna fixation.
the amount of Rihanna pics i have right now on my tumblr.. haha I'm obsessed kalifornia-klasss.tumblr.com

— Kylie Jenner (@KylieJenner) February 11, 2013
Pitbull is all about the business. Dale.
Last night: music business. Today: finance business. Stay tuned....exciting things coming. Daleeeeeee! instagr.am/p/VmhnLTOSBF/

— Pitbull (@Pitbull) February 11, 2013
Rihanna embarks on her first fashion venture.
My first fashion show!!! My designs will walk the catwalks of London Fashion Week in days!! It's gonna be MAJAH! #RihannaForRiverIsland

— Rihanna (@rihanna) February 12, 2013
Denis Leary announces his vote for the new Pope. We are inclined to agree.
My vote for new pope goes to Elton John.Better music, way better outfits.

— Denis Leary (@denisleary) February 12, 2013
D'aw. Ryan Seacrest has a valentine - her name is Starbucks.
Valentine's Day came early... and in grande. instagr.am/p/VrT3JxFWSC/

— Ryan Seacrest (@RyanSeacrest) February 13, 2013
Kim Kardashian with a conspicuous baby bump?
Just posted a photo instagr.am/p/VreIMquS2J/

— Kim Kardashian (@KimKardashian) February 13, 2013
Jimmy Fallon has Bruce Willis on for Late Night. It was a show to Die Hard for.
Big show tonight: talking about the new Die Hard movie - Bruce Willis is on Late Night!!!

— jimmy fallon (@jimmyfallon) February 14, 2013
Love Guru Neil Patrick Harris gives us all some jems of wisdom for this V-Day. #Respect.
Happy Valentine's Day! Whether you're in a relationship or not, make sure to tell those close to you that you love 'em.

— Neil Patrick Harris (@ActuallyNPH) February 14, 2013
Jimmy Kimmel finally makes it into Playboy; a career highlight. Good on you Jimmy.
I am in Playboy.Happy Valentine's Day ladies playboy.com/playground/vie…

— Jimmy Kimmel (@jimmykimmel) February 14, 2013
Finally, Mariah Carey's dog takes an impromptu dive into her champagne-bubble-bath. We don't blame the little guy.
Aaaah! Jill E Beans leaps to the tub In hopes of a splash champagne - whhhhhy?! twitter.com/MariahCarey/st…

— Mariah Carey (@MariahCarey) February 15, 2013
And that's it for this week's Celebrity Twitter Roundup. Come back next week for all the most up-to-date celebrity tweeterings. Don't forget to Tweet us @Starpulse to tell us who you want to hear from, what you want to see, or just to drop us a line and tell us you love us!