Weekly Celebrity Twitter Roundup 3/2: Hugh Jackman, Seth Rogen, Rihanna And More!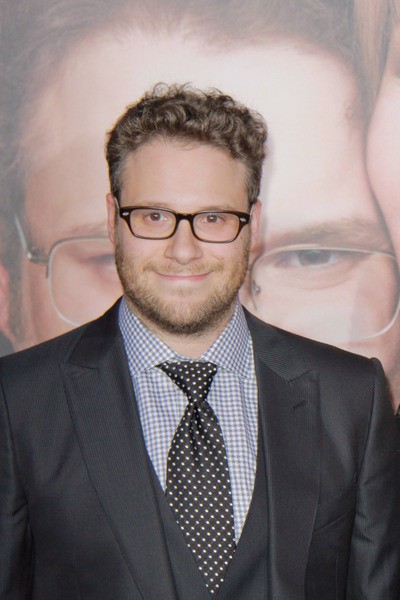 Busy, busy, BUSY week for the Twitterverse, what with all the Oscars andd such. We have lots of Tweets from Stars we haven't heard from in ages, all abuzz for the yearly Academy Awards. So let's not dally, and dive right into it.
---
Ah Seth, we feel your pain... except, like, year round.
Ah, awards season. Or as I know it, the time of year I learn that I'm too fat for all my suits.

— Seth Rogen (@Sethrogen) February 24, 2013
Contrary to popular belief, Hugh Jackman doesn't look gorgeous naturally. Being that awesome takes hard work, a trained staff and careful sculpting.
Jason helping me get ready for the big day. Very excited...thank you all for the overwhelming support!! twitter.com/RealHughJackma…

— Hugh Jackman (@RealHughJackman) February 24, 2013
Yep - seems about right.
"Les Misérables" is actually French for "My Wife Made Me Watch This." #OscarsWithJoel

— Joel McHale (@joelmchale) February 25, 2013
Now THAT is one fine envelope.
Backstage! Like my envelope? twitter.com/mark_wahlberg/…

— Mark Wahlberg (@mark_wahlberg) February 25, 2013
Piers Morgan endorses Seth MacFarlane as the Oscars Host.
Variety of eminent people branding @sethmacfarlane the best, and worst #Oscars host ever - ergo: perfect casting.

— Piers Morgan (@piersmorgan) February 25, 2013
Samuel L. Jackson (or should we say, Nick Fury?) is kickin it with the Avengers.
Formally Avengeful!! twitter.com/SamuelLJackson…

— Samuel L. Jackson (@SamuelLJackson) February 25, 2013
Sarah Silverman spots Kristen Stewart's bad-hair-life.
Is Kristen Stewart fundamentally against brushes?

— Sarah Silverman (@SarahKSilverman) February 25, 2013
Rihanna congratulates Adele on her first Oscar - perhaps with more in the future?
Jah Reign #Adele congrats on your first Oscar

— Rihanna (@rihanna) February 25, 2013
We actually have no clue what's going on here; but one thing is certain - it's got #TigerBlood on it.
I'd like to thank Pfizer for all thingsbeing PERFECT!!!c #hashgag911#gashSlag119smashFlag...mom? twitpic.com/c6o5w1

— Charlie Sheen (@charliesheen) February 25, 2013
If global warming gives us nicer, warmer summers, we're all for it here in the northeast. Bring it on humanity!
Climate change is the second biggest crisis humanity has faced. The biggest is humanity itself. @realitydrop realitydrop.org/#myths/90

— Jason Mraz (@jason_mraz) February 26, 2013
In other news, Katy Perry's cat can read and count to (at least) 21. If we knew, we would have sent a birthday card.
Today is my cat, monkey's 3rd birthday. That's 21 in cat years. Crunk on cat nip. twitpic.com/c6v9xx

— Katy Perry (@katyperry) February 26, 2013
One time as the MC for the Oscars is enough, says Seth.
RT @crusephoto: @sethmacfarlaneWould you host the #Oscars again if asked? // No way.Lotta fun to have done it, though.

— Seth MacFarlane (@SethMacFarlane) February 26, 2013
Jim Carrey's spiritual needs are being unfufilled! Thing's aren't looking #popeful.
I don't know about you but i may go off the rails if they don't find a new Pope soon! #lifeispopeless

— Jim Carrey (@JimCarrey) February 25, 2013
When the end times come, I know who my survival guide will be. (Laugh now, but when Paris and I are living through the next plague, you'll know who called it first.)
Just watched "How to Survive a Plague." Such a powerful, emotional and moving documentary. This film deserved to win the Oscar.

— Paris Hilton (@ParisHilton) February 27, 2013
Leonardo DiCaprio - Savior of African Wildlife. (PS - We love elephants. You should sign this petition)
10,000+ #Elephants killed each yr, tusks sold for ivory trinkets. Join me & help save them. Click > worldwildlife.org/ban #HandsOffMyParts

— Leonardo DiCaprio (@LeoDiCaprio) February 18, 2013
Kim K. Celebrates flashback Friday with an 80s themed Roller Party.
Flashback Friday- last pic from the roller skating party instagr.am/p/WVCBpVuS4J/

— Kim Kardashian (@KimKardashian) March 1, 2013
Inspiring , but false. No matter how hard I tried, I could not get higher than a C+ in algebra.
Really believe this twitter.com/onlysarahshahi…

— Sarah Shahi (@onlysarahshahi) March 1, 2013
And that's about it for this week. Check back same time next weekend for more of your favorite Weekly Celebrity Twitterings. See you then!