Weekend Movie Preview: 'Zero Dark Thirty,' & 'Promised Land'
PROMISED LAND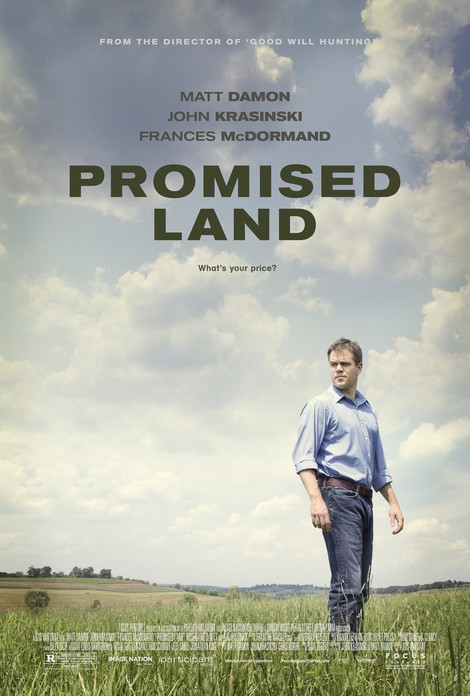 Hotshot energy salesman Steve Butler (Matt Damon) arrives in a rural town with his partner Sue Thomason (Frances McDormand) hoping to quickly close a major deal. Butler and Thomason believe that they can use the promise of economic revitalization to convince citizens to accept their company's offer for drilling rights to local property. However their situation becomes thorny due the protest of a respected schoolteacher (Hal Holbook) and support from a grassroots activist (John Krasinski), who challenges Steve personally and professionally.
Director: Gus Van Sant ("Milk," "Good Will Hunting")
Writers: John Krasinski ("Brief Interviews with Hideous Men") and Matt Damon ("Good Will Hunting")
Based On: Story by Dave Eggers ("Where the Wild Things Are," "Away We Go")
Notable Supporting Actors: Titus Welliver, Rosemarie DeWitt, Lucas Black, Scoot McNairy
MY TAKE: Gus Van Sant, Matt Damon, and John Krasinski's collaboration "Promised Land" is very ambitious. Not only does the film strive to raise important economic and environmental questions, but it also endeavors to explore one man's struggle to preserve his character in the face of professional challenges. It impressed me for largely accomplishing these goals successfully.
What I like the most about the movie is that it's written so that it can take place in Anytown, USA, where decreased agriculture has created economic depression. As a director, Van Sant uses lots of aerial and wide shots of the landscape to play up the American heartland setting. The universal fiscal troubles of the townspeople in this movie make it easy to relate to their perspective, even if you aren't from small-town America yourself. Their issues make you realize how easily energy companies like the one in the film could prey upon desperation for better times. In that way it's quite scary.  
Damon does a fantastic job painting his character as Mr. Corporate sellout, a former rural guy playing for the other team. Steve Butler is a smug, self-assured guy who's used to getting everything he wants because of his false down-to-earth nature.
Butler's overconfidence is what makes his conflict with Frank Yates (Holbrook) and Dustin Noble (Krasinski) so engaging. Yates gets Butler to reexamine why he's working for a big callous company, and Krasinski's Dustin throws Butler against the ropes, serving him a big ole' slice of humble pie. Dustin becomes the perfect foil for Steve, dashing all of Steve's efforts with panache and self-satisfaction. I enjoyed watching Damon's character try to deal with the concept that he might finally lose a battle.
The dialogue that Damon and Krasinski penned for the movie is humorous and light with a genteel quality even during the arguments. They raise a lot of valid concerns on both sides of the natural gas (fracking) issue, and throw in an unexpected twist partway through. However their movie falls apart in the last act because they aren't aggressive enough to take a stand about whether natural gas is ultimately good or bad for this town. The ending is just too open-ended and politically shy to be satisfying.           
My Grade: B-