Weekend Movie Preview: 'The Words,' 'The Cold Light of Day,' 'Bachelorette'
Welcome to another edition of the Starpulse Weekend Movie Preview. Today there are quite a few movies coming out, but many of them are limited release, so I'm just focusing on what I think the big three are. In theaters today, we have "The Words," "The Cold Light of Day," and "Bachelorette." I've seen "The Words" and really enjoyed it, so it's MY PICK for the week. Onward to my review!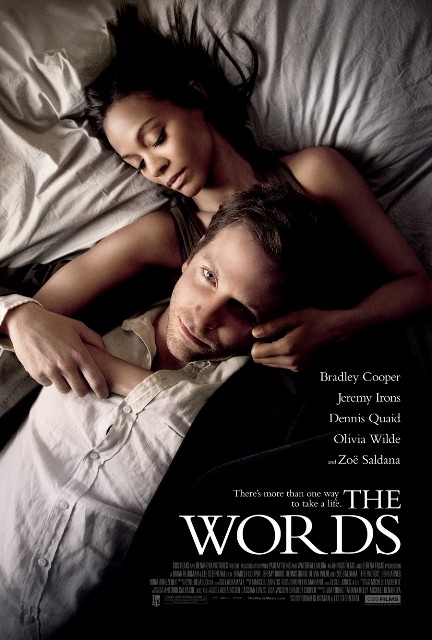 Struggling writer Rory Jansen (Bradley Cooper) finally achieves literary acclaim when he releases a great American novel. The only catch is that he didn't write it. Jansen's notoriety continues to build, but he must tackle the guilt of what he's done, after he is confronted by the old man (Jeremy Irons) whose book he stole.  
Co-Directors/Writers: Lee Sternthal and Brian Klugman making their directing debut. They also co-wrote the story for "TRON: Legacy."
Notable Supporting Actors: Dennis Quaid, Zoe Saldana, Michael McKean, J.K Simmons, Olivia Wilde, Ron Rifkin, Ben Barnes
MY TAKE: Although "The Words" seems like an obvious drama about dishonesty on the surface, it is much more intricate. This frame narrative tells a story, within a story, within a story. Dennis Quaid appears as Clay, a successful author sharing excerpts from his bestseller 'The Words.' This novel is in fact Rory's tale, which comes to life as Clay narrates. The Old Man later recounts his post-World War II romance to Rory after confronting him and those flashbacks go another unexpected layer deeper in the film.
The movie is definitely one for romantics because it celebrates young love. Its extremely painful depiction of love-lost will make you think twice about taking happy relationships for granted though. Love isn't the only big concept that the film explores. It also tackles learning to live with mistakes and the emotional impact of writing.
All three main male characters experience intense guilt for putting their work before their relationships. You suffer with them as they learn to deal with their mistakes and try to move on. "The Words" also discusses writing as catharsis. By extension, the stealing and consumption of another person's words involves taking on their emotional burden, something will resonate deeply with you if you're an aspiring author. Sometimes "The Words" tries too hard to be clever however, with its statements about the written word as an art form.   
The film's biggest detriment is that it gets very heavy during the dramatic portions because it works with such sad themes. If you're an introspective person, you'll appreciate what "The Words" has to say, even if it leaves you feeling a bit downtrodden after watching.              
My Grade: B+