Weekend Movie Preview: 'Gangster Squad' & 'A Haunted House'
Welcome to the second Weekend Movie Preview of the New Year. As you might suspect based on last week's reviews of "Zero Dark Thirty" and "Promised Land," I'm still catching up on screeners from 2012 and probably will be for the rest of this month. You can keep up with my progress weekly by checking out the mini movie reviews on my website.
Today's column features the first new film that I've seen in 2013: Ruben Fleischer's "Gangster Squad." It also contains my thoughts on the trailer for the Marlon Wayans horror spoof "A Haunted House."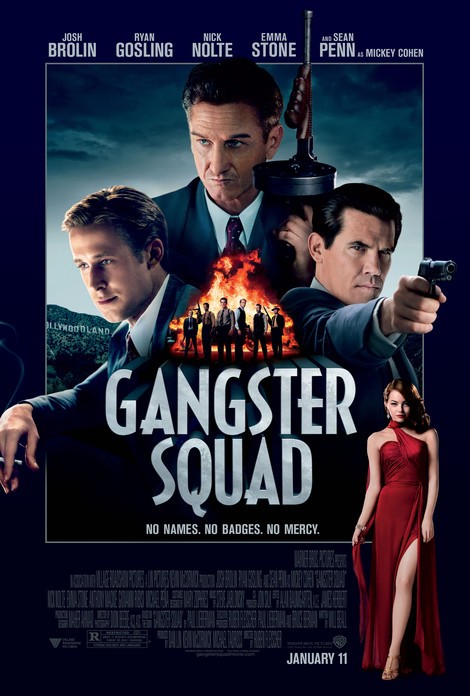 On the crime-infested streets of Los Angeles in 1949, a secret squad of police officers led by two unwavering sergeants (Josh Brolin and Ryan Gosling), labors to take down the ruthless mob boss Mickey Cohen (Sean Penn) and free his grip on the city.
Director: Ruben Fleischer ("30 Minutes or Less," "Zombieland")
Writer: Will Beall ("Castle")
Based On: The book Gangster Squad by Paul Lieberman
Notable Supporting Actors: Emma Stone, Giovanni Ribisi, Nick Nolte, Josh Pence, Robert Patrick, Anthony Mackie, Michael Peña
MY TAKE: In the opening of Ruben Fleischer's "Gangster Squad," a title card claims that the crime drama is "Based on a true story." This statement feels like false advertising if you take this film literally, because once you get into it, the only elements from Will Beall's tale which actually seem accurate are that the gangster Mickey Cohen ran rackets in Los Angeles during 1940s, and that there were special LAPD cops assigned to take him down. All of the other facets of the picture are just too over-the-top to appear real.
On the surface, "Gangster Squad" is a neo noir film, with its period aesthetic and its narration from Sergeant O'Mara (Josh Brolin). However the voiceover contains a series of trite remarks and obnoxious metaphors about duty, honor, and badges (you know, like police ones?) which will make you wince.  There's also no clever whodunit at the core of the narrative like you'd find in neo noir films such as "L.A. Confidential." Instead, "Gangster Squad" is a tale of hard-times law enforcement equivalent to "The Untouchables" on steroids, a brute force buddy action flick. That's why you'll appreciate this movie a lot more if you don't take it seriously. Judge it with a big old grain of salt and you'll have fun like I did.   
If you accept that the villain is cartoonishly portrayed by Sean Penn sporting humorous prosthetics, that there will be goofy one-liners, and that luck helps our heroes survive some insanely outlandish situations, you will actually start to enjoy yourself. A cop jumps on the back of a moving car, causes it to crash while he's on it, survives, and then beats the tar of out a trained boxer? Who cares? There are sweet gunfights and explosions, as well as hilarious banter between the cops in the Gangster Squad (Brolin, Gosling, Ribisi, Patrick, Mackie, and Peña).  As a result, you're with them very little time before you begin to feel a genuine sense of camaraderie that ropes you in. Plus you get to see Ryan (Hey, girl) Gosling reunited with Emma Stone, who plays a mistress in Cohen's entourage that falls hopelessly and dangerously for Gosling's Sgt. Wooters. Their chemistry isn't amazing, although they're still cute together.     
"Gangster Squad" may not be a smart film, but it's at least exciting. By the end there are piles of shell casings and bodies, as well as a bad guy behind bars. Though the heroes have to get their hands dirty, they still accomplish their mission with most of their lives intact. What more could you ask for?
My Grade:  B