Week 2 'Dancing With The Stars' Performances Show Improvements, Surprises And Some Disappointment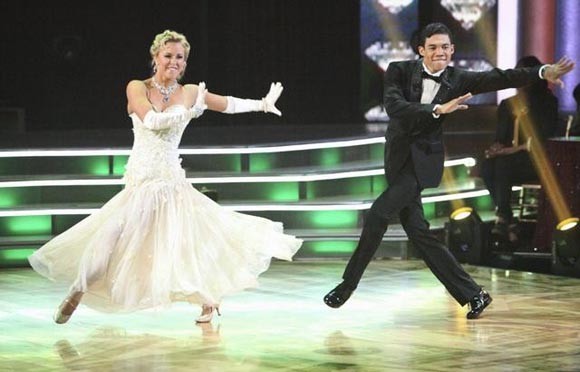 Last night, contestants hit the floor for week two of Dancing With The Stars. For the second week the couples had the option of either choosing the Jive or Quickstep, which seemed to be a challenge for some.

During the night there were some improvements, surprises and contestants who really brought it on the dance floor. Here is a recap that includes the dances, scores, songs and judges response for each couple.

Be sure to leave your thoughts about the show down below.
1. Roshon Fegan (Disney Star) & Chelsie Hightower
Dance: Quickstep
Song: Good Charlotte- "Lifestyles of the Rich and Famous"
Scores: 9,8,9
Judges: Carie Ann was worried about the performance at first, but said that Roshon turned his swag into sophistication. Bruno said that Roshon was like a bolt of lightning, and that the swag was absolutely delicious. Len said it was young, fresh and that he thoroughly enjoyed it.

During practice Chelsie said that the quickstep was foreign to anything that Roshon had ever done, but his performance didn't show that. In fact he proved that he was more than just a Hip Hop dancer, and aside from Katherine I would say it was the best of the night.

2. Sherri Shepherd (Actress, Comedienne and TV Host) & Val Chmerkovskiy
Dance: Jive
Song: Ike & Tina Turner- "Proud Mary"
Scores: 8, 7, 8
Judges: Carie Ann said that she was in love with Sherri. Carrie continued by saying that Sherri's confidence made her overlook some of her mistakes. Bruno said you know how to work that equipment. Tina would be proud. I love it. Len said you felt good, the audience felt good and I felt good. I loved it.

Sherri's presence and energy level is by far the best in the competition. And even though she had a few doubts about her equipment (body) being to heavy for the jive, I think she did a wonderful job.

3. Melissa Gilbert (Actress, Writer and Producer) & Maksim Chmerkovski
Dance: Quickstep
Song: Billy Idol- "Dancing with Myself"
Scores: 7, 6, 7
Judges: Carie Ann said that Melissa had a little slip and recovered well, but thinks that she needs to hide her nervousness. Bruno said that Melissa needs to be a little more natural and fluid, but overall she did very well. Len said very well, but during the performance she lost energy and the performance became hectic.

Melissa seemed to be very stiff during her performance, and I think that she needs to work on her confidence.

4. Jack Wagner (Actor) & Anna Trebunskaya
Dance: Jive
Song: Steve Winwood- "Gimme Some Lovin"
Scores: 7,7,7
Judges: Carie Ann said that they over danced it, but Jack is fun to watch. Bruno said that Jack needs to be more precise, because during the performance he lost it. Len said that he liked the content, attitude, and thinks that the dancing was good enough to take them to the next week.

Jack mentioned that he didn't think that he was a good dancer, which I think carried out in his performance. The confidence that he had last week was just not there, and as Bruno said, he lost it during the performance.

5. Gladys Knight (Singer and Songwriter) & Tristan MacManus
Dance: Quickstep
Song: Stevie Wonder- "Sir Duke"
Scores: 7,5,7
Judges: Carie Ann said that she agreed with Bruno about Gladys' form. She continued by saying that she was light on her feet, but her quickstep was too casual. Bruno said he loved Gladys' natural feel for the music, but thought that she needed to be careful with her frame. Len said she didn't have the technique, and as much as he admires her, he didn't like the dancing this week.

I have to agree with Len. Gladys' dancing was not the best this week, and she was one of my least favorite.

6. Katherine Jenkins (Singer) & Mark Ballas
Dance: Jive
Song: Robert Randolph and the Family Band- "Ain't Nothing Wrong With That"
Scores: 9, 8, 9
Judges: Carie Ann said that the performance was brilliant. She continued to say hot, sexy, and great choreography. Bruno said that the blond bombshell has been unleashed. And added, I know sexy when I see it. Len said he liked it.
Mark asked Katherine to think about naughty things when performing, and you can tell that she did just that. The performance was very wild and sexy, and I would say the couple has the best chemistry out of all of the others. In addition, this performance was my favorite of the night.