'Weeds' Recap - 'Dearborn-Again'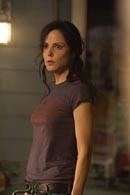 Oh Nancy, Nancy, Nancy. You drive all the men wild. It would usually be annoying to have a character that every man falls desperately in love with, but it makes sense with Nancy. Not only is Mary Louise-Parker absolutely beautiful, but there is this charismatic enticing vibe around Nancy. It's why she works as a main character and why all the fans have stuck with the show this long. We love her or we love to hate her, but there is something about Nancy Botwin. Obviously the men in her world agree.
The episode starts out with her visiting the teacher from high school that she seduced and he went crazy and ruined his whole life for. Richard Dreyfuss. That is so fantastic casting-wise right there, he's a great comedic actor. He is still crazy and clearly obsessed with Nancy, so he lets the family come stay with him. It wasn't smart at all for Nancy to come back to her home town, as Shane points out, but apparently they have a high muslim population so ... they can get passports and sell drugs? Way to be midly racist, Weeds, which I'm sure is the point. This of course proves to be true. Nancy meets a bartender who she tries to sell the hash too but he won't take it. Andy goes looking for fake passport makers in a mosque.
Nancy takes Stevie to the cemetary to see her parents' graves. She uses this time to make snarky remarks at them, and to joke about how they'd hate Esteban if they disliked Judah. It's a bittersweet scene, with clearly a tiny bit of regret on her part, and as she leaves an old classmate comes up. He's got 'creepy' written all over him, and he keeps Nancy talking and hits on her. She just writes him off as a nerd, but in the end we see he's tracking the family and he calls someone to say where they are. Is he working for the feds or Esteban or someone else? You've gotten yourself into it now, Pants.
Andy and Doug are trying to find passports, and they trade cars with a guy who is living out of his car with his family. He's excited to take the RV with them, and desperate enough to do it without asking many questions. They have a new car, success. Andy helps Nancy make a new drug: the hash plus some of the meds from her psycho ex-lover/teacher. Oh Nancy, this is going to go bad in so many ways. Mixing drugs is always a bad idea. But the bartender guy loves it and agrees to sell it.
The side story is that Silas and Shane find out that Silas looks remarkably like Nancy's high school boyfriend. This is where a time problem comes in. Silas is around eighteen-nineteen at this point. If Nancy got pregnant with him in high school, that would mean she's about 36, and that is unlikely. Plus she met Judah after high school during college, so no way could she pass Silas off as his. Still the guy they picked to play the possible father did look a great deal like Silas, and he seems like a nice guy. Take it and run away, Silas, run while you still can.
Weeds is on Showtime Monday nights at 10 PM EST.