'Wedding Band' and 'Sons of Anarchy' Make Harold Perrineau An Emmy Contender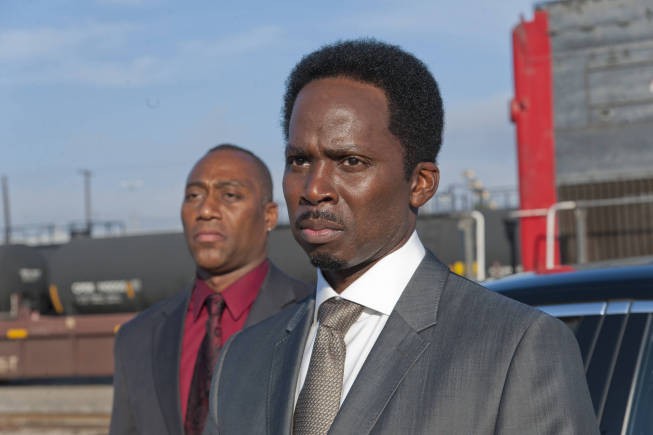 Then there's Damon Pope. When a character is described as "the most dangerous gangster in Oakland," the actor had better be able to back that up, or said character just loses all credibility. There was no doubt that Pope was a real villain, though, when he burned Dawn alive in front of her father Tig in revenge for the death of his own daughter, Veronica. It was disturbing, yet what was almost more frightening was that the motivations behind it were perfectly understandable.
Pope wasn't a one-dimensional thug; he had to be looked at as an actual human being, and that made him even scarier. From that moment on, everything he did or even said created an uncomfortable feeling, because the audience knew just what he was capable of and yet he was just relatable enough to get under our skin. Perrineau not only made the description accurate, but it took us a moment after every episode to remember that he wasn't a psychopath. If that's not Emmy worthy, we don't know what is.
How was he able to find both of these characters inside of himself? "I do have one process," he explained. "I generally feel that most people feel the same few things for various reasons. We love someone, we hate someone, we love something, we hate something. I start trying to find where me and the character connect. Where's the place that it makes sense for me? Pope, I might not have anything in common with him, but he's a guy that's really trying to take care of his neighborhood and his family. For me, that's a similar place. I love my family and I take care of them. Then I keep building from there. "
When it came to shifting between the two of them, "I just had to get into a new headspace and start reading different books and checking out other stuff," he continued. "I'm not a good multi-tasker. It's really good that I have one job at a time. When I was doing Stevie, we were always learning new instruments and learning new songs. I don't think I could've done anything else." That complete commitment came across on screen, in two characters that we couldn't stop watching.
The Wedding Band-Sons of Anarchy crossing is the biggest example of Perrineau's versatility, but it's not the first. He followed up his work on Lost with a leading role in one of the most underappreciated TV series of all time, 2009's The Unusuals, in which he played NYPD Detective Leo Banks. The network described it as "grounded drama and comic insanity," and again he was able to work in both genres simultaneously to bring his character to complete life. Years later, it's a show that still has a special place in the hearts of those who were lucky enough to see it, and Perrineau still looks back on it fondly, too.
"Leo Banks was one of my favorites," he said. "Me and Adam Goldberg [who played Banks' partner, Det. Eric Delahoy] had such a good time. Each of those actors were just a little bit unusual. We were finding our way, but I thought it was a perfect show with a perfect cast."
Then there's his film career. He played Mercutio in Baz Luhrmann's ambitious 1996 reimagining of Shakespeare's Romeo and Juliet, and four years later, was a transsexual in the 2000 romantic comedy Woman on Top. This past year, he was a CIA analyst in Zero Dark Thirty, holding his own with Jessica Chastain and Jason Clarke. You'd be hard-pressed to name another person who can take on so many personas and find the truth in each one of them.
Perrineau is one of those rare actors who's achieved the kind of career diversity so many aspire to, not just in terms of roles but also in how he's transcended race, too. He's not, nor has he ever been, labeled as "the black guy" or "the good guy" or "the bad guy." He's just a ridiculously good actor.
"That was the hope," he said. "When you're a young actor, you don't know what's going to happen, but that's the thing I love to do. You're trying to learn stuff and stretch and try new things. I actually just got lucky to be able to do that. I didn't fall into one category."
There's a category he should be in this year, though, and it's called Outstanding Guest Actor in a Drama Series. He's always been great, but he's never been better. He's made us laugh and made us cry, gotten us to love him and hate him, made us want him to play our next party and never want to cross him - there is absolutely nothing more you could ask an actor to do that Harold Perrineau hasn't done. It's about time that he has an award to show for that.
Sons of Anarchy: Season Five is available for pre-order. Wedding Band: The Complete Series is now available on DVD. The music from the show is available on iTunes. You can also keep up with Harold on Twitter (@HaroldPerrineau).
(c)2013 Brittany Frederick. Appears at Starpulse with permission. All rights reserved. No reproduction permitted. Visit my official website and follow me on Twitter at @tvbrittanyf.