'Wedding Band' and 'Sons of Anarchy' Make Harold Perrineau An Emmy Contender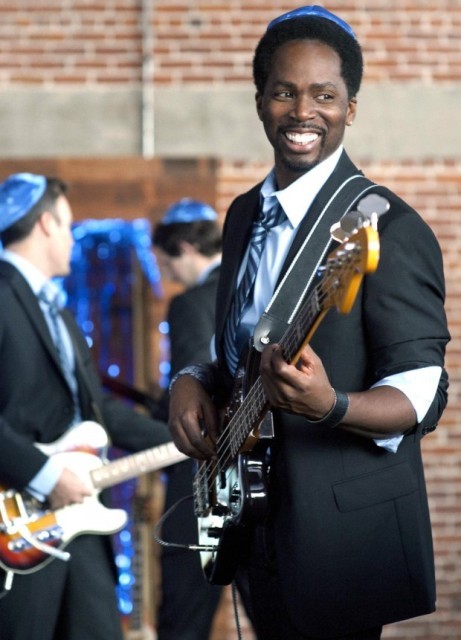 Harold Perrineau deserves an Emmy Award nomination for his work on Sons of Anarchy. And if he should win - after having one of the best individual years for an actor - TV fans will be saying, "It's about damn time."
He's been "that guy" for a decade and a half, beginning when he played Augustus Hill on HBO's groundbreaking prison drama Oz. Since then, every time you see his name in the credits, it's like getting a visit from an old friend. You know that he's always going to give a watchable performance, whether it's his SAG Award-winning role as Michael Dawson on Lost, his pitch-perfect comedic effort as Detective Leo Banks on the short-lived and sorely underappreciated The Unusuals, or even his big-screen work, like the supporting role he had in the Oscar-nominated Zero Dark Thirty. You'd be hard-pressed to find an actor more consistently excellent than Perrineau.
Even so, he's just one-upped himself. At the same time that he was playing veteran bassist Stevie in the best new comedy of the year, TBS's Wedding Band, audiences could flip over to FX and find him as Damon Pope on Sons of Anarchy. He was delivering excellent vocals on Stevie Wonder's "Superstition" on one channel, and lighting people's children on fire on the other. It was a case of two extremes that would test any actor, and yet Perrineau hit the mark with both roles. He created two characters that were entertaining for opposite reasons, while making both feel less like parts and more like real people. They were so different that if we weren't familiar with his face, we wouldn't have thought they were played by the same actor.
Looking back, Perrineau can appreciate the humor in being seen as both a down-to-earth bassist and a cold-blooded killer at the same time, in one heck of a coincidence. "We'd finished Wedding Band and we didn't know when we were going to air. Wedding Band, we were planning to have that on first. So then I took the job for Sons of Anarchy," explained the actor, who had about a month and a half between the two roles. "As I was doing Sons of Anarchy, we found out Wedding Band had gotten pushed. And so Sons of Anarchy showed up first and then right after, Stevie showed up. That wasn't the plan. It was kind of interesting. People were like really confused."
Yet as confusing as that scheduling quirk might have been, it also gave TV viewers the opportunity to really appreciate the full scope of Perrineau's talent. It's one thing for an actor to give a strong performance in one role. It's another for them to be great in two roles. And it's something else entirely for them to do something special twice in a relatively short period of time with two roles that could not possibly be more different from each other, and therefore require two separate skill sets.
Watch Wedding Band and you'll be taken by Perrineau's comedic timing, as well as how seamlessly he works with the rest of the ensemble. He knew exactly how to sell a line and never played it over the top, even when Stevie's forced into seriously crazy situations like dressing up as a chef or getting into a band fight. He supported the other actors in a scene just as well as when he got to be front and center. Oh, and did we mention that he sung and played bass, violin and saxophone? That's being a serious musician, too. As light-hearted as Wedding Band was, joining Mother of the Bride took real commitment as well as acting chops.