Website Offers Hulk Hogan Big Bucks For Sex Tape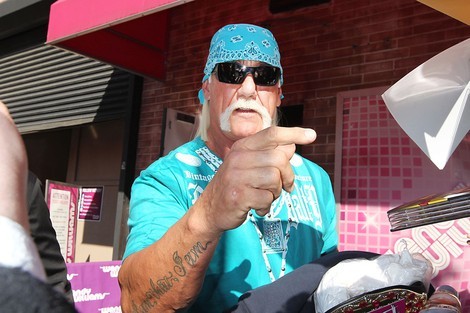 Bosses at Sex.com are offering Hulk Hogan a lot of money for his leaked sex tape. Last week Gawker.com posted a 90-second preview clip of the footage, which reportedly shows the star getting down and dirty with a mystery brunette.
 
Hogan's attorneys immediately drafted a cease and desist letter demanding the website remove the footage. However, bosses at Sex.com are willing to pay a lot of money to post the video on their site.
 
In a letter, obtained by TMZ.com, Martin Ellison of Sex.com writes, "As we have all read and seen a sex tape was recorded and posted online without your permission. While this may be an embarrassing ordeal for you to go through right now, it doesn't need to be. We are truly serious about working with you, this isn't some shameless press opportunity, we have an open checkbook (sic)."