'Weather Girl' Vs. 'Groundhog Day'

You watch the weather channel and think, "Hey, I could do this job. This yo-yo is just reading from a teleprompter." Thanks to films like
Groundhog Day
and
Weather Girl
, coming out this month, we learn that weathermen and women have complicated and tortured private lives. Bill Murray's bravura performance showed how a weatherman can have a cold and callous soul that just needs to be thawed out by love (Groundhog Day). In Weather Girl, Tricia O'Kelley mixes a ray of sunshine with the sweet desperation of her down-on-her-luck weatherwoman.
Life, much like the weather, is unpredictable.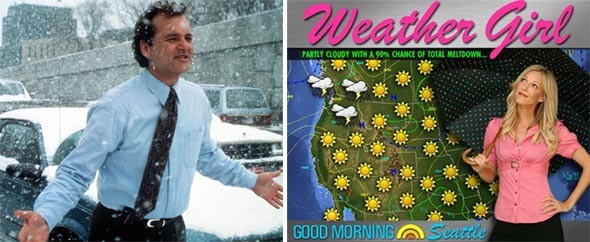 Character
Groundhog Day:
Pittsburgh weather man Phil Connors (
Bill Murray
)-
Weather Girl:
Seattle weather girl Sylvia Miller (
Tricia O'Kelley
)
Main Event
Groundhog Day:
February 2, Groundhog Day: Phil keeps reliving the same day.
Weather Girl:
Discovering her anchorman boyfriend (Mark Harmon) in bed with his co-host.
Movie Tagline
Groundhog Day:
He's having the day of his life... over and over again.
Weather Girl:
Partly Cloudy with a 90% chance of total meltdown.
Awards
Groundhog Day:
Best Comedy Film, British Comedy Awards 1994; Original Screenplay, BAFTA 1994; selected for preservation by the National Film Registry 2006.
Weather Girl:
Premiered at Slamdance Festival January 2009; Best Narrative Feature, Vail Film Festival April 2009.
Best weather prediction/On-Air Freakout
Groundhog Day:
You want a prediction about the weather, you're asking the wrong Phil. I'll give you a winter prediction: It's gonna be cold, it's gonna be grey, and it's gonna last you for the rest of your life.
Weather Girl:
There is something that I would like to share with our viewing audience... Despite the amateurish sex, I somehow developed an attachment to the walking haircut sitting in that chair. That is, until this morning. I found these. (holds up a pair of lacy pink underwear) How long have you been sleeping with him, Sherry?
How They Cope with their Situation
Groundhog Day:
Uses his experiences each day to worm his way into the heart of his producer Rita (Andie MacDowell) and realize that people don't suck as much as he thought.
Weather Girl:
Moves in with her brother and falls into a love affair with her brother's best friend.
Moral of the Film
Groundhog Day:
If a miserable cynic can find true happiness in life, so can you.
Weather Girl:
You may be jobless, homeless and alone, but it's never too late to fall in love.
Story by
Ariel Vered
Starpulse contributing writer