We Guess Which Simpsons Character Will Die During The 26th Season Premiere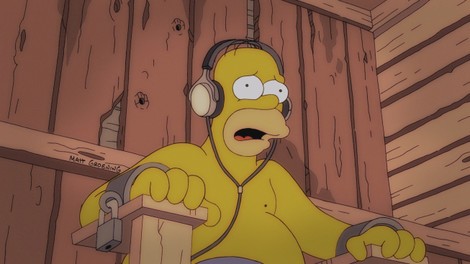 The Simpsons producers have been teasing the death of a prominent character for the premiere of the show's 26th season, and during a recent panel at the Television Critics Association tour they dropped a few more hints on who the character could be.
We first heard of the upcoming death last October, when producer Al Jean said, "I'll give you a clue that the actor playing the character won an Emmy for playing that character, but I won't say who it is." The joke was that multiple voice actors won Emmys for their work on The Simpsons. The show then took a break promoting the idea, in respect to the real death of actor Marcia Wallace, who voiced teacher Edna Krabappel.
On Sunday Jean continued to be evasive about the identity of the character to be killed off, but he gave a few revealing hints. "It turned out bigger than we thought it was going to be," he said according to The Hollywood Reporter, "It's not going to be this blood bath where they all get murdered."
Jean then said his clues have been "obvious" and pointed to the fact that the title of the episode is "A Clown in the Dumps." Back in April he shared with TVLine, "The character that dies is portrayed by an actor who won an Emmy for playing that character. People who reported on it then reported we were killing an 'iconic' character; I'd like to say it's a great character, but I never used the word 'iconic.' It's a terrific character and it [happens in] our premiere this coming year."
So who will die? Well, we have a few educated guesses. Krusty the Clown is the subject of the episode – the synopsis reveals he plans to retire. While Dan Castellaneta (who voices Krusty) has won an Emmy for his work on the show, he didn't win the award for one particular character.
Instead, we think it will be a character connected to Krusty. Sideshow Mel is a possibility, but he is also voiced by Castellaneta. That leaves two other big possibilities: Sideshow Bob, Krusty's former associate and deranged attempted murderer, and Krusty's father Rabbi Hyman Krustofsky.
Kelsey Grammer won an Emmy for his work as Sideshow Bob and has appeared on the show several times to voice the character – and one could argue he is certainly iconic. Jackie Mason won an Emmy for voicing Rabbi Krustofsky 1992, and it would make a lot of sense if Krusty retired in honor of his father. We would give our best odds to the Rabbi, as he fits all of the criteria.