We Don't Care How Bad 'Jonah Hex' Is - Megan Fox's Cleavage Makes Us Want To Go See It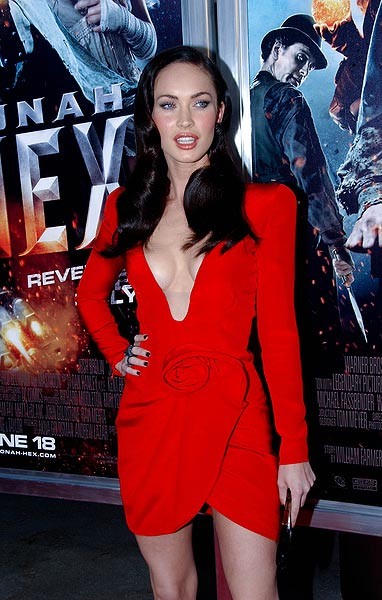 Megan Fox showed off quite a bit of her (awesome) cleavage in a red dress at the "Jonah Hex" Los Angeles premiere yesterday. The low-cut gown featured a rose cinched in the middle of her waist.

The actress looks pretty comfortable in the dress, unlike the corset she had to wear in her new film. She explained, "You can't eat in it because your stomach doesn't expand. You can't drink anything in it either. I made the mistake of having a mocha with cream on top. That was a really bad idea. It was really like a torture device...but I got used to it pretty fast."

Megan wore a large ring on her right hand last night, but where's the engagement ring? The actress and Brian Austin Green recently got engaged (for the second time) while they vacationed in Hawaii earlier this month.

Reports said that Megan had lost her engagement ring on the beach right after Green proposed, but the actress quickly put those rumors to bed.

She told Access Hollywood, "That's all gossip and I don't know where it's from."

Green, 36, and Fox, 24, began dating in 2004 but called off their previous two-year engagement in February 2009.

Only 12% of the reviews for Hex are positive, according to movie review website RottenTomatoes.com. The site featured the following quote from reviewer Willie Waffle of WaffleMovies.com: "The only people who deserve to see Jonah Hex are Hitler and the CEO of British Petroleum." Ouch!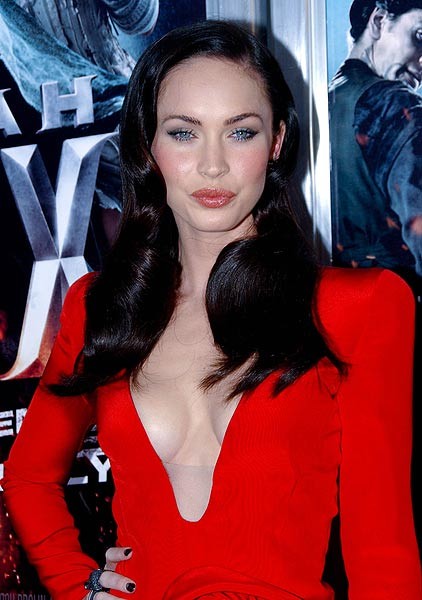 ^ click for next image ^
Click the pics for larger images:
- Click here for more hot Megan Fox pictures! -