We Can't Wait For New Episodes Of. . .

For three months we labored through a very dry TV landscape full of reruns and retro-nostalgic reality shows, but it's true what they say. Time, or in this case, the strike, does make the heart grow fonder. We're giddy with anticipation for our favorite shows to come back with new episodes. Here's a peek at what has so excited for spring and why.

Last we saw of
Gossip Girl
, things had changed quite dramatically for many of the characters. Nate and Blair broke up after the truth about Chuck and Blair came out. Serena and Dan exchanged "I love yous." And perhaps most importantly, Jenny Humphrey rose up the social ladder as Blair was knocked down. But something tells us Blair isn't going to take this lying down. Little J better watch out when new episodes return because Blair is going to be gunning to take down the snitch who spilled the beans about her and Chuck to Nate and knocked her off the social pedestal. As Gossip Girl's parting words last episode -- "Wonder who's going down next? Everybody, if B has anything to say about it." -- hint, there's going to be plenty of payback drama come
April 21
.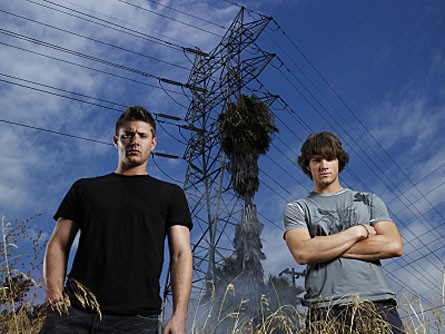 The Winchester brothers received an early renewal for a fourth season, so fans no longer have to worry about the fate of
Supernatural
, but Dean's fate is another story. The series returns on
April 24
with a humorous rip on
Ghost Hunters
-type shows, but things will soon turn serious as Dean's last day falls on the season finale. The writers promise that getting Dean out of the crossroads deal he made to bring back Sam won't be any easy task. No loopholes in this contract. Between Dean's looming last day and the introduction of a new enemy, the powerful Lilith, out for Sam's head, viewers are in for a climactic showdown.

Word is that
Alicia Silverstone
is joining the cast of
How I Met Your Mother
for a multi-episode arc as a love interest for Ted, which begs the question, "Are we finally going to meet the title's mother this season?" We can't wait to find out the answer when the underappreciated comedy returns
March 17
with nine new episodes, and we have plenty of other burning questions. Will the writers finally concede that Robin and Barney are completely hot for each other? Whatever happened to the home in "Dowisetrepla" that Lily and Marshall bought despite Lily's mysteriously forgotten credit card debt? And if this is the last season - shamefully, the show still hasn't been renewed - where will our gang of friends end up?

When the strike started,
The Office
gang was getting ready to shoot an episode that
Jenna Fischer
called "the funniest of the year." The new half hour, which revolves around Jan and Michael having some of the Dunder Mifflin couples over for a dinner party, reportedly had the cast in stitches during a read-through and we can imagine why. Pam and Jim are a given invitee, but pondering who might round out the dinner table - so-odd-it's-right pair Kelly and Darryl? Will Angela bring Dwight or Andy? -- has us in delighted anticipation for The Office's return on
April 10
. Then there's the question of how the writers will deal with the very pregnant
Angela Kinsey
. Unless the show jumps forward in time, the crew will most likely be forced to hide Angela's growing tummy behind desks and chairs. Luckily, those are in no short supply on set and they fit in much better than enormously large purses.
Fans will have to wait a bit longer - until fall - for the return of
Heroes
, but we simply can't wait to see if the show has learned anything from the season two backlash. Perhaps a nice, long break is exactly what the series needs to turn itself around.
We also can't wait for...
Bones
(April 14) to see the much delayed post-kiss episode.
Brothers & Sisters
(April 20) to find out Rebecca's paternity once and for all.
Desperate Housewives
(April 13) and new guest stars
Gary Cole
and
The O.C.'s
Chris Carmack
.
Grey's Anatomy
(April 24) and Addison's return to Seattle Grace. Maybe it's just Oceanside Wellness that's sucking all the awesome out of her.
Scrubs
(April 10) and what may or may not be it's final season. Either way, the show is going big with a Princess Bride-inspired fairytale episode directed by
Zach Braff
that features the Janitor as a giant and J.D. as the village idiot.
Story by
Vlada Gelman
Starpulse.com contributing writer