"We Are The '80s" Series Celebrates The Hitmakers Of That Decade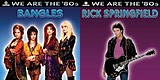 A quarter century after the premiere of MTV at 12:01 a.m., on August 1, 1981, the cataclysmic changes brought about by the first decade of the video revolution are continuing to be seen and heard in the music of today's twenty-somethings' artists. Celebrating Bangles, Loverboy, Eddie Money, and Scandal (all on Columbia/ Legacy), Bow Wow Wow and Rick Springfield (on RCA/Legacy), and A Flock Of Seagulls (on Jive/Legacy), the first seven
We Are The '80s
collections arrived in stores on July 18. The title of the series comes from the popular "We Are the '80s" blocks of video programming that regularly air on VH1 Classic.
Often maligned and disrespected - but never imitated or duplicated - the "decade of decadence" that was the '80s is now officially retro-cool, and its gold, platinum, and multi-platinum artists and bands are being properly recognized for their utter greatness. Each entry in the
We Are The '80s
series will contain an hour of music, 12-14 tracks of hit singles and well-chosen album cuts drawn exclusively from each group's '80s output. In the case of A Flock Of Seagulls and Scandal, this will include previously unreleased material, as well as material making its first appearance on CD.
All seven
We Are The '80s
CDs will also feature a link to Taito, the company behind "Space Invaders" in the '80s. Insert any of the seven CDs into a computer, key in wearethe80s.com/spaceinvaders, and you'll be routed to a website on which to play "Space Invaders" and other classic Taito games.
The
We Are The '80s
Tour*, presented by Legacy Recordings and VH1 Classic, runs as follows (all shows feature Rick Springfield, Loverboy, Eddie Money, and Scandal unless otherwise noted; with additions to be announced in the weeks and months ahead). Dates are as follows:
July 8 Kettering, OH Freeze Pavilion (Rick, Eddie, Loverboy)
Aug. 6 Dallas, TX Smirnoff Music Center (all 4)
Aug. 10 Boston, MA Bank America Pavilion (all 4)
Aug. 18 Denver, CO City Lights Pavilion (Rick, Loverboy, Scandal)
Aug. 26 Tulalip, WA Tulalip Amphitheatre (Rick, Eddie Scandal)
Sept. 23 Clearwater, FL Ruth Eckerd Hall (all 4)
Sept. 24 Hollywood, FL Hard Rock (all 4)
*All dates subject to change
Meanwhile, the VH1 Classic music channel is growing up, expanding from a 12-hour programming wheel to a full 24-hour cycle in 2006. To deliver more concerts, videos and music specials, the channel has inked an exclusive programming deal with the BBC. As of September 2006, BBC's The Old Grey Whistle Test anthology series and concert footage from artists such as Tom Petty, The Police and Lynyrd Skynyrd will begin airing on the network. They will be part of its Classic in Concert original series. New VH1 Classic franchises set to debut soon include the weekly Rock and Roll Picture Show, the monthly Class Of ... , the 27-episode Classic Albums (fall 2006), and the Classic Artists documentary series (fall 2006).
Here's the scoop on the first seven albums of the
We Are The '80s
series...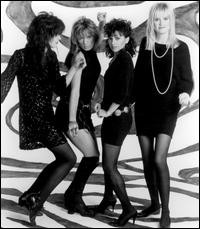 From their very start as members of L.A.'s Paisley Underground, the heart and soul of the
Bangles
' music could be traced to the affection of singer-guitarists
Susanna Hoffs
and Vicki Peterson for the music of the
Beatles
,
The Byrds
and
Buffalo Springfield
. The direction was shared by Vicki's younger sister Debbi (on drums) and new bassist Michael Steele, formerly of hard-rock girl group
The Runaways
. Working with Columbia producer David Kahne, their debut LP
All Over The Place
won raves, with clips of the tasty "Going Down To Liverpool" (written by Kimberley Rew of Katrina & the Waves) and "Hero Takes A Fall" (by Susanna and Vicki) becoming early MTV additions. In fact, Prince saw the "Hero" clip, was besotted by Hoffs, and gave his "Manic Monday" to the Bangles, which became the lynchpin (hitting #2) for the success of their second album,
Different Light
. Followed by "If She Knew What She Wants (#29, written by Jules Shear), "Walk Like An Egyptian" (#1 for four weeks), and "Walking Down Your Street" (#11), the LP hit #2, spent 82 weeks on the chart, and sold 3 million copies. Their next hit, produced by Def Jam's Rick Rubin for the
Less Than Zero
movie soundtrack, was a #2 cover of
Simon & Garfunkel
's "Hazy Shade of Winter" which Bangles had been performing since their club days.
Everything
, their third album, continued the winning streak with the Kelly-Steinberg hits "In Your Room" (#2) and "Eternal Flame" (Bangles' second #1), but the attention Hoffs was receiving drove them apart in 1989. "The oft-misunderstood quartet," as Scott Schinder's liner notes characterize Bangles, pursued wildly varied solo endeavors in the '90s before reuniting in 1999, to cut a song for the
Austin Powers: The Spy Who Shagged Me
movie soundtrack. Their full-fledged 2003 album,
Doll Revolution
, was a welcome release by one the most important, successful and beloved bands of the '80s.
Bangles: We Are The 80s Selections:
Manic Monday | If She Knew What She Wants | Walk Like An Egyptian | Walking Down Your Street | Hazy Shade of Winter | In Your Room | Eternal Flame | Be With You | Hero Takes A Fall | Going Down To Liverpool | Complicated Girl | September Gurls | Live | Dover Beach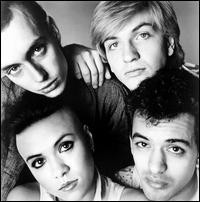 Several factors contributed to the emergence of
Bow Wow Wow
in mid-1980, starting with their creator Malcolm McLaren, the London pop culture and fashion maven who had taken the
Sex Pistols
as far as that could go, until their demise the year before. He dangled an offer in front of
Adam Ant
's three backing musicians and they jumped at the opportunity to dump Mr. Goddard for the infamous manager's new brainchild. Then there was 14-year old singer Annabella Lwin (born Myant Myant Aye in Burma), whose nude pose on Bow Wow Wow's first album cover nearly brought the Empire to ruin. Before that, however, was the world's first cassette single, "C30, C60, C90 Go," another stroke of marketing genius by McLaren. When he parted company with the group in 1982, they turned to American manager Kenny Laguna, of
Joan Jett
fame. He took the advice of promo man Steve Leeds and hooked up Bow Wow Wow with the
Strangeloves
' 1965 Brill Building confection, "I Want Candy." The video became an MTV staple in the music channel's first year, and extended the band's ran for another year before they hung it up in 1983. Notwithstanding the passage of time, notes Randy Haecker, Annabella and Leigh Gorman have kept the Bow Wow Wow trademark alive and kicking since the late-'90s, most recently the 2004 tour that included the KROQ radio 25th anniversary concert in L.A., and an appearance that same week on
Jimmy Kimmel
Live.
Bow Wow Wow: We Are The 80s Selections:
C30, C60, C90 Go (cassette single, 1980) | Aphrodisiac | I Want Candy | Do You Wanna Hold Me? | (I'm A) TV Savage | Go Wild In The Country | See Jungle! (Jungle Boy) | Baby, Oh No | Louis Quatorze | Cowboy | W.O.R.K. (N.O. Nah No No My Daddy Don't) (single, 1981) | Mile High Club | Elimination Dancing | What's The Time (Hey Buddy)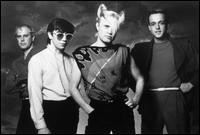 Two decades (plus) later, it's time for rock history to transfer some affection to
A Flock Of Seagulls
for doing their fair share to advance the fortunes of romantic synth-pop on both sides of the Atlantic. Fronted by Mike Score (vocals and keyboards), whose impossibly-coiffed peroxide blondeness made the world forget about
Haircut 100
altogether, Flock was visual eye-candy at the dawn of MTV. Free to wave high their Liverpool flag, they woke up dance floors with their top 10 chart debut in the summer of '82, "I Ran (So Far Away)," then followed up with "Space Age Love Song" (lovingly paid homage in the
Adam Sandler
movie
The Wedding Singer
) and "Wishing (If I Had A Photograph Of You)." There was always something ominous and dreamy about the group, who helped open the door to "the decade of disposable day-glo culture," as New Jersey writer and DJ Mike Cimicata characterizes the '80s. More than most, it would be difficult to imagine those years without A Flock Of Seagulls.
A Flock of Seagulls: We Are The 80s Selections:
I Ran (So Far Away) | Space Age Love Song | Wishing (If I Had A Photograph Of You) | The More You Live, The More You Love | Telecommunication | Nightmares | Transfer Affection | (It's Not Me) Talking | Remember David | Heartbeat Like A Drum | Modern Love Is Automatic | Lost Control (single B-side , previously unreleased on CD, 1984)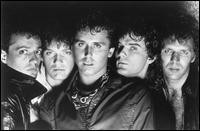 Of all the acts in this series, there is not one who is more quintessentially '80s than
Loverboy
, whose career is bounded by the decade itself - formed in 1980, disbanded in 1989 - with a litany of 14 perfect chart hits which comprise the sequence of this collection. Originally conceived in Toronto as a two-man studio-only endeavor starring guitarist Paul Dean and singer Mike Reno, it quickly morphed into a profitable touring band with the additions of keyboardist Doug Johnson, bassist Scott Smith, and drummer Matt Frenette. In 1981, the second record industry collapse in two years, and the worst financial crash in its history, had left the business in serious need of a jolt. Mid-year, two well-charted singles into their career ("Turn Me Loose" and "The Kid Is Hot Tonight"), Loverboy was waiting in the wings with "Working For the Weekend" when MTV premiered at 12:01 a.m., August 1, 1981. If the music business was looking for a way to pull fans back into the stores, Loverboy's hook-infested rock anthems - and sexy, steamy videos like director Martin Kahan's "Hot Girls In Love" - were just the ticket. Loverboy's first four LPs were consecutive multi-platinum sellers, and movie producers quickly learned that it didn't hurt to have a Loverboy track on your soundtrack album, like the
Mike Reno
and
Ann Wilson
(of
Heart
) duet "Almost Paradise" as the Love Theme of Footloose, or the band's "Heaven In Your Eyes" on Top Gun. After disbanding at the end of the decade to pursue solo projects, it was inevitable that the millennium would bring a Loverboy reunion. Despite the death of Smith on a sailboating accident in 2000, Loverboy has kept going on the road, and their fans couldn't be happier.
Loverboy: We Are The 80s Selections:
Turn Me Loose | The Kid Is Hot Tonight | Working For the Weekend | When It's Over | Hot Girls In Love | Queen Of the Broken Hearts | Lovin' Every Minute Of It | Dangerous | This Could Be The Night | Lead A Double Life | Heaven In Your Eyes | Notorious | Too Hot | Almost Paradise (Mike Reno & Ann Wilson)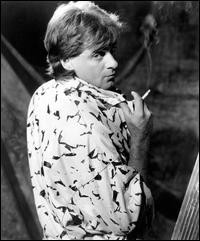 Back in the '70s, the cop's son from Brooklyn was on the fast track at the New York Police Academy while moonlighting as a rock and roll singer around town - until he got sidetracked and wound up in Berkley, where he was 'discovered' by Bill Graham and signed to the promoter's new Columbia label deal. A healthy string of hits with producer Bruce Botnick in 1978-79 ("Baby Hold On," "Two Tickets To Paradise," "Maybe I'm A Fool") and two platinum LPs established
Eddie Money
's career. Into the '80s, Eddie was hooked up with the top AOR producers in the country, starting with Ron Nevison (
Jefferson Starship
,
The Babys
) on Playing For Keeps, which brought a new kind of sound to Eddie's fans ("Running Back"). After a two year break, and a move to legendary producer Tom Dowd (
Allman Brothers
,
Rod Stewart
,
Eric Clapton
), Eddie came back to his platinum ways with a gutsier bottom on
No Control
, returning to the Top 20 with "Think I'm In Love," a #1 Mainstream Rock hit. Dowd stayed on for
Where's The Party?
which netted a couple of mid-chart singles with "The Big Crash" and "Club Michelle." Now the stage was set for one of Eddie's biggest albums, as
Can't Hold Back
broke the platinum barrier, notching up one of his biggest career hits with "Take Me Home Tonight" featuring
Ronnie Spector
, followed by "I Wanna Go Back," "Endless Nights," and "We Should Be Sleeping," an incredible 14-month chart run. Eddie stayed with that album's main producer Richie Zito for the next LP, Nothing To Lose, a wise decision that brought another top 10 hit with "Walk On Water." For Eddie Money, the decade - though not his chart longevity - wrapped up with 1989's
Greatest Hits Sound Of Money
, a well-deserved collection that contained four new tracks, one of which was his top-charting cover of
Jennifer Holliday
's summer '88 Olympics ballad, "Peace In Our Time."
Eddie Money: We Are The 80s Selections:
Take Me Home Tonight | Running Back | Let's Be Lovers Again | Think I'm In Love | Shakin' | The Big Crash | Club Michelle | I Wanna Go Back | Endless Nights | We Should Be Sleeping | Walk On Water | The Love In Your Eyes | Let Me In | Peace In Our Time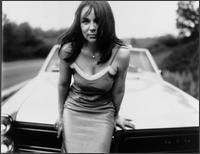 Scandal
founder Zack Smith's instincts as a New York commercial jingle-meister served him well when he decided to refocus his energies into a smashing hard rock band in 1982. Singer
Patty Smyth
had the pixiefied looks and throaty R&B chops to give the new group a distinctive female lead vocal front. Guitarist Keith Mack (abetted in the studio by newly-signed Columbia 6-string wonderboy Ray Gomez), bassist Ivan Elias, a popular studio keyboard player named
Paul Shaffer
(in his freshman year as bandleader on a late-night talk show with a young comic,
David Letterman
) and the late Frankie LaRocca on drums - filled out the newly christened Scandal. The debut was a 5-song EP (or mini-album) produced by Vini Poncia, fresh from four years in the studio with
Kiss
. The EP's entire contents are presented here - including the back-to-back MTV faves "Goodbye To You" and "Love's Got A Line On You" (director Martin Kahan's first rock video) Also from those first sessions are three previously unreleased tracks ("Grow So Wise," "If You Love Me," "I'm Here Tonight"), and the first CD appearance of "Goodbye To You"'s B-side, "All My Life." Two summers later, working with power pop producer Mike Chapman, Scandal broke the platinum barrier with The Warrior LP, whose title tune made the Top 10 and set the stage for Patty Smyth's solo career - while Scandal went the Darwinian way of most things '80s.
Scandal: We Are The 80s Selections:
Goodbye To You | Love's Got A Line On You | The Warrior | Win Some, Lose Some | She Can't Say No | Another Bad Love | All My Life (single B-side, previously unreleased on CD, 1982) | Hands Tied | Beat Of A Heart | Say What You Will | Tonight | Grow So Wise (previously unreleased, 1982) | If You Love Me (previously unreleased, 1982) | I'm Here Tonight (previously unreleased, 1982)

Rick Springfield
belongs to that special caste of artists whose career-start predates the '80s (in his case by a full decade, as a rocker in his native Australia beginning in the late-'60s) - but whose greatest success and whose musical identity is forever defined by the '80s. An émigré to Los Angeles (by way of London), he was in and out of at least four record deals by the time he started writing the songs that would become his first RCA Victor LP, 1981's
Working Class Dog
. There are several tales told of the origins of "Jessie's Girl" - was she the girlfriend of a guy Rick met at a stained glass class, or was the title inspired by Ron Jessie of the old L.A. Rams? Whoever, she was Rick's debut #1 single at RCA, the first of 16 chart hits at the label through 1988, all but two of which are presented here (in chronological order). His so-called 'overnight' success propelled him into the virtual career-defining role of Dr. Noah Drake on the popular daytime soap opera,
General Hospital
. It was a three-year stint during which he was also a bonafide Top 40 rock star with a string of eight hit singles, three platinum LPs, high visibility on MTV, and sold-out tour dates. When he finally left the show, it was to take a chance on a movie career in 1984's
Hard To Hold
(with Patti Hansen). It was an early example of a movie being out-succeeded by the soundtrack LP, which hit platinum and spun off three Top 40 singles: "Love Somebody" (written for
Bob Weir
of the
Grateful Dead
!), "Don't Walk Away" (inspired by
Peter Gabriel
), and "Bop 'Til You Drop" (whose video clip launched the career of director
David Fincher
, of
Seven
and
Fight Club
renown). Rick turned his attention inward to spiritual guidance in 1985, and Tao was the result, an album that resonated with his fans and sent two songs into the Top 30, "State Of The Heart" and "Celebrate Youth." His final RCA album
Rock Of Life
and its title tune single also marked Rick's '80s finale. But nearly two decades later, he has never left the stage. "Continuing to wow fans across America with his dynamic live show," writes Ken Sharp in his liner notes, "bolstered by an arsenal of hit songs from his heyday, Rick Springfield might have made his mark in the '80s but his musical career continues to thrive well into the 21st century."
Rick Springfield: We Are The 80s Selections:
Jessie's Girl | I've Done Everything For You | Love Is Alright Tonite (single version) | Don't Talk to Strangers | What Kind Of Fool Am I? | I Get Excited | Affair Of The Heart (single version) | Human Touch (single version) | Love Somebody | Don't Walk Away (single version) | Bop 'Til You Drop (single version) | 12. State Of The Heart | Celebrate Youth | Rock Of Life