Wayne Brady Wants You To 'Trust Us With Your Life'
After achieving breakout stardom on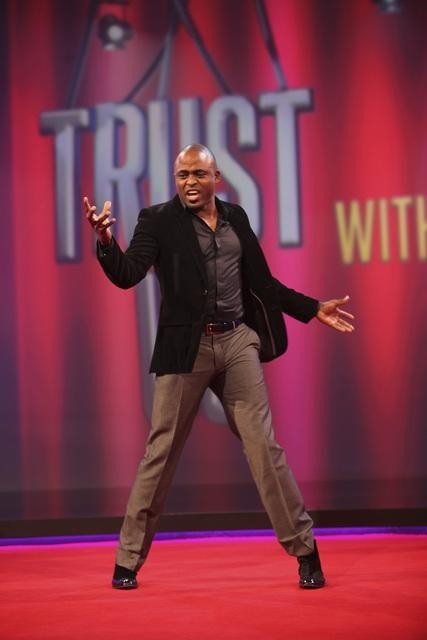 Whose Line Is It Anyway?, Wayne Brady is back on ABC and once again making us laugh in Trust Us With Your Life, as part of a troupe of improv comedians that re-enact and sometimes skewer the lives of celebs from Ricky Gervais to the Osbournes.
As a member of the Whose Line cast, there's no doubt that Wayne acquitted himself well: excellent games of "Greatest Hits" and "African Chant" led into, among many things, a daytime talk show, a musical album, a Las Vegas comedy show and hosting jobs on shows like Celebrity Duets, Don't Forget The Lyrics! and his current gig on Let's Make A Deal.
Now he's excited to re-team with many of his Whose Line colleagues, including Colin Mochrie, Greg Proops and Jonathan Mangum, on the new series that starts Tuesday.
"The producer and creator, Dan Patterson approached me, and I love Dan. When he broached the idea, it was an instant yes," Wayne told me. "He created Whose Line that kickstarted that phase of my career. Whose Line still has such a rabid following and it's one of those things that I felt it never got the complete network due that it should have."
What he most enjoyed about Trust Us With Your Life was the opportunity "to reunite with all the guys that I had a great time doing something with and to get in on the ground floor.
"Jonathan [Mangum] and I work together every day of the week [on Let's Make A Deal] and he's also my partner on the road. I literally see him every day of the week and I love working with him. It was exciting for me to see Colin [Mochrie] and Greg Proops; those are both guys that I learned from."
Why does he think it's the same handful of improv comedians - including himself, Mangum, Mochrie, Proops and others like Ryan Stiles - that we always see on television? "I think it's the same group of people that do it well," he theorized. "In the landscape of TV, there really are only a few people that do this specific type of immediate character improv that really doesn't need a lot of setup."
In Trust Us With Your Life, rather than taking suggestions from a studio audience, the comedians are now getting the life stories of various celebrities and reenacting scenes from them for our amusement. It was just as enjoyable for them as it's bound to be for us. "It was great to be able to meet some of the people that I love," Wayne said. "Ricky Gervais, I'm a huge fan, so to be able to meet him and not only geek out on him but then to make him laugh? That just made my day."
"One of my favorite episodes from this bunch happened to be Mark Cuban," he continued. "He had such an amazing story that we were able to get amazing fodder from him."
Is there anyone he'd like to see on the series? "I'd love to have former President Clinton on the show," he said, adding that these days "anybody can be a celebrity just for doing something stupid online. I would rather see people that have some sort of weight."
As for his own comedic taste, he says that "I love smart comedy. I'm in love with Raising Hope; I think it's one of the best comedies on TV. I love New Girl and of course, How I Met Your Mother [on which he's guest-starred]." Who's most likely to make him laugh? "The other guys from Whose Line, Whoopi Goldberg [and] John Leguizamo."
Now much more than just a comedian, he tries not to classify his own versatile career. "I see myself as a hard-working guy, plain and simple," he explains. "There is no definition."
Through everything else he's accomplished, though, one thing hasn't changed: Wayne Brady is still capable of making us not just chuckle, but roll on our living room floors with laughter.
Trust Us With Your Life begins tomorrow night at 9 PM ET/PT on ABC. For more information, visit the show's official website.
You can follow Wayne Brady on Twitter (@WayneBrady). For more from Brittany Frederick, visit my Starpulse writer page and follow me on Twitter (@tvbrittanyf).
(c)2012 Brittany Frederick/Digital Airwaves. Appears at Starpulse with permission. All rights reserved. No reproduction permitted.