Watch The New Trailer For 'Hop,' Starring James Marsden & Russell Brand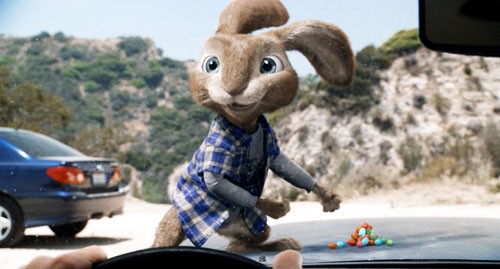 From the creators of "Despicable Me" comes a comedy about candy, chics and Rock 'n' Roll. The new live-action/CG animated comedy "Hop" stars Russell Brand and James Marsden and hits theaters April 1.

Blending state of the art animation with live action, "Hop" is a comedy about E.B. (voiced by Russell Brand), the teenage son of the Easter Bunny.  On the eve of taking over the family business, E.B. leaves for Hollywood in pursuit of his dream of becoming a drummer. 
He encounters Fred (James Marsden), an out-of-work slacker with his own lofty goals, who accidentally hits E.B. with his car.  Feigning injury, E.B. manipulates Fred into providing him shelter, and Fred finds himself with the world's worst houseguest.
Kaley Cuoco, Hank Azaria, Gary Cole, Elizabeth Perkins, David Hasselhoff, Chelsea Handler and Hugh Laurie also star.
Watch the trailer on Apple HERE!