Watch 'The Munsters' Marathon on TV Land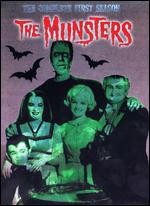 It's a twenty-five hour dose of fearsome fun when TV Land celebrates Halloween with America's favorite family of fright --
The Munsters
-- during the Munster Mash Marathon. The marathon airs Saturday, October 28, from 6 a.m. to 6 a.m. (all times ET/PT).
The day begins with the hilarious episode, "Rock-a-Bye Munster"; in which Herman's imagination runs wild after he eavesdrops on one of Lilly's conversations. Viewers will then be treated to memorable Munster episodes such as "Eddie's Nickname," "Hot Rod Herman," "Happy 100th Anniversary" and many more.
Later, in recognition of daylight savings time when the clock strikes 1 a.m. for the second time, viewers are treated to an extra monstrous episode -- "Zombo," as Herman tries to become a hero.