Watch The Greatest Superheroes On Joost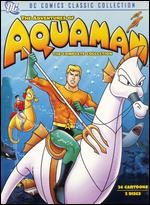 Get ready to see the
Watchmen
by checking out other great comic book characters from Joost series that have made the giant leap off the page and onto the screen.
The Tick
,
Superman
,
Wonder Woman
,
Blade
and
Aquaman
are just of few of the superheroes you'll find!
Superman - The Beginning: The very first episode of Superman:

Blade: Pilot pt. 1
- Immortal warrior Blade sets up shop in Detroit with his partner Shen and investigates the vampire House of Chthon who are threatening total domination of mankind. Along the way, he forms an uneasy alliance with Krista Starr, a recently dispatched US military combat medic who becomes entrenched in the world of vampires while investigating the suspicious murder of her twin brother. As Krista is pulled into the underword, she teams up with Blade and Shen to infiltrate the vampires from the inside and out. Blade, however, must keep a close watch on Krista, who could easily succumb to the dark forces of the shadow world she now inhabits.
Wonder Woman Vs. Gargantua - Wonder Woman battles a seven-foot-tall, 500-pound gorilla. Robert Loggia guest stars:

Joost's Comic Book Club
Other great Comic Book Club videos:
-
Smallville
-The
Batman
-
The Flash
-
Sheena
-
Lois and Clark
-
The Tick
-
Aquaman
and more!