Watch The First 'The Avengers' Trailer!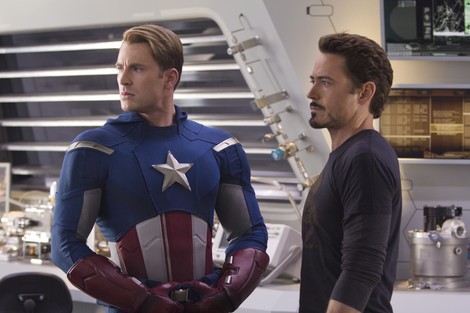 The first trailer (not including the teaser at the end of Captain America) of The Avengers has been released! The two minute look at one of the highly hyped superhero movies ever is right here for you to enjoy.
The Avengers has a star-studded cast, including Robert Downey, Jr. (Tony Stark), Chris Evans (Captain America), Chris Hemsworth (Thor), Samuel L. Jackson (Nick Fury), Mark Ruffalo (Bruce Banner/The Hulk), Jeremy Renner (Hawkeye), Scarlett Johansson (Black Widow), Tom Hiddleston (Loki) and Cobie Smulders (Agent Maria Hill). Joss Whedon will direct.
Tom Hiddleston, who plays the main villain Loki, told The Hollywood Reporter what to expect from his character. "At the beginning of The Avengers, he comes to earth to subjugate it and his idea is to rule the human race as their king. And like all the delusional autocrats of human history, he thinks this is a great idea because if everyone is busy worshipping him, there will be no wars so he will create some kind of world peace by ruling them as a tyrant. But he is also kind of deluded in the fact that he thinks unlimited power will give him self-respect so I haven't let go of the fact that he is still motivated by this terrible jealousy and kind of spiritual desolation."
That, combined with the Avengers trying to control ally Bruce Banner and his enraged transformations into The Hulk, should make for one of the best Superhero movies this generation has ever seen.