Watch The First Official Trailer For 'The Muppets,' Starring Jason Segel, Amy Adams, Kermit The Frog & Miss Piggy!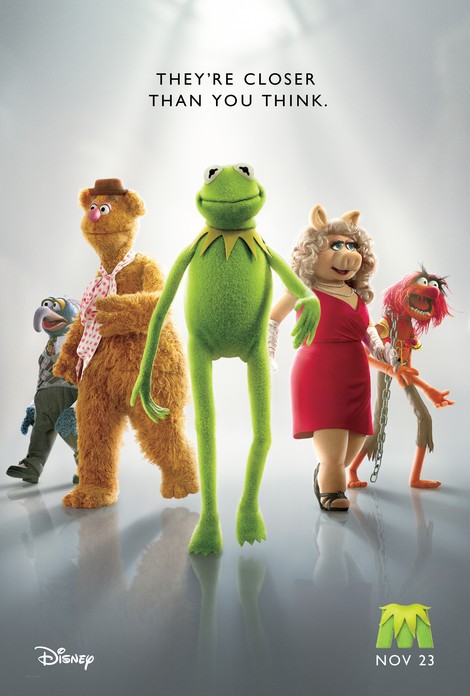 It's time to play the music. It's time to light the lights. It's time to check out the first official trailer for The Muppets!

During the past few weeks, Disney's MuppetsStudio channel on YouTube has been releasing teaser trailers for this Thanksgiving's sure-to-be hit movie, starring Jason Segel, Amy Adams, Kermit the Frog, Miss Piggy and the usual gang of Muppets.

The teasers began showing up in late may; the first appeared to be just a run-of-the-mill romantic comedy starring Segel and Adams before revealing that Kermit and Miss Piggy were co-stars.
The second was a take on The Hangover Part II, with the stars recovering after an apparent explosion of some sort and the tagline, "The Fuzzy Pack is Backy Back" (a take on Hangover's "The Wolfpack is back," unfortunately no Muppets showed up with the Mike Tyson tattoo).
And the third clip, released last Thursday, played on The Green Lantern (which opened Friday).
The Muppets centers around Walter, the world's biggest Muppet fan, who along with his friends Gary (Segel) and Mary (Adams) find out that an oilman (Chris Cooper) wants to level the Muppet Theater and if they want to save it they'll have to come up with $10 million. The three friends help Kermit get the Muppets back together to stage a telethon. Rashida Jones also stars.

"Is this another Muppet trailer parody?" says Segel in the Green Lantern spoof; adding, "Why don't just show a real trailer?" Well, here it is! (Watch the three teasers after the official trailer below.)
The Muppets comes to theaters November 23, 2011.

Official Trailer:


"Being Green":


"Fuzzy Pack":


"Green With Envy":