Watch: 'Dumber And Dumber To' Trailer Piles On The Dumb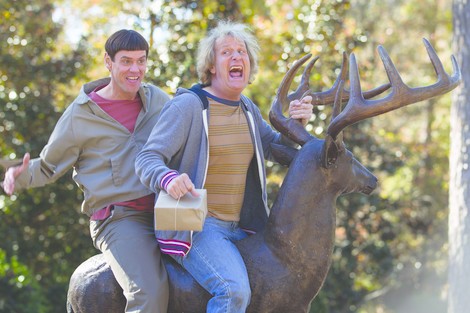 The first look at the long-awaited return of Lloyd and Harry is here (we refuse to acknowledge the prequel), but can Dumb and Dumber To recreate the magic of the 1994 original?
In the trailer, we learn that Lloyd has been basically catatonic in a mental institution for 20 years after Mary Swanson left his life. Psyche! It's just a long-con prank on Harry, who has been visiting Lloyd constantly to give him candy.
With the two buddies back together, Harry learns he has an illegitimate daughter and heads out on a quest to find her. Lloyd tags along because he thinks Harry's daughter is really hot.
Aside from an uneasy scene featuring Lloyd feel up on old woman, the trailer is a hit. Dumb and Dumber To looks like it ought to carry on the Dumb and Dumber legacy... whatever that is.