Watch: Brad Paisley And Carrie Underwood Sing Ode To Kim Kardashian's Short Wedding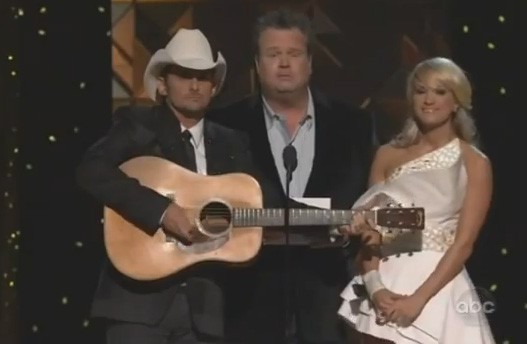 Even the Country Music Awards could not keep themselves from making fun of Kim Kardashian and her short wedding. Hosts Brad Paisley and Carrie Underwood invited Modern Family star Eric Stonestreet on stage to sign a song about what's really bothering the country.
The song was done in the tune of Randy Travis' hit, Forever and Ever, Amen. "I'm going to love you forever — for 72 days, amen," the trio sang, before taking some pot shots at Justin Bieber and Taylor Swift - and Swift was in the crowd!
- Check out hot fashion from the CMTs!
You can watch the entire opening skit below, but the song begins at the 5:30 mark.