Watch As Savannah Guthrie Breaks Her Pregnancy News During Wedding Reception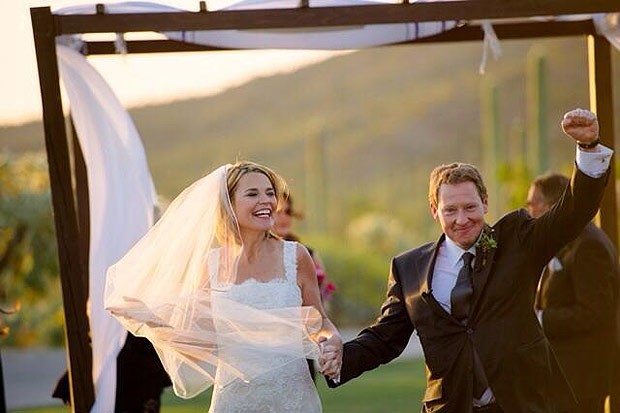 Savannah Guthrie shared the news of her weekend wedding and pregnancy announcement on "The Today Show" on Monday, and co-host Matt Lauer shared a video of the blushing bride's big announcement as it happened at her wedding reception.

Guthrie, who is four months along in her pregnancy, married fiance Mike Feldman near Tucson, Arizona over the weekend and was right back to work behind "The Today Show" desk first thing Monday morning, foregoing a honeymoon for the moment.

Savanna made her big announcements during the show's opening segment, and a short while later Lauer explained that he had some footage from the event to share with viewers.


The host then played a video of Feldman and Guthrie addressing the crowd at the reception when a booming voice cut in to say, "This is an NBC News Special Report, here's Savannah Guthrie."
The bride and groom looked at each other and agreed that since the special report music meant breaking news, that they should actually breaks some news.
"I feel that the least we could do is break some news," Savannah said as she turned to Feldman. "Well I -- well, we -- are four months pregnant."
The wedding guests screamed and gave the couple a standing ovation.
Co-anchor Natalie Morales said that she wasn't surprised. "Some of us were suspecting it," she said. "We know... we know these things when you start refusing the wine."
"We are so excited and overjoyed and feel so blessed," Savannah added. "It's funny because we set the wedding date — I bought my dress — and then we found out.
"So I was doing a little praying that I would fit in it, and it all worked out."
"Baby coming in late summer, God willing," Savannah said.
Guthrie and Feldman are planning their honeymoon for sometime next month.